Lakshmana Swamy Theertham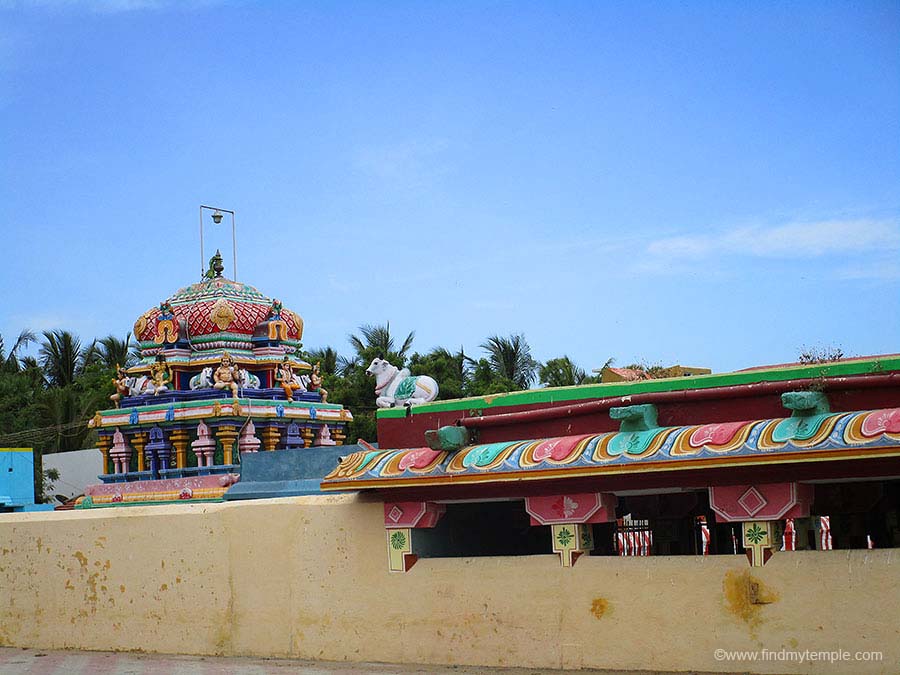 Main Deity : Shri Ram, Shri Lakshman.
Ambal : Lakshmanaswami.
Prominence of the shrine : Bhagwan Shri Lakshman Tirtha is located on the way to temple from Shri Ram Tirtha. Lakshman has created this Tirtha to atone for sins which were done without our knowledge. He installed Shiva linga there and worshipped. How we call Lord Shiva in the central temple as Rameswarar, we call this Shiva as Latchumanesvarar. After taking bath in Lakshman Tirtha, tonsuring will be done near a big tamarind tree.Then we have to do rituals (tharpanam) for our ancestors. Finally we have to worship Lord Shri Lakshman. By doing this we get redeemed from our sins and find improvement in work. After the ritual dip in Lakshman Tirtha, it is believed that the actual Sethu Tirtha Yatra starts.
Temple History : After the period of Ramayana, Mahabharata war started. Balarama did not like people dying in the war. So he did not engage in the war and decided to go for pilgrimage tour. He reached naimicharanya. There Sudha Maharishi was explaining Hindu mythology to other Maharishis, he did not respect Balarama. So Balarama got annoyed and attacked Sudha maharishi with his air weapon. Sudha maharishi died but he was restored by Balarama. Balarama was unhappy for not controlling his anger and arrogance and felt guilty for attacking an unarmed person who preaches wisdom. On seeing this, other Magarishis asked Balarama to go to Lakshman Tirtha and do the rituals to redeem from the sin and finally worship Lord Shiva who is in the form of Latchumanesvarar. So Balarama came here and worshiped Lord Shiva. He installed a Shiva Linga here. Donating clothes to the poor is considered to be the best here. Balarama is seen as a symbol of agriculture .Air weapon is the dignity of land which is the weapon of Balarama.
People who worshipped here : Balaraman, Lakshmanan.

Temple Timings : Morning 6:00 am to noon 12:00 pm, Evening 4:00 pm to 8:00pm.
Temple Festivals : Barge festival(Thepathiruvizha) is held on Thaipusam.
Nearest Town : Rameswaram.
Address : Lakshmana Swamy Theertham Temple,
Ramanadhapuram District, Rameswaram.
Hotel Near Lakshmana Swamy Theertham Temple, Rameswaram :
1.Hotel Queen Palace,
N.H. Road, Near Bus Stand,
Rameswaram-623526, ph:04573 221 013
2.Hotel Vinayaga,
#5, Railway Feeder Road,Rameswaram,
Tamil Nadu 623526.ph:04573 222 361
3.Daiwik Hotels Rameswaram,
NH- 49, Madurai Rameswaram Highway,
Near Rameswaram Bus Stand,
Rameswaram-623526,ph:04573 223 222
4.Hotel Garish Park,
3, Madurai-Rameshwaram Road,Bharathi Nagar,
Ramanathapuram-623503.ph:094423 22030
Resturant Near Lakshmana Swamy Theertham Temple, Rameswaram :
1.Hotel Aiswarya Lakshmi,
Ground Floor, NH 45, Madurai-
Rameshwaram Road,Chalai Bazar
1 1 1 1 1 1 1 1 1 1 Rating 3.38 (238 Votes)
Driving Direction & Temple Location