Sivasooriya Peruman(Sun) Temple
Sooriyanar Koil, Thiruvidaimarudur (Tk)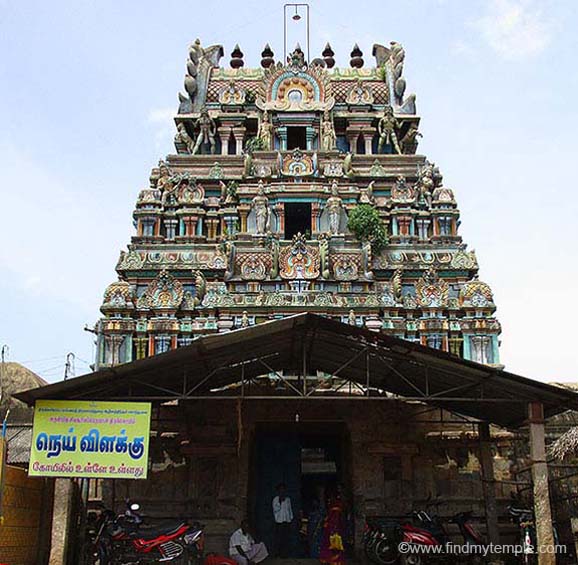 Main Deity : Sri Sivasooriya Peruman

Ambal : Sri Usha Devi, Saya Devi

Other Deities : Sivasooriyan and the other planets. Separate shrine for each planet.

Holy Water : Sooriya Theertham

Temple Tree : White Erukku (Calotropis gigantea R.Br. White variety)

Prominence of the Shrine : To ward off adverse effect of the planetary positions as per Astrology, devotees visit this ancient shrine. In this shrine only the Sun God is placed at the center with the other planets placed in separate Sanctum sactorums .

Temple history : Based on the stone inscriptions, it is believed that this temple is constructed during Kulonthunga Chola (I) period (AD 1060 – AD 1118). Once upon a time a great sage called Kaalava rishi was living in Himalayas region. He realized he will get a deadly disease of leprosy in the future and he was worried. His fellow sages advised him to worship all the navagrahas (nine gods for each planet). Kaalava rishi also did a very dedicated penance towards the navagrahas and they appeared as he wished. He told his concerns about leprosy and he prayed that the navagrahas should help him to get out of the deadly disease. The navagrahas granted the boon the rishi won't get the disease and vanished. Later the god of creator, Brahma came to know this and called upon all the nine devas (navagrahas). He told them, the human beings have to face all the happy and sad incidents in their life and that can't be changed. As navagrahas awarded the kaalava rishi navagrahas will get the disease on behalf of him and they should do a twelve weeks penance at south part of India. Based on this curse all the navagrahas arrived to south India and did a penance to get rid of Brahma's curse. As god of Sun (Sooriyan) was heading this penance he was at the center in this temple and the other eight planet gods were surrounded by him at this temple.

who worshipped here : Kaalava munivar
Temple Timings : 7.00 am to 12.30 noon - 4.00 pm to 8.00 pm.
Sunday : 5.30 am to 1.30 pm - 5.30 pm to 8.30 pm.

Pooja Details : Four times a day.

Nearest Town: Kumbakonam
Address : Sri Sivasooriya Peruman Temple,
Sooriyanar Koil, Thirumangalakkudi (Po.),
Thiruvidaimarudur (Tk.),
Thanjavur (Dt).
Telephone No : 0435-2472349
Hotel Near Sivasooriya Peruman(Sun) Temple, Sooriyanar Koil :
1.Mantra Veppathur,
536/537 A, 1, Bagavathapuram Main Road,
Sri Sailapathipuram,Kadayanikadu,
Kumbakonam-612105.
2.Hotel Raya's,
No. 18, Head Post Office Road,
Near Mahamaham Tank West Bank,Gandhi Adigal Salai,
Valayapettai Agraharam,Kumbakonam-612001,
Ph: 0435 242 3170
3.Hotel Riverside Resort & Spa,
No.32 & 33, College Road,KondangudiIllam,
Kumbakonam-612002,
Ph: 0435 244 3666.
4.Hotel Vinayaga,
132, Kamaraja Road, John Selvaraj Nagar,
Opposite Railway Station,
Kumbakonam-612001,ph:096298 66611
Resturant Near Sivasooriya Peruman(Sun) Temple, Sooriyanar Koil :
1.Anaz Restaurant,
Srinagar Colony,
Kumbakonam-612001.
2.Hotel Shanmuga,
SH 64 Anna Nagar,
Kumbakonam, Tamil Nadu 612001,
Ph: 0435 242 5350
3.Sri Ganesh Bhavan,
Moopanar Nagar, Chettimandapam Ullur,
Tamil Nadu 612001,ph:0435 200 1333
1 1 1 1 1 1 1 1 1 1 Rating 3.38 (238 Votes)
Driving Direction & Temple Location