Prananadha Swamy Temple
Thirumangalakkudi, Thiruvidaimarudhur (Tk)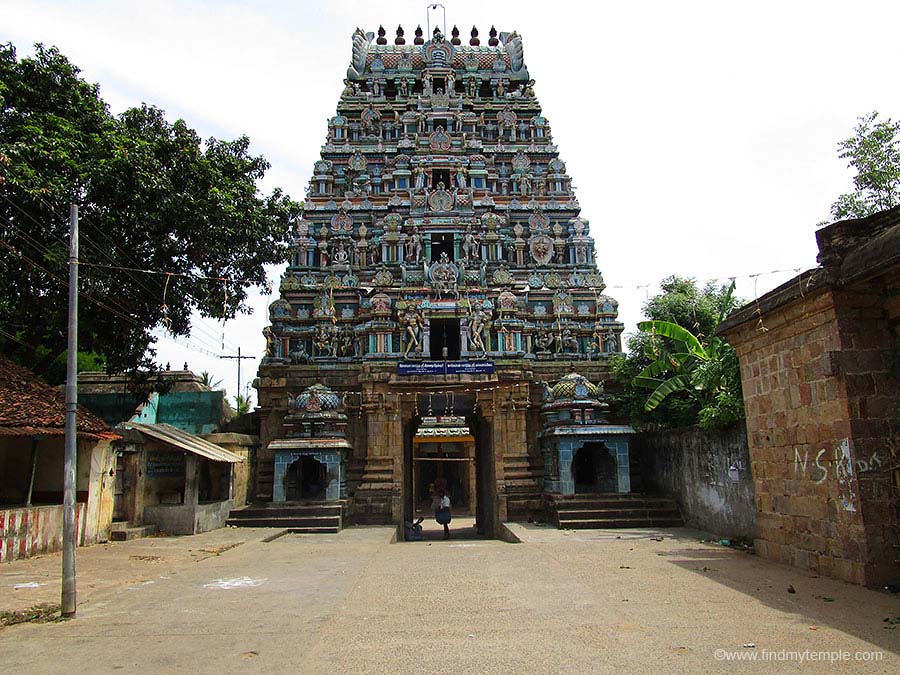 Main Deity : Sri Prananadha Swamy.

Ambal : Sri Mangalambigai.

Other Deities : Ganesha, Muruga, Natarajar, Brahma, Gajalakshmi, Bairavar, Durgai.

Holy Water : MangalaTheertham.

Temple Tree : Vellerukku.

Prominence of the shrine : The Navagrahas got rid of the evil spell (Dosha) on them at this location. It is customary to offer worship here and then proceed to Sooriyanar Kovil(Temple) to offer worship. Worshipping at this shrine removes the stumbling blocks on one's matrimonial prospects. From Karthigai Sunday, if one worships here for eleven Sundays with an offering of curd rice to the Lord on Vellerukku leaf and consume the same, irremediable diseases can get cured. Mangalya thread which is in the hands of Mangalambigai is given as prasad to devotees here. This has a power to remove all the obstacles of marriage.

Temple History : During 11th century Kulonthunga Chola (I) was ruling the Chola dynasty. Alaiwanar without taking permission from the King started spending the tax money to build a temple. When the king came to know this information he ordered to Alaiwanar to meet him. With fear of meeting king, Alaiwanar a great devotee died. Towards end of his life, he requested his wife to bury his body in Thirumangalakkudi. Alaiwanar's wife while carrying his husband's body pleaded to Goddess Mangalambigai to save her married life. Goddess performed a wonder and Alaiwanar regained from his death.

who worshiped here : Kali, Soorihan, Thirumal, Brahman, Agathiar.

Poets who sang its praise : Thirugnanasambandar, Thirunavukkarasar.

Temple Timings : 6.30 am to 11.30 noon ---- 4.00 pm to 8.30 pm

Details of Poojas : Four times a day.

Temple Festivals : 10 day festival in connection with PanguniUthiram,
AaniThirumanjanam,
MargazhiThiruvadhirai – NatarajarUrchavam,Nataraja taken around in a procession.
Nearest Town : Kumbakonam.
Address : Sri PrananadhaSwamy Temple,
Thirumangalakkudi (Po), Thiruvidaimarudhur (Tk),
Tanjore (Dt). Pin : 612 102.
Telephone No : 0435 2470480
Hotel Near Prananadha Swamy Temple, Thirumangalakkudi :
1.Sivamurugan Hotels(14.3km from Temple)
60 Feet Main Road, | Near New Bus Stand,
Kumbakonam 612 001, India
Ph: 096000 00384
2.Sara Regency (12.8km from Temple)
45/1 Chennai Road, Kumbakonam 612002, India
Ph:082200 05555
3.Quality Inn VIHA (13.7km from Temple)
New Railway Road, Kumbakonam,
Tanjore, Tamil Nadu 612001
Trichy Road, Namakkal
Ph:0435 255 5555
4.Hotel Green Park (14.4km from Temple)
No. 10, Lakshmi Vilas Street,
Kumbakonam, South India - 612001.
Ph :(0435) - 2402853 / 2403914
5.Hotel Vinayaga - Kumbakonam(14.3km from Temple)
132C, Kamaraj Road,
Kumbakonam- 612 001
Tamilnadu, India
Tele : +91 435 240 03 56
Telefax : +91 435 240 03 57
Mobile: +91 822 001 9 122
Reservation No: +91 4296 272 110
Restaurant Near Prananadha Swamy Temple, Thirumangalakkudi :
1.Venkatramanaa Hotel
No 40, TSR Big Street, Kumbakonam HO,
Kumbakonam - 612001, Near Gandhi Park
Ph : +(91)-9442130736
2.Sri Balaji Bhavan
1, Sasthra College Road,
Kumbakonam HO, KUMBAKONAM - 612001
Ph : +(91)-435-2424578
3.Hotel Shanmuga Bhavan
16, Kumbeswarar South Street,
Kumbakonam HO, KUMBAKONAM - 612001
Ph:+(91)-435-2433962
4.Gowri Shankar Hotel
No 47, John Selvaraj Nagar,
Kumbakonam HO, Kumbakonam - 612001
Ph : +(91)-9443131276 ,+(91)-435-2431177
tel : (91)-435-2430736
5.Rayas Garden Restaurant
No 18 Rayas Hotel, Head Post Office Road,
Kumbakonam HO, Kumbakonam - 612001
Ph :+(91)-435-2423170, 2423171, 2423172, 2423173
1 1 1 1 1 1 1 1 1 1 Rating 3.38 (238 Votes)
Driving Direction & Temple Location