Agneeswara Swamy Temple
Thirupugalur, Nagai District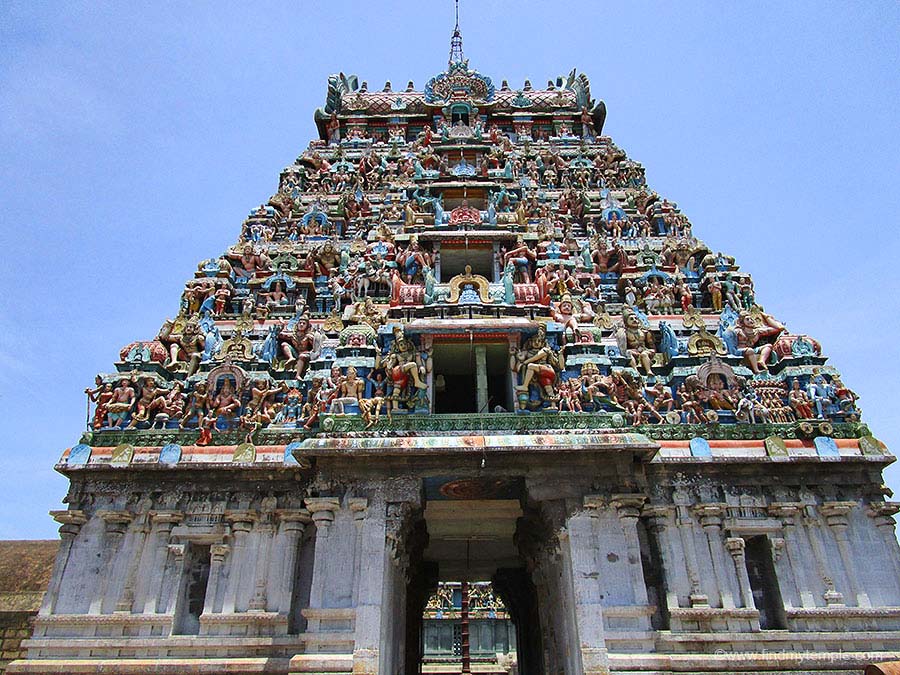 Main Deity : Agneeswarar, Saranyapureeswarar, Konapiran.
Ambal : Soolikambal, Karuthazkuzhali.
Holy Water : Agni Theertham.
Temple Tree : Punnai Tree.
Prominence of the Shrine : At this temple Sooriyan or Agni (Sun god) had worshipped the Supreme - Shiva. Hence the god is called as Agneeswarar. Agni Bagawan made one water body surrounded by him while he was worshipping. That water body became Agni Theertham. Lord Shiva is facing here towards east direction and the Goddess Devi is facing South direction. This temple is quite big in size. Agni Bagawan and the sage Paraduvasar worshipped here. Muruga Nayanar was born at this place. Muruga Nayanar sung several songs for Lord Shiva along with Thirugnana Sampanthar, Thirunavukarasar, Siruthondar and Thiruneelakandar. There are many small Sannidhis at this temple and few of them are for Ganesha, Murugan, Linga worshipped by Paraduvasar, Agni, 63 Nayanmars, Pancha Lingas, Thirunavukarasar, Maha Laxmi, Saneeswaran, King Nala, Navagrahas, Saraswathi Devi, Annapurani, Kala-Samharamurthy, Natarajar, Dakshinamoorthy, Agathiar, Brahma, Durga Devi, Pichadanar and Kalyana Sundarar. Some of the famous Sannidhis at this temple are for the Agni who has 2 faces, 7 hands, 3 legs and 4 horns, Soora-samharamurthy, Somaskandar and Natarajar.
Temple History : The mother of Asua 'Panasura' is great Shiva devotee. For her mother the Asura was bringing all the Suyambu Lingas he had seen. But at Thirupugalur Agneeswarar temple's linga he couldn't move. So he decided to offer himself to move the Linga out of here. When he was trying to sacrifice himself Shiva appeared and accepted him. The big canal he dug to life the Shiva linga turned as Moat and Theertham for the temple. Shiva has accepted his mother's pooja from the direction she was there so he tilted his head towards her. So he is also called as Konapiran.
Poets who sang its praise : Sundarar, Thirugnana Sampanthar, Thirunavukarasar.
Temple Timings : Morning 7:00 A.M. – 12:00 P.M., Evening 5:00 P.M. – 9:00 P.M.
Temple Address : Sri Agneeswarar Temple,
Thirupugalur – 609 704, Thirukkannapuram, Nagai District.
Hotels Near Agneeswara Swamy Temple, Thirupugalur :

1.Hotel Selvies (P) LTD,
2, Kattukara Street Santhamangalam,
Madapuram,Thiruvarur-610002,
Tel:04366 222 082.

2.Arun Hotel,
Santhamangalam, KTR Nagar,
Thiruvarur, Tamil Nadu 610001

3.Hotel Kauveri,
Santhamangalam, KTR Nagar,
Thiruvarur, Tamil Nadu 610003

4.Hotel MMA,
3/364A, Hotel MMA,Dr. kalaingar nagar, M
annarkudi Road,T.Nagar,Vilamal,
Thiruvarur-610001,
ph:04366 220 218
1 1 1 1 1 1 1 1 1 1 Rating 3.36 (233 Votes)

Driving Direction & Temple Location