Shanmuganadar Temple
Kundrakudi, Shivagangai Dt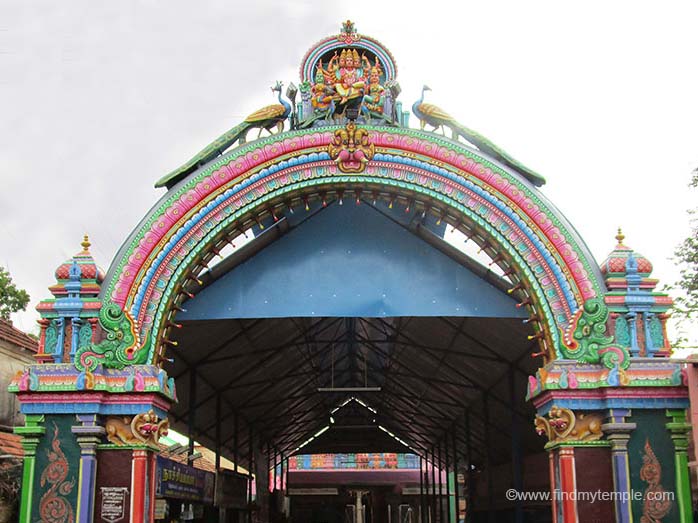 Main Deity : Shanmuganadar
Ambal : Valli, Deivanai.
Holy Water : Thenaru.
Temple Tree : Arasamaram
Prominence of the Shrine : Taking a Kaavadi at Kundrakudi fulfils one's wish. The Kaavadi consists of two semicircular pieces of wood or steel which are bent and attached to a cross structure that can be balanced on the shoulders of the devotee. It is often decorated with flowers, peacock feathers (the vehicle of God Murugan) among other things. There is a proverb which says that 'Even if Kaavadi is taken at Kundrakudi it will not happen'. The meaning is that , In general if you take Kaavadi at Kundrakudi your wish will get fulfilled. In the proverb it is stressed in a negative way.
Temple History : Sri Shanmuga appears in a sitting posture on peacock facing east. Valli and Deivanai are on each side sitting on peacock. Some of the Asuras told a lie to the peacock in order to wreck the devas. They told to peacock that the swan of Brahma and the Garuda of Vishnu had said that they only fly faster than the peacock. Enrage peacock swallowed the swan and the Garuda. Indra and Vishnu appealed to Lord Muruga who retrieved the swan and the Garuda. He cursed the peacock to become a hill for its sin. The peacock understood its mistake and came to Arasavanam(Kundrakudi ) and observed penance towards Lord Muruga. Lord Muruga absolved the peacock of the curse and appeared at this mountain shrine which is in the shape of peacock. Here Lord Muruga appears with Valli and Deivanai sitting on a peacock. The Periya marudhu King had some non-curable disease. Whereas the apothecaries could not cure it with the grace of Lord Muruga of Kundrakudi, it was cured.

The Marudhu brothers did many renovations at this temple. A pooja to Lord Muruga of Kundrakudi by way of atonement cures the anger of a person thereby removing the sorrows that would follow as the result of the anger. Those who get married here will have a blissful life. Hence a number of marriages are performed here on auspicious days for marriages.
Temple Timings : 6.00am to 11am, 4pm to 8pm
Temple Festivals : Panguni- Uthiram 10 day festival.
Thaipoosam – 10 day festival. These two are big festivals of this shrine.
Chithirai- Palperukku Vizha.
Vaigasi- Visala peruvizha.
Aani- Maga Abhishegam.
Aadi- Thiruvadi Pooja.
Aavani- Aavani moolam pittu Thiruvizha.
Purattasi- Ambu Podum Thiruvizha.
Aippasi- Kanda Shashti Thiruvizha.
Nearest Town : Shivagangai
Train / Bus : No train facility. There is bus facility. It is to the west of karakudi. There are town buses from karaikudi. Boarding buses to Madurai, Dindigul and Thiruppathur, we can alight at the temple itself. It is a natural hill.
Address : Sri Shanmuganadhar temple, Sri Tiruvannamalai Aadheenam, Kundrakudi - 630206. Shivagangai Dt.
Telephone Number : +91 – 4577-264227.
Hotels Near Shanmuganadar Temple, Kundrakudi :
1.Hotel Subhalakshmi Palace, (11.7 km from Temple)
#1 Church 1st Street, Sekkalai Road,
Sekkalai,Karaikudi, Tamil Nadu 630001,
ph:04565 237 010.

2.The Bangala, (11.5 km from Temple)
Devakottai Road, Senjai,Karaikudi,
Tamil Nadu 630001,
ph:04565 220 221

3.Thappa Gardens Resort, (14.5 km from Temple)
687,Main Road,Ariyakudi,
Karaikudi, Tamil Nadu 630202,
ph:04565 221 777

4.Hotel President, (11.5 km from Temple)
Sekkalai,Karaikudi,
Tamil Nadu 630001

5.Selvam Hotel, (3.8 km from Temple)
Koviloor Thirupathur Road,
Koothadipatti,Pillayarpatti,
Tamil Nadu 630212
1 1 1 1 1 1 1 1 1 1 Rating 3.36 (233 Votes)

Driving Direction & Temple Location