Maha Saraswathi Amman Temple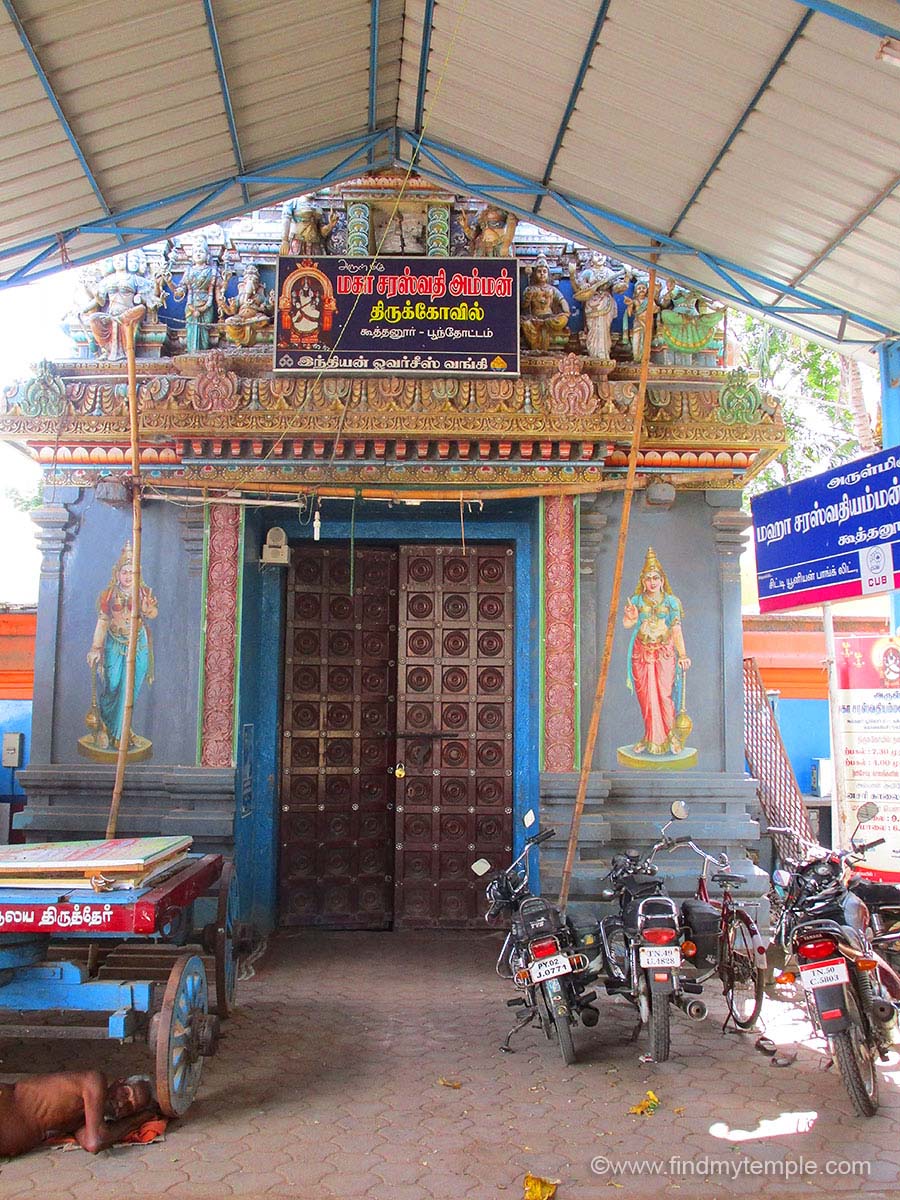 Main Deity : Saraswathi(Saraswathy)
Prominence of the Shrine : The confluence of Ganga, Yamuna and Saraswathi occurs at this shrine and it is called Dakshina Thiruveni Sangamam. This village was gifted by Raja Raja Chola 2 to the poet Ottakoothar who was working in his court. As such it was called Koothanur. The son of Kumbakonam Sarangapani Dikshidar, Who was dumb, began to speak on the day of "Vijayadasami" (A festival day for Goddess Saraswathi). It was by the grace of Koothanur Devi. He contributed to the renovation of the temple and was called "Purushotham Bharathi". This is a history of the recent past. By offering worship to goddess Saraswathi here, a person would get intellectual excellence. On the whole of Tamil Nadu this is the only temple for "Saraswathi Devi".
Temple History : A Mythological history of this temple talks about the restrictions on marriage between the brothers and sisters. Once upon a time at Satya Loga, Lord Brahma and his consort Saraswati were living. Both of them argues they are the best compared to the other and cursed each other. Due to the curse they have born to a couple at Chola country. Brahma born as a son ( Bagukanthan) and Lakshmi born as a daughter (Siraththai). When they attained the young age their parents started searching for the marriage alliance. Goddess Lakshmi and God Brahma realized their original forms and explained the situation to their parents. However they were born as brother and sister they can't marry each other. The couple does not know how to solve this relationship they worshipped Lord Shiva to help them out. Lord Shiva appeared in Saraswathi's dream and asked her to stay at earth itself for this Yuga. Hence Goddess Saraswathi stayed here as an unmarried girl.
Temple Timings : 7.30 am to 1.00pm, 4.00pm to 8.30pm.
Pooja Details : Once a day
Temple Festivals : Navarathri - Saraswathi pooja and Vijayadashami.
Nearest Town : Thiruvarur
Address : Sri Saraswathi Amman Temple, Koothanur, poonthottam-609 503, Thiruvarur Dt.
Telephone Number : 04366 – 239 909
Hotels Near Maha Saraswathi Amman Temple, Koothanur :
1.Swathi lodge and Hotel,
state Highway 23,swathi Lodge,Peralam,
Tamil Nadu 609 405,
ph:095004 27752

2.Mangala Heritage Home,
Meda Mada Villagam Street,Thirupugalur Village,
Nagapattinam-609 001,
ph:099406 23628

3.Hotel Selvies (P) LTD,
2, Kattukara Street Santhamangalam,
Madapuram,Thiruvarur-610 002,
Tel:04366 222 082.

4.Arun Hotel,
Santhamangalam, KTR Nagar,
Thiruvarur, Tamil Nadu 610 001

5.Hotel MMA,
3/364A, Hotel MMA,
Dr. kalaingar nagar,
Mannarkudi Road,T.Nagar,
Vilamal,Thiruvarur-610 001,
1 1 1 1 1 1 1 1 1 1 Rating 3.38 (238 Votes)

Driving Direction & Temple Location