Meenakshi Sundareswarar Temple
Senthalai, Thanjavur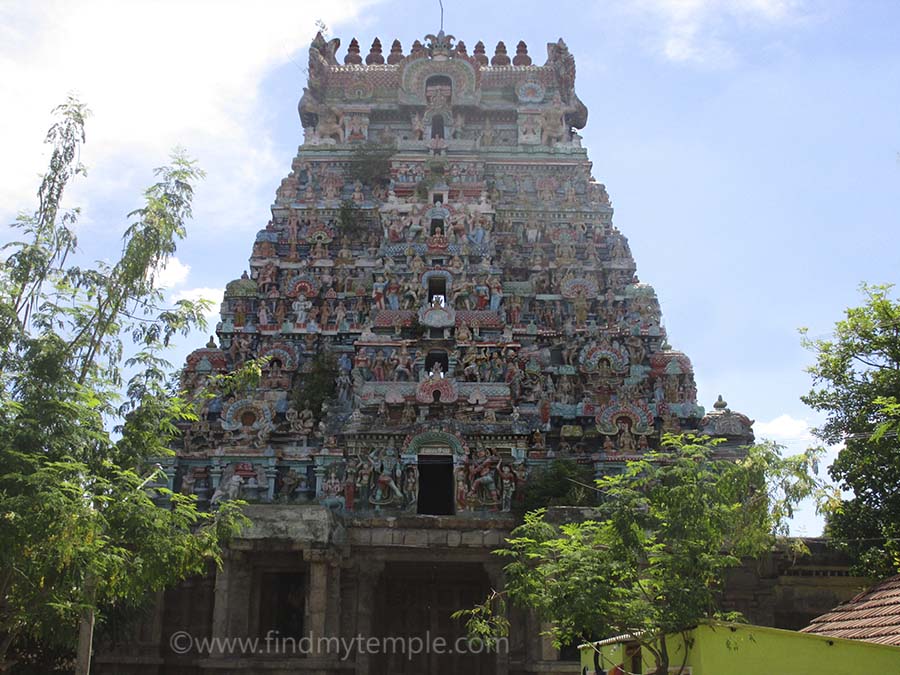 Main Deity : Sundareswarar.
Ambal : Meenakshi Devi.
Other Deities : Padmanaba Perumal, Dhakshanamurthy.
Theertham : Anandha Theertham.
Prominence of the shrine : This temple's God is formed of its own and so called as Suyambumurthy. The Lord Dakshinamurthi is regarded as the most powerful. In the northern courtyard, Padmanaba Perumal and Mahalakshmi deities are there. This temple's well is called as Anandha Theertham which was believed to be created by Adisesha to quell the thirst of the Lord Perumal. If we sprinkle this theertham on our head, it is believed that all our sins will be relieved.
It was written in Thalapuranam that the part of miracles done by Shiva in "Thiruvilaiyadal puranam" was by this temple's Lord Shiva. The name Brahmarayan was derived from the nickname of Manikawasagar, "Thennavan Brahmarayan".
Temple History : Senthalai was considered as Gandharwa woman in Thalapuranam. The sage Kanivar's penance was disturbed by Senthalai so was cursed by the sage to be born as a beautiful woman. She did penance in this place to get relieved from the curse. Lord Shiva appeared as Ardhanareeshwarar before her. Senthalai asked this place to be called in her name and on the day of Sukalabathcha, Sambdhami Thidhi in Feb month if we take holy dip in the river Cauvery and worship this God, we attain greatness. Since Brahma worshipped this God and attained greatness, this place is called as Pirmaranyam.
People who worshipped here : Senthalai.
Temple Timings : Morning 07:00 am to 12:00 noon, Evening 04:00 pm to 08:00 pm.
Nearest Town : Thanjavur.
Address : Meenakshi Sundareswarar Temple,
Senthalai, Thanjavur.
Hotels Near Meenakshi Sundareswarar Temple, Senthalai :
1. Sangam Hotel, Thanjavur
Trichy Road, Thanjavur – 613007

Tel : 91-4362-239451

Fax: 91-4362-236695
2. Hotel Parisutham
55 G.A. Canal Road, Thanjavur 613 001, India
Tel : 04362 231 801.
3. Hotel Gnanam
Anna Salai ( Market Road)
Thanjavur 613 001.
Phone : 04362- 278501-507.
Fax : 04362 235536.
4. Hotel Balaji Inn
Baskara puram,

New Bus Stand,

Thanjavur-613 005.

Phone Number : 04362-226949/227949.
5. Star Residency
Hotel Temple Tower) 20/1 A S.M Road,
Next to Ramanathan hospital Bus Stop,
Tanjore - 613 007.
Tel : +91 - 4362- 276333 / 34 / 37.

Fax: +91 - 4362-276336.
Restaurant Near Meenakshi Sundareswarar Temple, Senthalai :
1. Hotel Ramnath,
No 1335, Thanjavur Ho, Thanjavur -
613 001, South Rampart Old Bus Stand
Ph: +(91)-4362-272567, +(91)-9362610901.
2. Sri Lakshmi Narayana Bhavan,
No 133, Big Street, Thanjavur HO,
Thanjavur - 613 001, Pattukottai
Ph : +(91)-4362-252358.
3. Karthik Restaurant
No 1334, Thanjavur HO, Thanjavur - 613 001, South Rampart Inside Karthick Hotel
Ph:+(91)-4362-278662, 278663, 278322.
4. Hotel Coffee Palace AC
No 1465, Tanjore, Thanjavur - 613 001,
South Rampart,
Ph: +(91)-4362-231358.
1 1 1 1 1 1 1 1 1 1 Rating 3.37 (235 Votes)

Driving Direction & Temple Location