Aadhikumbeswara Swamy Temple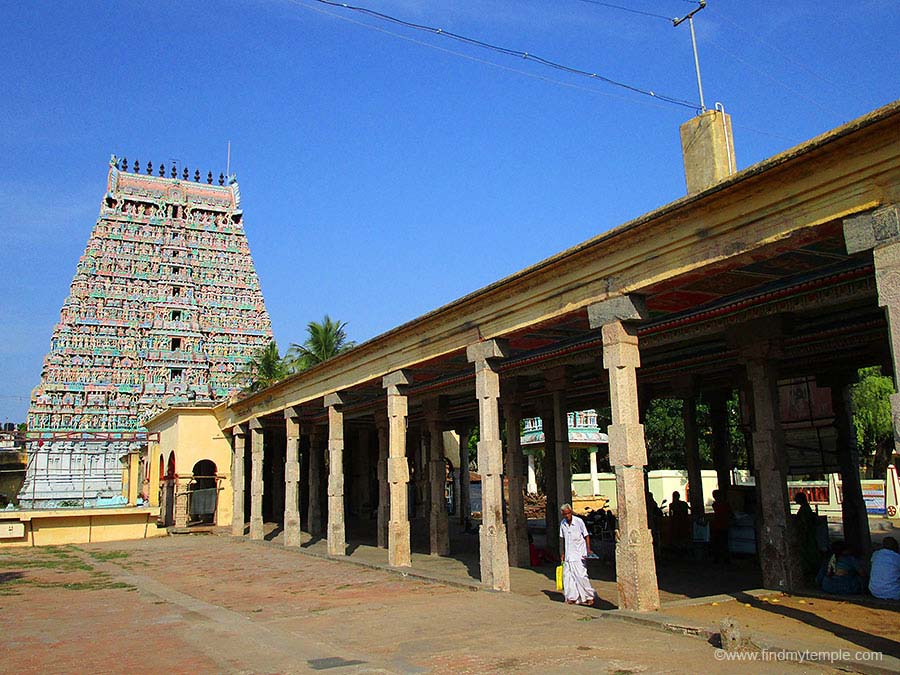 Main Deity : Sri Aadhikumbeswarar.

Ambal : Sri Mangalambigai.

Other Deity : Valanchuzhi Vinayagar, Natarajar, Somaskandar,
Ashtalingas, Pitchadanar, Mahalakshmi, Annapoorani, Kiradhamoorthy, Sooriyan, Chandiran, Saptha Kannigas, Navagrahas, Kumba Munivar.

Holy Water : Soor Theertham.

Temple Tree : VanniTree.

Prominence of the shrine: During the days of great destruction by floods, the pot carrying the heavenly manna or nectar was swept away and it found its shelter in this shrine. Lord Shiva in the disguise of a hunter along with his 600 thaganas as hunters appeared at Bhanapuram a place at the north west of this shrine and broke the pot with an arrow. He revealed the Aadhikumbeswar Lingam as the one made out of the sand made wet by the nectar from the broken pot. Mandra Peedeshwari, the chief among the Shakthi Peedams, showers the eternal beneficence as Mangala Nayagi. Once the nine holy rivers including the Ganges wanted to know from Lord Shiva where they could relieve themselves of the sins of all those who leave their sins with the rivers. Lord Shiva told them to take bath at the Mahamaham Tank in Kumbakonam and get relief. Based on this, on the day of the Maham Star in the Tamil month of Maasi, the Maham festival is celebrated. Once in twelve years the Maha Maham is celebrated on a grand scale when Guru enters the Simma Raasi. It is a national festival. Devotees pour in from all over India. There is a shrine for Kumba Munivar, one of the eleven siddhars at the corner of this temple. Aadhikumbeswarar also makes his presence at the Mahamaham.

Who worshiped here : Kumbamuni, Thirugnanasambanda, Appar, Arunagirinadhar.

Poets who sand in praise : Thirunavukkarasar.

Temple Timings : 6.00 am to 12.00 noon ---- 4.00 pm to 9.00 pm

Details of Poojas : Six times a day.

Temple Festivals : Chithirai – Sapthasthana Festival,
Vaikasi – Celestial
Wedding, Purattasi – Navarathri,
Margazhi – Thiruvadhirai,
Maasi – Maham Festival,
Panguni Uttiram – Float festival at the Mahamaha Tank.

Nearest Town : Kumbakonam.
Address : Sri Aadhikumbeswarar Temple,
Kumbakonam - 612 001.
Hotel Near Aadhikumbeswara Swamy Temple, Kumbakonam :
1.Sivamurugan Hotels
60 Feet Main Road, | Near New Bus Stand,
Kumbakonam 612 001, India
Ph: 096000 00384
2.Sara Regency
45/1 Chennai Road, Kumbakonam 612002, India
Ph:082200 05555
3.Quality Inn VIHA
New Railway Road, Kumbakonam,
Tanjore, Tamil Nadu 612001
Trichy Road, Namakkal
Ph:0435 255 5555
4.Hotel Green Park
No. 10, Lakshmi Vilas Street,
Kumbakonam, South India - 612001.
Ph :(0435) - 2402853 / 2403914
5.Hotel Vinayaga - Kumbakonam
132C, Kamaraj Road,
Kumbakonam- 612 001
Tamilnadu, India
Tele : +91 435 240 03 56
Telefax : +91 435 240 03 57
Mobile: +91 822 001 9 122
Reservation No: +91 4296 272 110
Restaurant Near Aadhikumbeswara Swamy Temple, Kumbakonam :
1.Venkatramanaa Hotel
No 40, TSR Big Street, Kumbakonam HO,
Kumbakonam - 612001, Near Gandhi Park
Ph : +(91)-9442130736
2.Sri Balaji Bhavan
1, Sasthra College Road,
Kumbakonam HO, KUMBAKONAM - 612001
Ph : +(91)-435-2424578
3.Hotel Shanmuga Bhavan
16, Kumbeswarar South Street,
Kumbakonam HO, KUMBAKONAM - 612001
Ph:+(91)-435-2433962
4.Gowri Shankar Hotel
No 47, John Selvaraj Nagar,
Kumbakonam HO, Kumbakonam - 612001
Ph : +(91)-9443131276 ,+(91)-435-2431177
tel : (91)-435-2430736
5.Rayas Garden Restaurant
No 18 Rayas Hotel, Head Post Office Road,
Kumbakonam HO, Kumbakonam - 612001
Ph :+(91)-435-2423170, 2423171, 2423172, 2423173"
1 1 1 1 1 1 1 1 1 1 Rating 3.36 (233 Votes)
Driving Direction & Temple Location