Godhandaramar temple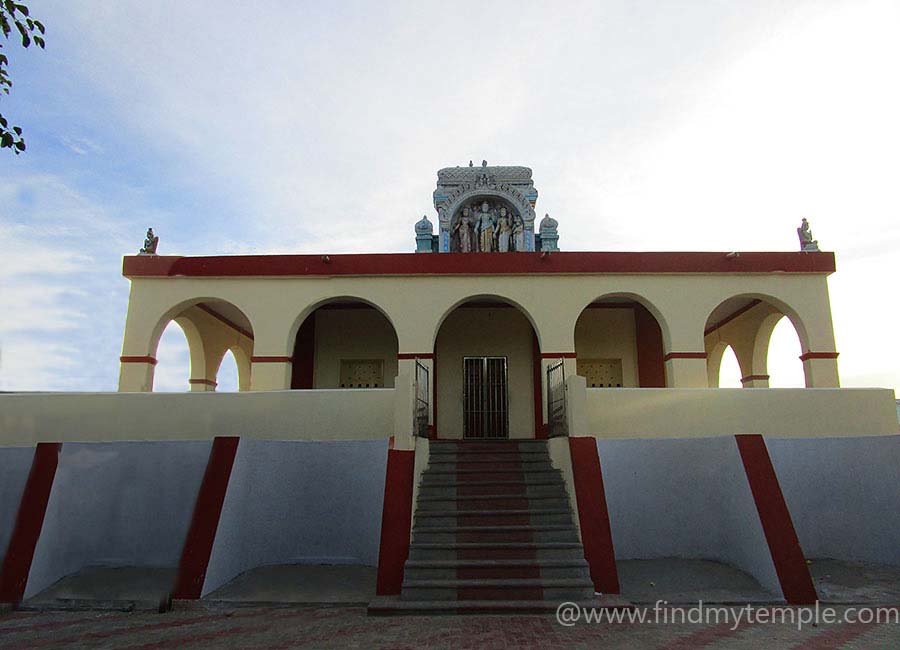 Main Deity : Godhandaramar (Lord Rama)
Ambal : Goddess Seetha
Other Deities : Lakshmana [ Brother of Sri Rama ], Hanuman, Vibhishana
Holy Water : Rathnagara Theertham.
Prominence of the Shrine : In the Moolasthanam [ Karpagraha/ Karuvarai ] of the Godhandarama temple, Lord Rama, along with Goddess Seetha, Lakshmana bless the people who come to worship here. Since Lord Rama in this shrine has a bow [Vil/ Godhandam] in his hand, he is also known as Godhandarama and the place is known as Godhandam. This is the place where Lord Rama crowned Vibhishana as the King of Lanka after rescuing Seetha from Lanka [Sri Lanka ] . Hanuman [Anjaneya] worshipping Lord Rama is a common sight in many temples but a rare and special feature in this temple is that Vibhishana is seen worshipping Lord Rama. Since Vibhishana got the blessings of Lord Rama he is given the status of an Azhwar and is praised as "Vibhishana Azhwar" by the devotees. Since this is a small temple, only Garuda Azhwar and Ramanujar in the front Mandapam are present. Since Rama disowned the bad – natured Ravana from the throne and crowned the good Vibhishana, those wanting to get a high post by fair means can worship the Lord here.
Temple History : Since this temple which holds the Puranas is surrounded by water bodies on all sides, it appears as though this temple is situated in the middle of the sea. Vibhishana advised his brother Ravana that his act of abducting Seetha was wrong and instructed him to leave Seetha to Rama. But Ravana refused to do so. Hence Vibhishana went to Rameshwaram to help Rama. Rama who accepted Vibhishana as his brother, coronated Vibhishana as the King of Lanka before winning over Lanka. [ It is also believed by some that Lakshmana coronated Vibhishana on the request of Rama. ] Hence this temple is named after and dedicated for the armed Rama [having the bow, which is a weapon ] . Apart from the Moolavars [main deities ] , Rama, Lakshmana and Seetha also bless the devotees as 'Utsava Moorthies'
People who worshipped here : Vibhishana
Temple Timings : Morning 07:00 AM – 06:00 PM
Pooja Details : On the last Saturday of the tamil month Purattasi, Special Poojas are offered. On the Navami [Ninth day] of the waxing phase [Valarpirai ] of the moon in the tamil month 'Aani', the "Pattaabhishekam" [ coronation ] of Vibhishana takes place. The Gods round the temple or the nearby streets [ Veedhis] on the festivals days like Ramalinga Prathishta Vizha in the month Aani,Vaikunda Ekadasi, Sri Rama Navami, and Aadi Amavasai.
Temple Festivals: During the time of Ramalinga Prathishtai the events like the abduction of Seetha by Ravana, Jadayu trying to stop Ravana from kidnapping Seetha, Hanuman's travel to Lanka, the defeat of Ravana by Rama, the Pattabhishekam [ coronation ] of Vibhishana, Rama installing the Shiva Linga, take place.
Nearest Town : Rameshwaram
Address : Godhandaramar Temple, Rameshwaram – 623 526, Ramanathapuram District
1 1 1 1 1 1 1 1 1 1 Rating 3.36 (233 Votes)
Driving Direction & Temple Location