Magara Nedunkuzhaikadhan Temple(Sukran)
ThenThirupperai, Thoothukudi District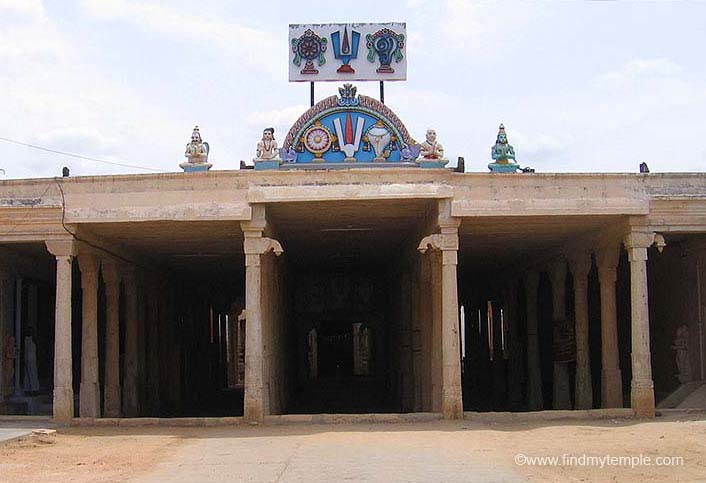 Main Deity : Sri Magara Nedunkuzhaikadhan.

Ambal : Kuzhaikadha Nachiar.

Holy Water : Sukkiravukarani, sangu Theertham, Koodupunal Theertham.

Temple History : Lord Vishnu's one of the wife Goddess Lakshmi once thought that Vishnu is more affectionate towards Bhooma devi as she was more beautiful than Lakshmi and worried about it. So she was praying to Rishi Durvasa to get a beautiful face like Bhoomadevi. When Durvasa visited Lord Vishnu Bhoomadevi was sitting on Vishnu's lap and ignored the Rishi. Rishi Durvasa who was famous for short tempered, got angry immediately and cursed Bhoomadevi to have appearance of Lakshmi. Bhoomadevi arrived to this shrine to find salvation. She chanted the mantra "Om Namo Narayana". On a Full Moon day as she chanted the mantra and raised both hands with water collected in the palms, she got two Magara Kundalangal(Fish shaped ear rings). As Vishnu made His Appearance then, she presented him the kundalas with much pleasure. Devas rained in flowers and the appearance of Bhoomadevi turned beautiful. As Bhoomadevi observed penance in the appearance of Lakshmi she was called Sriporai or Thiruporai . Today also Vishnu appears with fish shaped ear rings. Hence the name of Vishnu is Magara Nedunkuzhaikadan. Varuna (God of winds)Who lost his weapon 'paasam' While fighting asuras, got it back after performing penance here. Hence the prayer for rain here has never failed so far. Sukran also came here and got the grace of Vishnu. The king of vidharpa offered worship here and as a result the twelve year famine in his Kingdom gave way for prosperity. In front of Brahma and Easanya Rudrar, Vishnu graces in his sitting posture with Kuzhaikada Nachiar and Thiruperai Nachiar. As Vishnu asked Garuda to be little away to see the vedha experts chanting vedhas and the young children playing about merrily, the shrine of Garuda is a little away on the left hand side of Vishnu. The poem of Nammazhwar(one of the 12 most important sages who praised Lord Vishnu called as Azhwars) reflects this. This temple was built before the days of Nammazhwar. The stone inscriptions say that the flag mast(kodimaram), mandapam,the external mandapam and the temple car were made in the mid 10 th century. Sundara pandiyan who wanted a child brought hundred and eight Brahmins from chola country to perform poojas to the Vishnu everyday and offered them Gold and valuables. The Brahmins considered Vishnu one among them and perform their services with devotion. Once when a Brahmin was lost ,Vishnu himself appeared as the missing Brahmin. On the fifth day of panguni Brahmotsavam, at night during the Garuda seva as the Vishnu appears at the mandapam outside, even an atheist would turn religious seeing him. So beautiful and an indescribable a sight it is. Nammazhwar says that Sri Magara nedunguzhaikathan is matchless in beauty..

who worshipped here : Bhoomadevi, Sukiran

Poets who sang its praise : Nammazhwar

Temple Timings : 7.30 -12.00A.M, 5.00 -7.30 P.M
Nearest Town : Tirunelveli.

Address : Sri Magaranedunkuzhaikadhan Temple, ThenThirupperai, Thoothukudi District.
Hotel Near Magara Nedunkuzhaikadhan Temple(Sukran), ThenThirupperai :
1.Sakunthala International, (35.2.4km from Temple)
Trivandrum Road | Vannarpettai,
Tirunelveli 627003, India
2.Hotel Aryaas Ressidence(35.5km from Temple)
Bypass Junction | Vannarapetai,
Tirunelveli 627001, India
3.Hotel Aryaas (36.7km from Temple)
67, Madurai Road | Tirunelveli Junction,
Tirunelveli 627001, India
4.Sri Bharani Hotel (36.4km from Temple)
29-A, Madurai Road, Tirunelveli Junction |
Tamilnadu, Tirunelveli 627001, India
5.Sri Janakiram Hotels (36.9.2km from Temple)
30,Madurai Road,
Tirunelveli 627001, India
1 1 1 1 1 1 1 1 1 1 Rating 3.38 (238 Votes)
Driving Direction & Temple Location