Pachaivannar Perumal Temple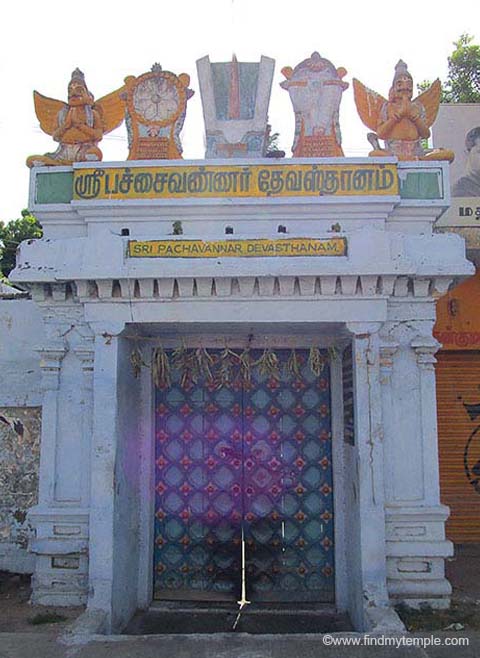 Main Deity : Sri Pachchaivannar.

Ambal : Sri Maragadhavalli Thayar.
Speciality of the shrine : The main entrance faces south; the mandapam of Moolavar "Pachchaivannar" (Green colored God) alias Maragadha Vannar faces south; the Moolavar Pachchai Vannar Perumal faces east gracing the devotees. The shrine of Thayar is located separately. In front of Thayar shrine, 'Yandrapravasani' (Sri Suddha Mandiram) is consecrated on a pedestal. Srinivasa Perumal appears at the standing posture. Mahalakshmi appears as Gajalakshmi in Her urchava posture. Adhiseshan stands guard.
Puranic Feature : In the old days 'Thiruvattar' became 'Yadava Kuppam' which became 'Konerikuppam' as it is called today. Here Yadavas were in great number along with their cows. A sage called 'Mareechi' was living here. He was an ardent devotee of Mahavishnu and he chanted the name of Mahavishnu all time. Vishnu, during his incarnation as Rama, took the form of Vishnu in green disposition and appeared before 'Mareechi'. The shrine thus came to be known.
General : It is not one among the 108 Dhivya Desams. However devotees worshipping Pavalavanna Perumal offer worship here (Pachchai vanna perumal) also as it is considered virtuous. Among the 108 Dhivya Kshetras that the Lord here appears as one for two Perumals is something unique.
Temple Timings : 7.00 am to 10.30am - 5.00 pm to 7.30 pm.
Nearest Town : Kanchipuram.
Address : Pachavanna perumal Temple, Kanchipuram, Kanchipuram District.
Hotel Near Pachaivannar Perumal Temple, Kanchipuram :
1. GRT Regency-Kanchipuram,
487, Gandhi Road, Kanchipuram 631502, India
Ph: +(91)-44-27225250, +(91)-9940184251
2. MM Hotels,
No. 65 - 66, Nellukara Street, Kanchipuram 631502, India
Ph: +(91)-44-27227250, +(91)-8098827250
3. Hotel Baboo Soorya,
No 85, East Raja Street, Kanchipuram Ho,
Near Kamakshi Amman Temple,
Kanchipuram - 631501, India
Ph: +(91)-44-27222556, +(91)-9597121214
Restaurant Near Pachaivannar Perumal Temple, Kanchipuram :
1.Saravanaa Bhavan,
66, Annai Indhira Gandhi Street,
Kanchipuram 631502,India
Ph: 4427226877
2.Hotel Saravana Bhavan,
504, Gandhi Road | Near Indian Overseas Bank
Kanchipuram 523230
Ph: 044 27222505
3.Haritam,
NH-45 Thenpakkam Village,
Kanchipuram 603301, India
Ph:44 27522336
1 1 1 1 1 1 1 1 1 1 Rating 3.36 (233 Votes)
Driving Direction & Temple Location