Lakshmipureeswaraswamy Temple
Thirunandriyur, Nagapattinam District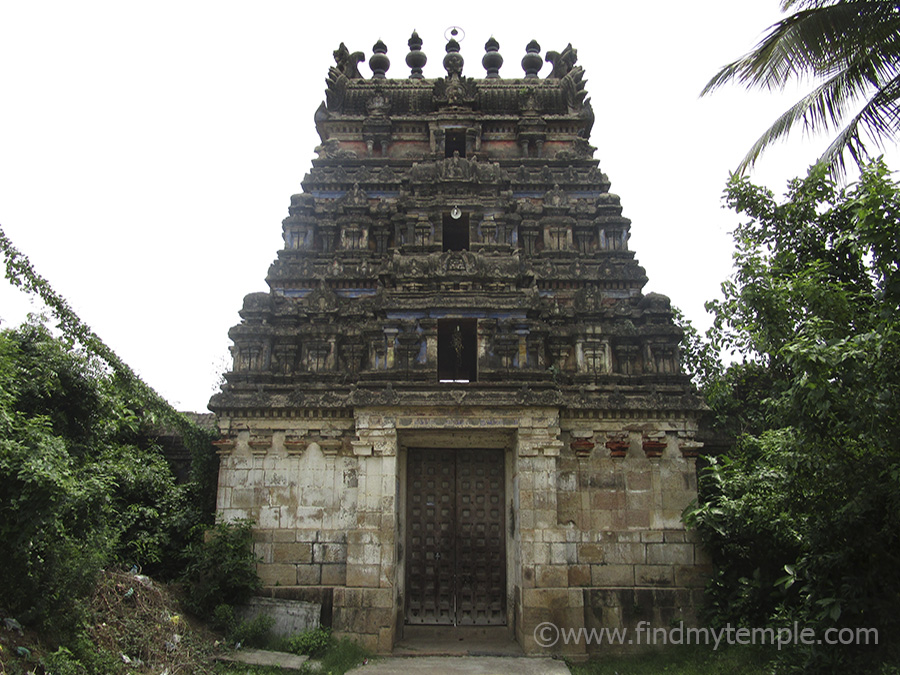 Main Deity : Mahalakshmeesar, Lakshmipureeswarar, Mahalakshminadhar.
Ambal : Lokanayagi.
Other Deities : Lord Ganesha, Muruga, Nalvar, Mahalakshmi.
Theertham : Neela Theereham also called as Mahalakshmi Theertham.
Temple Tree : Wood apple tree.
Prominence of the shrine : This shrine is located in the northern bed of river Cauvery in the Chola dynasty. This temple is one of the "Devara Sthalam"of Nagapattimnam District and is the 19th Shiva temple. Three poets had sung about this temple which is its significance. Royal tower in this temple has 3 stages. If we enter through the tower entrance, it leads us to spacious esplanade. There is no flag tree. Altar, Nandi and flag tree Vinayagar are present. In the outer courtyard Selva Ganapathy is located. Next is Shiva Linga worshiped by Parasuramar, Subramaniar with Valli and Deivanai sitting on a peacock turned to right side, Nalvar and Mahalakshmi shrines are located. Navagraga, Bairavar and Chandran (Moon) are all located in the same shrine.
After worshipping Dwaravinayakar, Dhandapani and Dwarabalar, if we enter it will lead to the main God and Ambal is located to the right of the main God. There are three pools around this temple. Samandhar had sung about this threetham as "Neelamalar Poigai". Once upon a time this temple was considered as one of the temples constructed by Kochenganan. One hundred years ago, when the city was renovated, it was believed that the existing structure was built. This place was called as Thirininravur as the strand of the torch stood in this place but later the place was called as Thirunandriyur.
Temple History : Parasuramar killed his mother Renuka by accepting the order of his father sage, Jamadagni. Then he requested his father to give life to his mother. So he revived his mother by getting boon from his father. He worshipped this God to get relieved from the curse of killing his mother. The Sage Jamadagni too worshipped this God. Shiva that was worshipped by Parasuramar is in the courtyard as "Parasuramalingeshwarar" and the one which was worshipped by his father is called as "Jamatakneshwarar". The shrine of Lord Vishnu is located closeby. Goddess Mahalakshmi was blessed by worshipping Shiva, so the Lord is called as "Mahalakshmeshwarar". Is near the shrine of Lord Vishnu. Lord Shiva is worshiped in the temple of Mahalakshmi received the grace of God is called makalatcumisvarar. Indra, Sage Parasurama, Iravatham, Cow and Chola King worshiped this Lord and were blessed.
Every day Chola king went to Chidambaram to worship Lord Nataraja. He passed with his troops through this way. While passing through this limit the torch would automatically switch off and lit on after exceeding the limit. The same happened for several days. The King was not able to find the reason for this. Then one day, he asked a person who was shepherding the cows, whether there was any speciality in that place. The shepherd told him that his cows extract milk automatically in one particular place. Then the King started to dig that place with an axe. Blood started oozing out. The King was shocked to see a Shiva Lingam, with upper part bleeding. He heard a voice of the God asking him to construct a temple there. So he took the Linga out and constructed a temple in that place. Still we can see the scar on head of Linga. By the Lord's voice, said to be the place to build the temple. Linga king was worshiped in the same building where the local history of the temple. As the ax cut panat excavation of Linga still see the scar. The presiding deity of the temple is Swayambhu Linga (formed by its own) graces with high panat.
People who worshipped here : Indra, Sage Parasurama, Iravatham, Cow and Chola King.
Poets who sang its praise : Sambandar, Upper, Sundarar.
Temple Timings : Morning 07:00 am to 1:00 noon, Evening 04:00 pm to 07:30 pm.
Temple Festivals : Anithirumanjanam, Shivaratri, Thrikkarthigai.
Nearest town : Mayiladuthurai.
Temple Address : Arulmigu Maha Lakshmipureeswaraswamy Temple,
Kurumankkudi, Thirunandriyur-609118, Mayiladuthurai, Nagapattinam District
Hotels Near Lakshmipureeswaraswamy Temple, Thirunandriyur :
1. HOTEL KANAKABHISHEGAM
No 6, Sannathi Street,
Thirukadaiyur - 609311.
Phone : +91 4364 287191 / 92 / 93".
2. HOTEL SADHABISHEGAM
# 6/18A, Sannathi Street, Thirukkadaiyur

Nagapattinam District, Tamil Nadu - 609 311

Telephone : +91 - 4364 - 287413, 287513,

Mobile : +91 - 97894 97762"

3. Hotel Mookambigai Residency Thirukadaiyur Main Road

Thirukadaiyur

Tharangabady T.K

Nagapattinam Dist, Pin - 609311

Phone; 04364-287515; 287748;287749;287750

Mobile:+91- 9364387750
4. ABIRAMI RESIDENCY

Mela Veedhi,Thirukadaiyur - 609 311.

Phone : 04364 287065, 287066

Mobile : 98840 87065, 94449 27650,98840 87085, 98840 87067
Restaurants Near Lakshmipureeswaraswamy Temple, Thirunandriyur :

1. Abirami Restaurant
Thirukadaiyur Main Road, Thirukadaiyur
Tharangabady T.K,

Nagapattinam Dist, Pin - 609311

Phone: 04364-287515; 287748;287749;287750

Mobile:+91- 9364387750
1 1 1 1 1 1 1 1 1 1 Rating 3.37 (235 Votes)
Driving Direction & Temple Location