Kailasanathar Temple
Senganur, Kumbakonam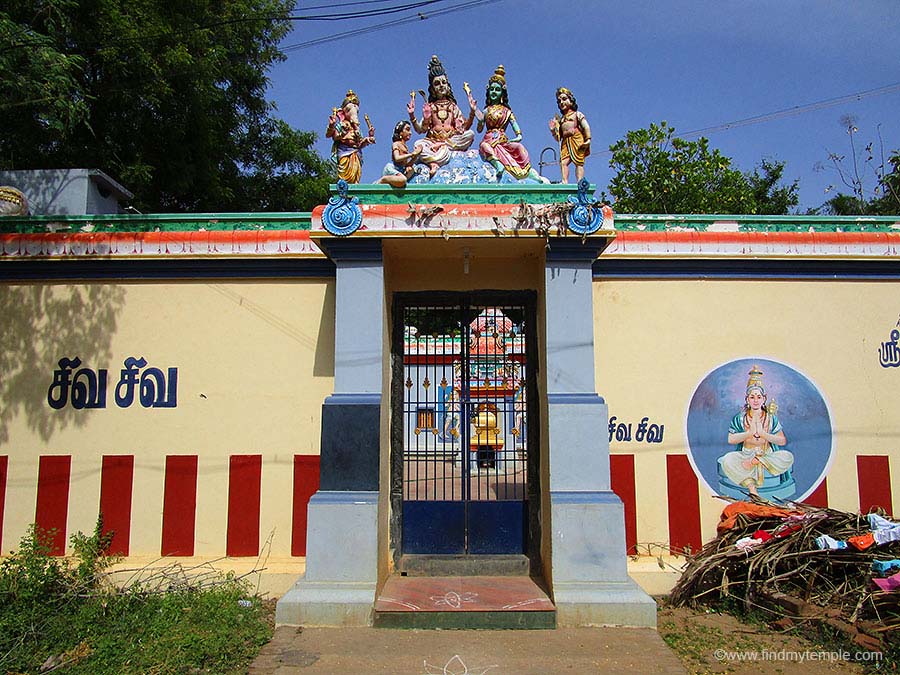 Main Deity : Kailasanathar.
Prominence of the shrine : Worshiping Lord Shiva first in the world is considered to be the best. Lord Shiva lives as soul in every human body. Special festival called "Mahashivarathiri" will be held every year in the month of "masi" (feb-15 to mar-15). During this festival poojas will be scheduled in 4 terms from evening 4:00 pm to early morning 4:00 am. Lord Shiva and Nandi will be specially decorated and anointed with 16 fragrances. Finally Dheebaradhanai (torch) will be shown. It is believed that if we worship Shiva on Mahashivarathiri, we will be rewarded of worshipping Shiva for the whole year. Devotees believe that if we involve in 4 term pooja during this festival, we will be blessed with peace and good health.
Temple Timings : Morning 08:00 am to 12:00 noon, Evening 04:00 pm to 08:00 pm.
Nearest Town : Kumbakonam.
Address : Kailasanathar Temple,
Senganur, Kumbakonam, Thanjavur District.
Hotel Near Kailasanathar Temple, Senganur :
1. Sivamurugan Hotels(7.8km from Temple)
60 Feet Main Road, | Near New Bus Stand,
Kumbakonam 612 001, India
Ph: 096000 00384.
2. Sara Regency (9.2km from Temple)
45/1 Chennai Road, Kumbakonam 612002, India
Ph:082200 05555
3. Quality Inn VIHA (8.8km from Temple)
New Railway Road, Kumbakonam,
Tanjore, Tamil Nadu 612001
Trichy Road, Namakkal
Ph:0435 255 5555
4. Hotel Green Park (8.1km from Temple)
No. 10, Lakshmi Vilas Street,
Kumbakonam, South India - 612001.
Ph :(0435) - 2402853 / 2403914
5. Hotel Vinayaga - Kumbakonam(8.3km from Temple)
132C, Kamaraj Road,
Kumbakonam- 612 001
Tamilnadu, India
Tele : +91 435 240 03 56
Telefax : +91 435 240 03 57
Mobile: +91 822 001 9 122
Reservation No: +91 4296 272 110
Restaurant Near Kailasanathar Temple, Senganur :
1. Venkatramanaa Hotel
No 40, TSR Big Street, Kumbakonam HO,
Kumbakonam - 612001, Near Gandhi Park
Ph : +(91)-9442130736
2. Sri Balaji Bhavan
1, Sasthra College Road,
Kumbakonam HO, KUMBAKONAM - 612001
Ph : +(91)-435-2424578
3. Hotel Shanmuga Bhavan
16, Kumbeswarar South Street,
Kumbakonam HO, KUMBAKONAM - 612001
Ph:+(91)-435-2433962
4. Gowri Shankar Hotel
No 47, John Selvaraj Nagar,
Kumbakonam HO, Kumbakonam - 612001
Ph : +(91)-9443131276 ,+(91)-435-2431177
tel : (91)-435-2430736
5. Rayas Garden Restaurant
No 18 Rayas Hotel, Head Post Office Road,
Kumbakonam HO, Kumbakonam - 612001
Ph :+(91)-435-2423170, 2423171, 2423172, 2423173
1 1 1 1 1 1 1 1 1 1 Rating 3.34 (174 Votes)
Driving Direction & Temple Location