Karpaka Vinayakar Temple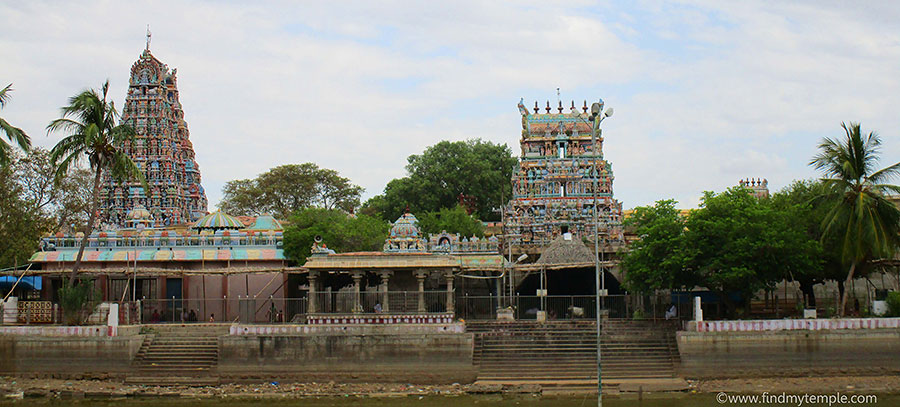 Main Deity : Sri Karpaga Vinayagar (Ganesha)
Temple Tree : Marudamaram.

Prominence of the Shrine : The moorthy stands magnificently at 6 feet in sitting posture on the rock. The Vinayagar is magical. The temple belongs to the cavernous type. The Vinayagar is "Valampuri" type. That means his trunk is turned towards the right hand side which is unusual. By observing "Chathurthi viradham" one can get benefits. Every January 1, thousands of devotees offer worship here.

Temple History : The old name of this town is called as "Maruthamboor". Here the Lord Ganesha is called as Karpaga Vinayagar. This temple is constructed around 1600 years back. This is a Rock cut temple style constructed by early Pandian Kings ahead of all the Rock & carving based temples by Pallava Kings. Around 12th century the temple administration came under the "Nattu Kottai Chettiyars " ( A renowned people of tamil business community) . After quelling the Asura "Kayamuga" Lord Ganesha performed penanced towards his father Lord Shiva at this temple. There is a Shiva Linga in his right hand at this temple. There is a huge temple tank on the northern side of the temple. The tradition here is, enter through the northern gate and exit the temple through its eastern gate. On each Chathurthi day, the Lord will be taken around the temple praharas. There is a dedicated "Ther" (Car - Vehicle for the God ) available for Lord Ganesha. Usual practice is to pull the one side of rope of the car by Men and the other side of the rope by Women.
Temple Timings : 6.00 am to 12.30 pm, 4.00 pm to 9.00 pm.
Pooja Details : Five times a day.

Temple Festivals : Vinayaka Chathurthi- 10 day festival.

Nearest Town : Shivagangai.

Address : Sri Karpaga Vinayagar Temple, Pillayarpatti 630 207, Shivagangai Dt.
Hotels Near Karpaka Vinayakar Temple, Pillayarpatti :
1. Selvam Hotel, (0.5 km from Temple)
Koviloor Thirupathur Road,
Koothadipatti,Pillayarpatti,
Tamil Nadu 630212
2.Hotel Subhalakshmi Palace, (15.9 km from Temple)
#1 Church 1st Street, Sekkalai Road,
Sekkalai,Karaikudi, Tamil Nadu 630001,
ph:04565 237 010.

3.The Bangala, (14.9 km from Temple)
Devakottai Road, Senjai,Karaikudi,
Tamil Nadu 630001,
ph:04565 220 221

4.Thappa Gardens Resort, (17.9 km from Temple)
687,Main Road,Ariyakudi,
Karaikudi, Tamil Nadu 630202,
ph:04565 221 777

5.Hotel President, (15.1 km from Temple)
Sekkalai,Karaikudi,
Tamil Nadu 630001
1 1 1 1 1 1 1 1 1 1 Rating 3.37 (235 Votes)

Driving Direction & Temple Location