Shri Sarvamangala Sri Lakshmi Narasimha Swamy Temple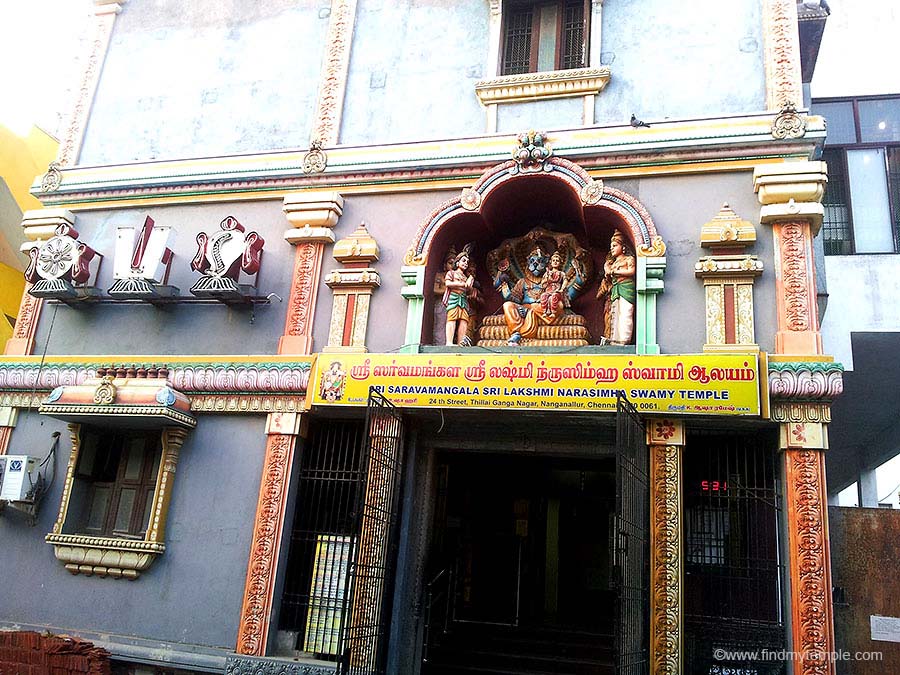 Main Deity : Sri Lakshmi Narasimha. Prominence of the shrine : The special feature of the temple is Lakshmi Narasimhar sitting on a five – headed snake. On the Garuda Seva Mahotsavam of 24/05/2009, the Lakshmi Narasimhar of Nanganallur, The Srinivasa Perumal from Keezhkattalai, The Oppiliyappa Perumal of Ram Nagar, Madippakkam, The Lakshmi Narasimhar from Aadhampakkam, The Godhandaramar in Madippakkam, the Hayagreeva Perumal of Nanganallur, all the six Perumals appeared together in one Seva and blessed the devotees. It is believed that one can see this Periya Thiruvadiyaa Garuda Seva only if they do a lot of Punniyam. The event of Perumal coming in Garuda is a very special event. There is also a belief that like the log of wood in the river which reaches the sea without any difficulty, we can also reach 'Mukthi' if we worship the Perumal who sits atop the Garuda.
Temple History : The saint Jamadhagni [ father of Parasurama ] had a deep desire to see and worship the Lord Narasimha who tore a pillar apart and appeared from within to save Prahalladha. Hence, he organized a Yagna. From the middle of the Yagna's flames, Narasimha appeared in a 'Ugra Kolam' [Angry state]. Jamadhagni, who was very pleased on seeing the Lord, requested the Lord to restore his calm composure and pleaded Him that he should give dharshan in such a state for the other people too. As per the request of the devotee, the Lord settled in that place with Lakshmi. Since this is the place where the Nangai [ women ] Lakshmi appeared, it came to be known as 'NangaiNallur' and later the name evolved as 'Nanganallur'.
Temple Timings : Morning – 07:00 am to 12:00 noon. Evening – 04:00 pm to 08:00 pm
Temple Festivals : Narasimha Jayanthi, Krishna Jayanthi.
Nearest Town : Chennai. Temple
Address : Shri Sarvamangala Sri Lakshmi Narasimha Swamy Temple,
24, Thillai Kangar Nagar, Nanganallur, Chennai – 600 061.
1 1 1 1 1 1 1 1 1 1 Rating 3.36 (233 Votes)
Driving Direction & Temple Location