Navaneetha Krishna Perumal Temple
Arasalur, Thottiyam, Trichy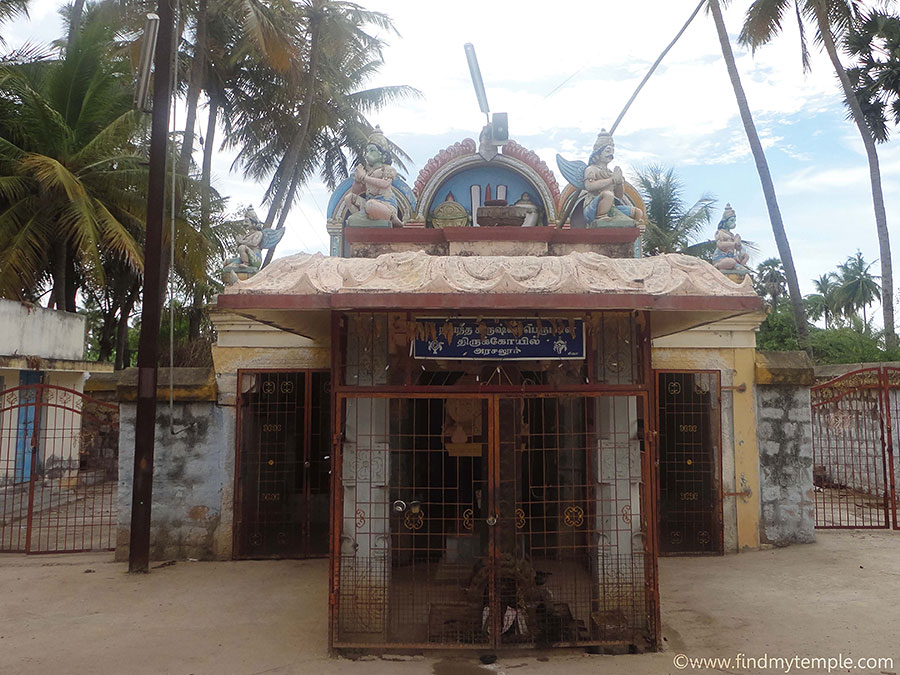 Main Deity : Shri Navaneetha Krishna Perumal.
Other Deities : Anjaneya, Lakshmi Narasimha, Lakshmi Hayagriva.
Prominence of the shrine : Murtis and sculptures in Navaneetha Krishna temple have great art subtlety. Solar-lunar-eclipse story sculptures can be seen in the upper canopy of the temple buildings. Sculpture of couple who worshipped Lord Perumal is seen in one of the pillars inside the temple. It is believed that the temple has been built by them.
In this temple, Hanuman who is called as "Kambathadiyan" is facing south direction with Sanjeevi mount (Panacea Mountain) in his hand. People believe that, worshipping this god will relieve them from the fear of Lord Ema (Emapayam) and will be blessed to fulfill their desires. Narasimha, Hayagriva are worshipped to get relieved from black magic, credit problems, marriage barriers and child barriers.
This Perumal who is believed to take Kalki Avatar (kalki incarnation) is guarded by Karuppanna Swamy in southwest, Pakavati Amman in northwest, Mariamman in northeast and Pidaria Amman in southeast. Sukantha Kunthalambal Samedha Thayumanava Swamy Shiva Shrine is also present here. In the south of this place, in the Cauvery bed is located the place called "Thirunarayanapuram" where Perumal gave peacefull appearance to Prahaladh.
To the north of this place there is a mount with full of herbs. This is believed to be formed from a piece of Sanjeevi mount fallen in this place. On Vaikasi visakam, after Namazhvar chant, Lord "Navaneetha Krishnan with all Nachimar" prominades and graces all devotees. Worship this God to show improvement in business and to live healthy life.
Temple History : This place is called as Arasalur as this is full of Pipal tree which called as "Arasamaram". Navaneetha Krishna Perumal shrine is present here. As Navaneetha Krishna Perumal is believed to take Kalki Avatar, this place is called as "Asvathavur" then called as Arasalur. Some family who lived in this place with family God Tirupathi Srinivasa worshipped Srinivasar and Prasanna Venkatesa Perumal.
Temple Timings : Morning – 06:00 am to 12:00 am, Evening – 04:00 pm to 08:00 pm.
Nearest Town : Trichy.
Temple Address : Shri Navaneetha Krishna Perumal Temple,
Arasalur, Thottiyam, Trichy District.
Hotels Near Navaneetha Krishna Perumal Temple, Thiruverumbur :
1. Mathura Hotel,
No 1, Rockins Road, Tiruchirappalli Townhall,
Trichy - 620002, Opposite Central Bus Stand Contonment
Tel : +(91)-431-2414737, +(91)-9894558654.
2. Mayavaram Lodge,

No 87, Vanapattarai Street, Tiruchirappalli Townhall,
Trichy - 620002, Teppakulam Post,
Tel : +(91)-431-2711400, 2704089
3. Femina Hotel,
109, Williams Road, Tiruchirappalli 620001,
Hotel Area: Trichy Central Bus Stand / Railway Junction Area,
Tel : 0431 - 2414501.
4. Hotel Rockfort View,
05, Odathurai Road | Chinthamani, Tiruchirappalli 620 002.
Mobile: +91 740 2713466.
Tel : +91 431-2713466.
5. Grand Gardenia,
22-25 Mannarpuram Junction,Trichy-620020,
Mobile : +91 95856 44000.
Tel : +91 431 4045000.
Restaurants Near Navaneetha Krishna Perumal Temple, Thiruverumbur :
1. Ragunath Restaurant,
College Road, Tiruchirappalli.
2. Parthasarathy vilas,
Vegetarian / Vegan Restaurant
Kondayam Pettai Agraharam, Thiruvanaikoil, Trichy 620005.
1 1 1 1 1 1 1 1 1 1 Rating 3.36 (233 Votes)

Driving Direction & Temple Location