Vijayasana Vishnu Temple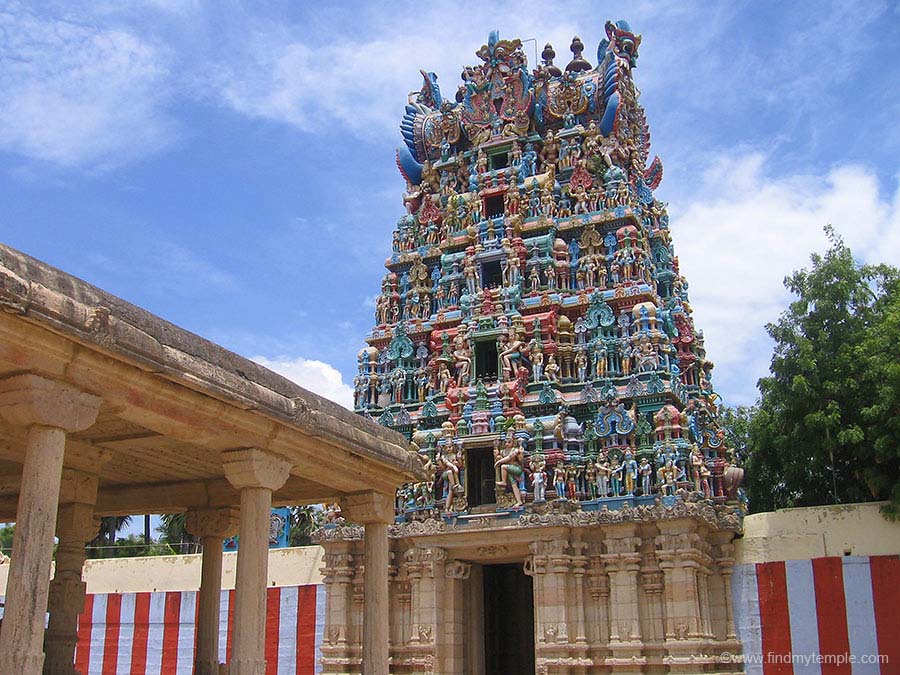 Main Deity : Vijayasana Vishnu

Ambal : Varagunavalli Thayar; Varaguna mangai Thayar .

Holy Water : Agni Theertham ; Deva Pushkarani

Vimanam : Vijayakodi Prathyatcham

Temple History : Once upon a time on the banks of the Reva river in a village called "Punniya gosham agraharam" a person called Vedavi performed his duties to his mother ,father and guru and started his penance chanting 'Aasanathai' mantra with a view to have dharshan of Vishnu . Vishnu went to him in the guise of Brahmin and told him that to chant 'Aasanathai' mantra Varaguna mangai was the best. Accordingly Vedavi came here, observed rigorous penance received the grace of Vishnu and attained the liberation from life. The place Where he chanted Aasanathai mantra and got the dharshan of the lord, the Lord came to be known as Vijayasanar. At this temple Vishnu appeared to Rishi called 'Romesa' who cured Brahma of his arrogance. He appeared to 'Savitri' who retrieved her husband alive with her truth and also to Lord Agni(fire) who would incinerate adharma and atrocities. Vijayasanar here graces everyone as lord Satya Narayana , sitting under the umbrella borne by Aadhi sedan . According to Romesa Rishi somebody dies at this temple won't have birth again and attain the ultimate eternity of liberation.

Temple Timings : 9 A.M To 6 P.M

Address : Sri Vijaya Vishnu Temple, Natham, Thoothukudi Dt.
Hotel Near Vijayasana Vishnu Temple, Natham :
1.Sakunthala International, (28.3km from Temple)
Trivandrum Road | Vannarpettai,
Tirunelveli 627003, India
2.Hotel Aryaas Ressidence(31km from Temple)
Bypass Junction | Vannarapetai,
Tirunelveli 627001, India
3.Hotel Aryaas (30km from Temple)
67, Madurai Road | Tirunelveli Junction,
Tirunelveli 627001, India
4.Sri Bharani Hotel (30km from Temple)
29-A, Madurai Road, Tirunelveli Junction |
Tamilnadu, Tirunelveli 627001, India
5.Sri Janakiram Hotels (30km from Temple)
30,Madurai Road,
Tirunelveli 627001, India
1 1 1 1 1 1 1 1 1 1 Rating 3.37 (235 Votes)

Driving Direction & Temple Location