Erumbeeswarar Temple
Thiruverumbur, Trichy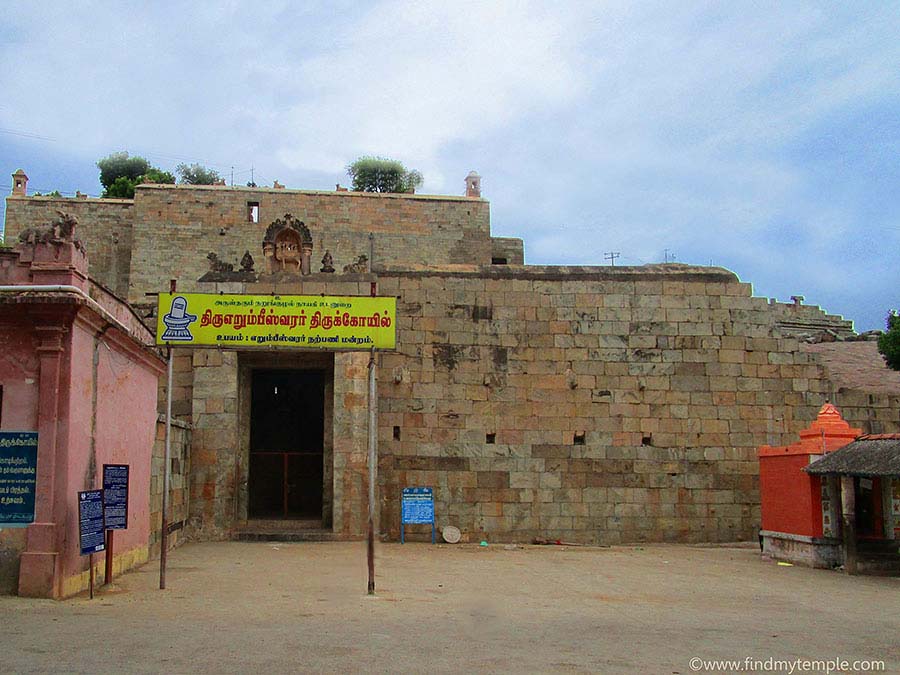 Main Deity : Erumbeeswarar
Ambal : Narum Kuzhal Nayagi
Holy Water : Brahma Theertham.
Temple Tree : Vilva Tree (Aegle marmelos)
Prominence of the Shrine : Indra and the Devas worshipped in the form of ant in this temple. The Lord here bowed his head for ants.
Temple History : An Asura called Tharugasura tormented the Devas and the sages because of the boons granted on him. Once he defeated Indra of the world above. Indra approached Brahma. Brahma told him to worship Manikoodapura Peruman of South Kailash; A son of Shiva would appear and he would kill Tharugasuran according to Brahma. The Devas and Indra started their prayer. To prevent the asura from identifing them, they took the form of ants and worshipped the Lord Shiva. They used 'Karuneithal' flower for worship. As ants carried the flowers using the sticky oil on them, it was difficult for them to climb steps. The Lord turned himself into an ant hill. He bent his head to make the ants climb without sliding down. In the same way he had bent his head for Shivasaruman at Virinchipuram Temple and for Thadagai at Thiruppananthal.
Who worshiped here : Murugan, Brahman, Rathi, Indra, Agni, Agathiar, Naimisa Sage and Kattangazhi Swamiji
Poets who sang its praise : Thirunavukarasar
Temple Timings : 6am to 12noon 4.30pm to 8.30pm
Temple Festivals : Vaigasi- Brahmothsavam Aippasi- Annabhishegam Maha Shivarathiri, Girivalam, Pradosham
Nearest Town : Trichy
Location : The seventh shrine of the Chola kingdom on the southern bank. It is situated at 8km from Trichy chatram Bus stand on the Trichy Tanjore Highway
Managed By : Archaeological Survey of India
Address : Sri Erumbeeswarar temple, Thiruverumbur, trichy-620013
Hotels Near Erumbeeswarar Temple, Thiruverumbur :
1. Mathura Hotel, (13.2 km from Temple)
No 1, Rockins Road, Tiruchirappalli Townhall,
Trichy - 620002, Opposite Central Bus Stand Contonment
Tel : +(91)-431-2414737, +(91)-9894558654.
2. Mayavaram Lodge, (10.1 km from Temple)
No 87, Vanapattarai Street, Tiruchirappalli Townhall,
Trichy - 620002, Teppakulam Post,
Tel : +(91)-431-2711400, 2704089
3. Femina Hotel, (13.2 km from Temple)
109, Williams Road, Tiruchirappalli 620001,
Hotel Area: Trichy Central Bus Stand / Railway Junction Area,
Tel : 0431 - 2414501.
4. Hotel Rockfort View, (11.2 km from Temple)
05, Odathurai Road | Chinthamani, Tiruchirappalli 620 002.
Mobile: +91 740 2713466.
Tel : +91 431-2713466.
5. Grand Gardenia, (11.3 km from Temple)
22-25 Mannarpuram Junction,Trichy-620020,
Mobile : +91 95856 44000.
Tel : +91 431 4045000.
Restaurants Near Erumbeeswarar Temple, Thiruverumbur :
1. Ragunath Restaurant, (13 km from Temple)
College Road, Tiruchirappalli.
2. Parthasarathy vilas, (11.8 km from Temple)
Vegetarian / Vegan Restaurant
Kondayam Pettai Agraharam, Thiruvanaikoil, Trichy 620005.
1 1 1 1 1 1 1 1 1 1 Rating 3.37 (235 Votes)

Driving Direction & Temple Location