Sowmiya Narayana Perumal Temple
Thirukkoshtiyur, Sivagangai (Dt)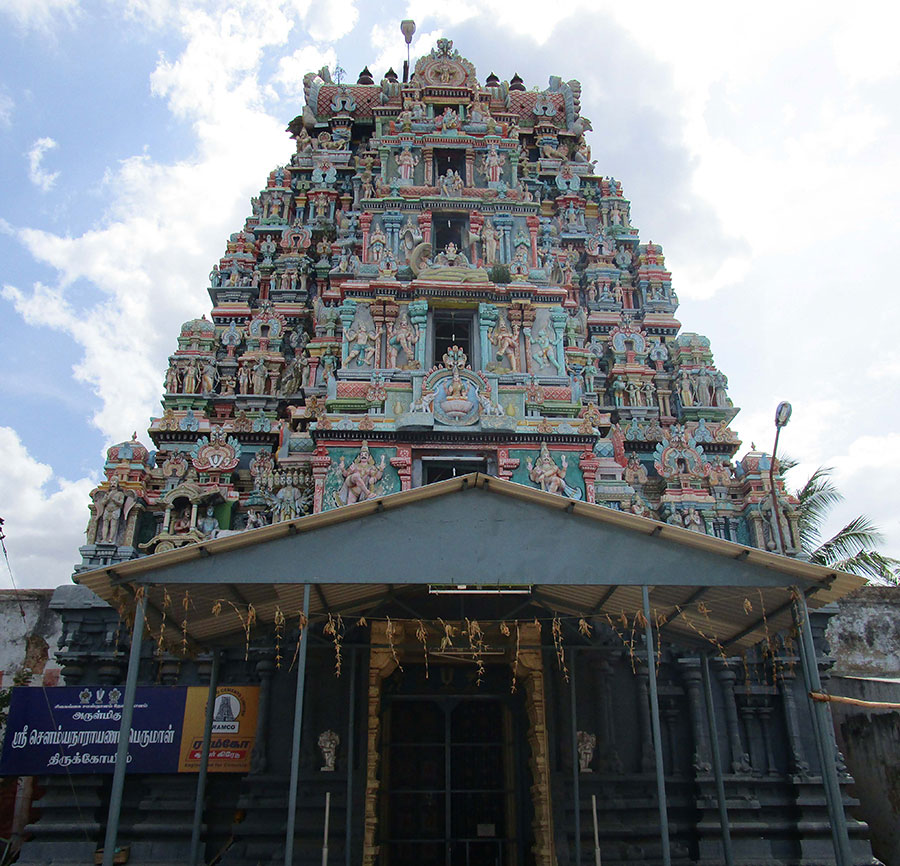 Main Deity : Sowmiya Narayanar/ Vishnu
Ambal : Thirumamagal
Holy Water : Deva Pushkarani, Mahamaha Theertham
Prominence of the Shrine : The "Ashtanga Vimanam" of Moolavar (the main deity) is very popular in this temple. Among the 108 Thiruppathis of Lord Vishnu this type of Ashtanga Vimanam is there in few temples only. Sri Ramanujar climbed the Vimana of this temple, called all the people and chanted the Narayana mantra from here. This is the 95th of the 108 Divya Desams. It is believed that if we pray in this temple, any obstacles to the marriage will be removed. Prayers can be offered here for material prosperity of the family.
Temple History : Hiranyan, the Demon (asura) who had obtained boon from Brahma, tormented the Devas continuously. The Devas who were perturbed appealed to Lord Maha Vishnu. Maha Vishnu called the Devas to discuss how to quell Hiranyan. The Devas who were afraid of Hiranyan wanted a place where there would be no disturbance. The Lord accepted their demand. In the meanwhile, Khadamba Maharishi was observing penance at this shrine for dharshan of Vishnu. He had obtained a boon that no disturbance would be caused at the place where he was observing penance. Hence Maha Vishnu chose this shrine and told Devas that he was going to take the incarnation of Narashimha to quell Hiranyan. Devas and Kadhamba Maharishi were happy to hear this and they prayed him to show his avatar(Narashimha Avatar) he is going to take. Vishnu showed them the avatar even before he took it. The elated Devas and Maharishi prayed to Vishnu to show the other forms. Swamy showed them the four forms – Standing, Lying, Sitting, Moving forms of himself. As swamy drove away the sufferings of Devas, the shrine got its name "Thirukkotiyur" or "Thirukkoshtiyur".
Poets who sang its praise : Periyazhwar, Thirumangai Azhwar, Thirumisai, Azhwar, Bhoothath Azhwar, Peyazhwar.
Temple Timings : 6.00 am to 12 noon - 4.00 pm to 8.00 pm
Temple Festivals : Maasi – Theppa Thiruvizha,
Vaikunda Ekadasi,

Navarathiri.

Nearest Town : Shivagangai
Address : Sri Sowmiya Narayana Perumal Temple,
Thirukkottiyur (Po.),
Sivagangai (Dt), PIN – 630 211.
Hotels Near Sowmiya Narayana Perumal Temple, Thirukkoshtiyur :
1.Hotel Karthik,
Post office Road, Near Pillayarpatti,
NH 36 Thriruppatur, Tamil Nadu 630211,
ph:04577 268 780

2.Selvam Hotel,
Koviloor Thirupathur Road,
Koothadipatti,Pillayarpatti,
Tamil Nadu 630212

3.Thappa Gardens Resort,
687,Main Road,Ariyakudi,Karaikudi,
Tamil Nadu 630202,ph:04565 221 777

4.Hotel Subhalakshmi Palace,
#1 Church 1st Street, Sekkalai Road,
Sekkalai,Karaikudi, Tamil Nadu 630001,
ph:04565 237 010

5.Hotel President,
Sekkalai,Karaikudi,
Tamil Nadu 630001
1 1 1 1 1 1 1 1 1 1 Rating 3.37 (235 Votes)
Driving Direction & Temple Location