Dhandayuthapani Swamy Temple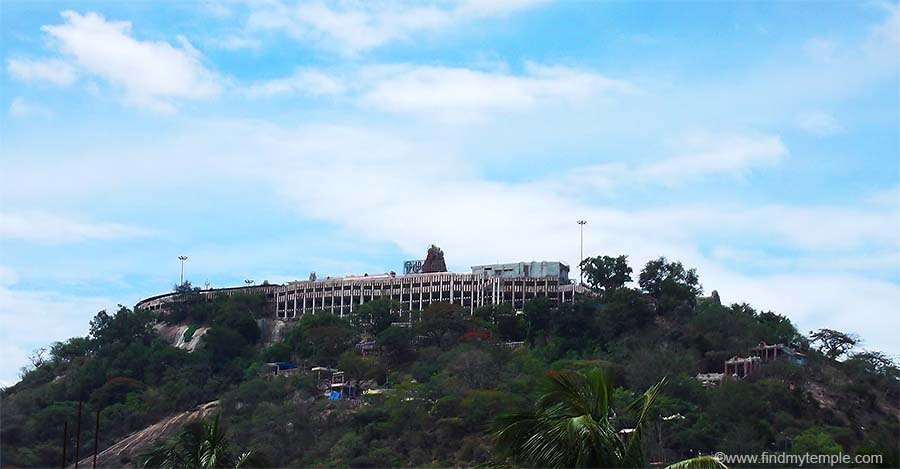 Main Deity : Sri Dhandayuthapani Swamy
Holy Water : Shanmuga River
Temple Tree : Nelli Tree (Emblica offinalis)
Prominence of the Shrine : This temple is one of sacred houses of six Murugan's sacred houses. 38 sub temples are associated with this main temple. On the day of "Thaipoosam" lakhs and lakhs of devotees will come down to temple (patha Yatra – By walk people will reach the temple without using any vehicle for travel). The temple is located on a small mountain there is a winch and rope car facilities are also available apart from the steps to reach the top of the mountain/temple. Worshipping Lord Muruga will get cure from "Sevvai Dosha". One of the very popular temples of the state which brings lot of revenue as donations from devotees.
Temple History : Long ago Palani town used to be southern border of Kongu Nadu. As per the stone scripts this area used to be called as Vaiyapuri Nadu in those days. Vaiyapuri Koperum Began is the king who ruled Vaiyapuri Nadu.
Historically, Siddhar also refers to the people who were early age wandering adepts that dominated ancient Tamil teaching and philosophy. They were knowledgeable in Science, Technology, Astronomy, Literature, Fine Arts, Music, Drama, Dance, and provided solutions to common people in their illness and advice for their future. Siddhars are people who are believed to control and transcend the barriers of time and space by meditation (different types of Yoga), the use of substances called 'Rasayanas' that transform the body to make it potentially deathless. Bogar Siddhar is one of the very popular Siddhas who lived in this region. He has learned all the 'Sastras'(Books on different fields). Bogar is a student of sage Kalaangi. He has learnt many languages of the world and travelled to many countries including china to preach Yoga and medical practices. Bogar Siddhar had written around 1700 poems which focuses on his preaches.
Idaikadar, Karuvarar, Pulipani and Konganar were the popular Siddhars, those who learnt Siddha from Bogar. Bogar along with his students travelled to China and wrote a several books about science in their language. Later he returned back to TamilNadu and lived in the region of Palani.
Bogar created the current Lord Muruga Idol using 'Navaphashana'. The deity at the sanctum sanctorum of Palani temple is made out of an amalgam of nine minerals popularly called Navapashanam. Some people say it is a combination of medicinal herbs or even some says these medical herbs are poisonous in it raw form. Bogar's medical knowledge was very high and he wrote several books related to medicine including 'Nigandu Vaithiyam', 'Thuvatha Kandam', 'Sappa kandam', and 'Vaidya Soothiram'. He also wrote several books about spirituality including 'Ghana Soothiram', 'Attanga Yogam' and 'Ghana Saaramsam'. Bogar's Samadhi is located in inner prahara of Palani temple. We cannot say simply Samadhi is a cemetery because Samadhi means it is a spiritual state of consciousness. At Palani temple, every day poojas are conducted for the idols of Nava Durga, Bhuvaneswari and 'maragatha lingam' (Linga made up of emerald) which are worshipped by Bogar.
Temple Timings : 6:00 AM to 8:00 PM . On Karthigai and other festival days, morning 4:00 PM to mid night pooja
Temple Festivals : Tamil new year ( 1st day of the tamil month Chithirai),
Chithra pournami (Full Moon day on the month of Chithirai ),
Vaigasi Vihasham,
Aadi Pooram,
Aavani – Vinayagar Chaturthi,
Purattasi – navarathiri,
Aippasi – Kantha Sasti , Surasamharam , the holy marriage.
Karthigai – The Mega Karthigai, Thiruvathirai,
Thai – Thaipoosam,
Maasi – Maasi magma, Sivarathiri,
Panguni – Panguni uththiram.
Nearest Town : Palani
Address : Sri Dhandayuthapani swamy temple, Palani, 624 601. Dindigal District.
Hotel Near Dhandayuthapani Swamy Temple, Palani :
1.HOTEL SUBAM,
7, North Giri Street, Adivaram,
Palani - 624601. South India.
pone+91 4545 242672, 98421 74796
2.Hotel Ganpat (P) Ltd
103, Poonga Road, Adivaram,
Palani -624601.
Ph: 04545-242294, 325746.

3.Hotel Vels Court,
29, Ayyampulli Road, Adivaram,
Palani-624601. South India.
Ph: 04545-247770,325551

4.The Royal Park
256/W2, Dindigul Road,Near Old RTO Office,
Palani - 624601. South India.
Ph: 04545 - 251855.
5.Peacock Inn,
No:2, Andavar Poonga RoadAdivaram
Palani, Tamil Nadu 624 601 India
ph: +91-4545-244410
alt: +91-4545-321199
1 1 1 1 1 1 1 1 1 1 Rating 3.38 (238 Votes)

Driving Direction & Temple Location