Thirunallar Saneeswaran Temple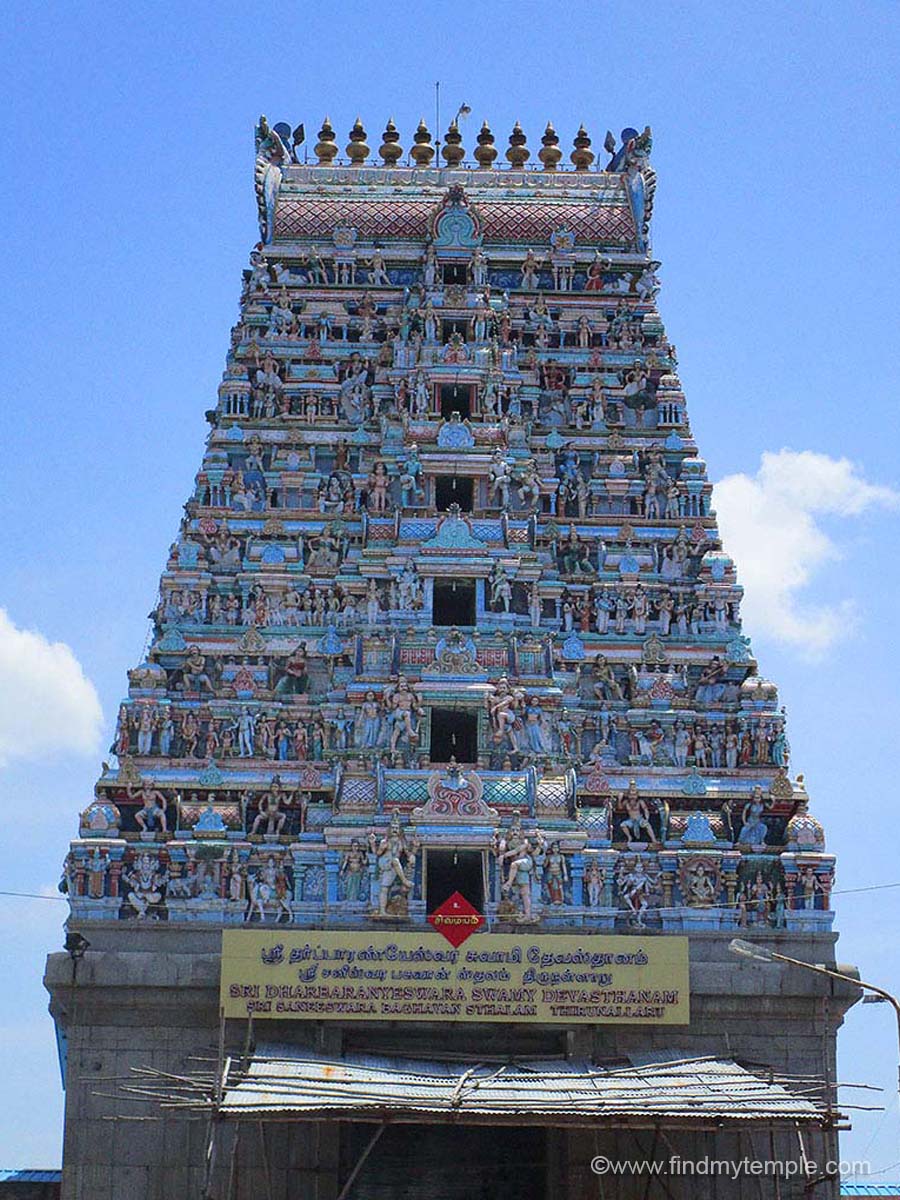 Main Deity : Sri Dharpaneswara Swamy Temple
Ambal : Praneswari, Pranambigai.
Other Deities : God Saneeswaran ( planet Saturn)
Holy Water : Nala Theertham, Brahma Theertham, Vani Theertham

Temple Tree : Dharppai (a type of grass)

Prominence of the Shrine : The temple's main god is Lord Shiva in the name of Dharpaneswarar. How this temple is famous for one of the Navagrahas Saneeswaran. The devotees who are under the control of Saneeswaran (as per astrology if you come under Saneeswaran then you will struggle ) should worship here with a lamp which is filled with Sesame seeds.

Thirunallar Saneeswaran Temple History
The famous King Nala and the queen Damayanthi both liked each other got married. However Devas wanted to marry the queen Damayanthi. So after this marriage, Devas got angry and jealous on Nala. Devas reached out Saneeswaran and asked him to help them out. But after seeing the couple, he decided to make devas understand the Nala's true love to the queen. Saneeswaran gave lot of troubles to King Nala and finally the King reached Thirunallaru. The King worshipped the Lord Dharpaneswara at this temple and got cured from all his curses and Dosha.
History of how the Saneeswaran become one of the Navagrahas:
One of wives of Surya deva (Sun God) is Usha. She couldn't tolerate the heat of the sun, so She converted her shadow as another woman in the name of "Saya Devi" and lived in that name. Saneeswaran was born to Saya Devi and Surya Deva. Later when Surya Deva came to know this, he got angry with Usha and he didn't accept Saneeswaran as part of his family. Saneeswaran went to Kasi (Varanasi), worshipped the Lord Viswanathar (Shiva) and become part of one of the Navagrahas.

How to worship Saneeswaran:
Devotees need to take bath at Nala Theertham (Temple tank) at early morning 5 AM, and worship Nala Vinayagar and the god Bairavar near to the Temple tank. Then they need to worship Ganga Theertham at the temple. After this, they need to worship Rajagopuram ( the main temple tower), the steps to the temple where Saneeswaran is believe to be living, and the Nala history in the first prahara of the temple. After the above steps, they need to worship Kalathi Nathar, the main Deity Dharpaneswarar swamy, Thiyaga Vidangar Sannidhi, Linga made up of emerald, Artha Nareeswarar, Durga Devi, God Sandikeswarar and reach out to the outer prahara of the temple. They need to worship all the gods in the outer praharas, special dharshan for Praneswari (the main Goddess at this temple) and then they need to perform pooja for Saneeswaran. Lot of devotees go directly first Saneeswaran which is not the right way of worshipping gods at this temple.

who worshipped here : Vishnu, Brahma, Indra, Sage Agaththiyar, Arjun, King Nala

Thirunallar Saneeswaran Temple Timings
Morning 6:00 AM to 12: 30 PM
Evening 4:0 PM to 9:00 PM

Thirunallar Saneeswaran Temple Pooja Details
Six times a day

Temple Festivals : All Saturdays are very famous at this temple, as Saturdays are considered to be good for God Saneeswaran.
On tamil month Vaigasi – Uththiradam star is famous and 18 days following that will be celebrated as a big festival.
Full moon day on tamil month purattasi is very good day to worship here. During the days of Dussera (9 or 10 day festival across various parts of India) and Vinayagar Chaturthi.

Nearest Town : Karaikkal

Address : Sri Dharpaneswara Swamy Temple, Thirunallaru – 609 607. Karaikkal, Pondicherry.
---
Team FindMyTemple provides services to devotees visiting Saneeswaran. We help arrange travel, stay and rituals. Click here for more information or submit your travel request by clicking the button below.
---
Hotels Near Thirunallar Saneeswaran Temple
1.Holidays Farms and Resorts
Main Road,Akkaraivattam, Karaikal 609 604,
Puthucherry, India.
Telephone : +91 4368 228330 (4 lines)
Fax: +91 4368 228330
2.Hotel Arul Inn,
Nagore Main Road, Karaikal
+(91)-4368-228899, +(91)-8012049999
3.subasree cottage,
Thirunallar Road, Near Nalathirtham,Thirunallar,
Puducherry 605607,
ph:04368 237 780
4.SENTHIL PALACE,
2nd street,Nalankulam,Thirunallar,
Puducherry 609607,
ph:04368 236 333
5.Ramana's Residency,
No. 133, Main Road,Thirunallar,
Puducherry 609607,
ph:088838 03465
6.Hotel Paris International,
352, Bharathiyar Street,Karaikal,
Puducherry 609602,ph:04368 220 304
7.Mano Residency Hotel
P K Salai, Karaikal
+(91)-4368-222243, +(91)-9159585803
Restaurant Near Saneeswaran(Shani) Temple, Thirunallaru :
1.Delice Restaurant,
Karaikal, Puducherry 609602
2.Food Land,
15/3, Market Street,
Karaikal-609602
3.New Husainiya Restaurant,
65/1,Church Street,Karaikal-609602,
ph: 04368 226 871.
1 1 1 1 1 1 1 1 1 1 Rating 3.38 (238 Votes)
Driving Direction & Temple Location