Ezhuthari Nadheswarar Temple
Innambur, Kumbakonam (Tk)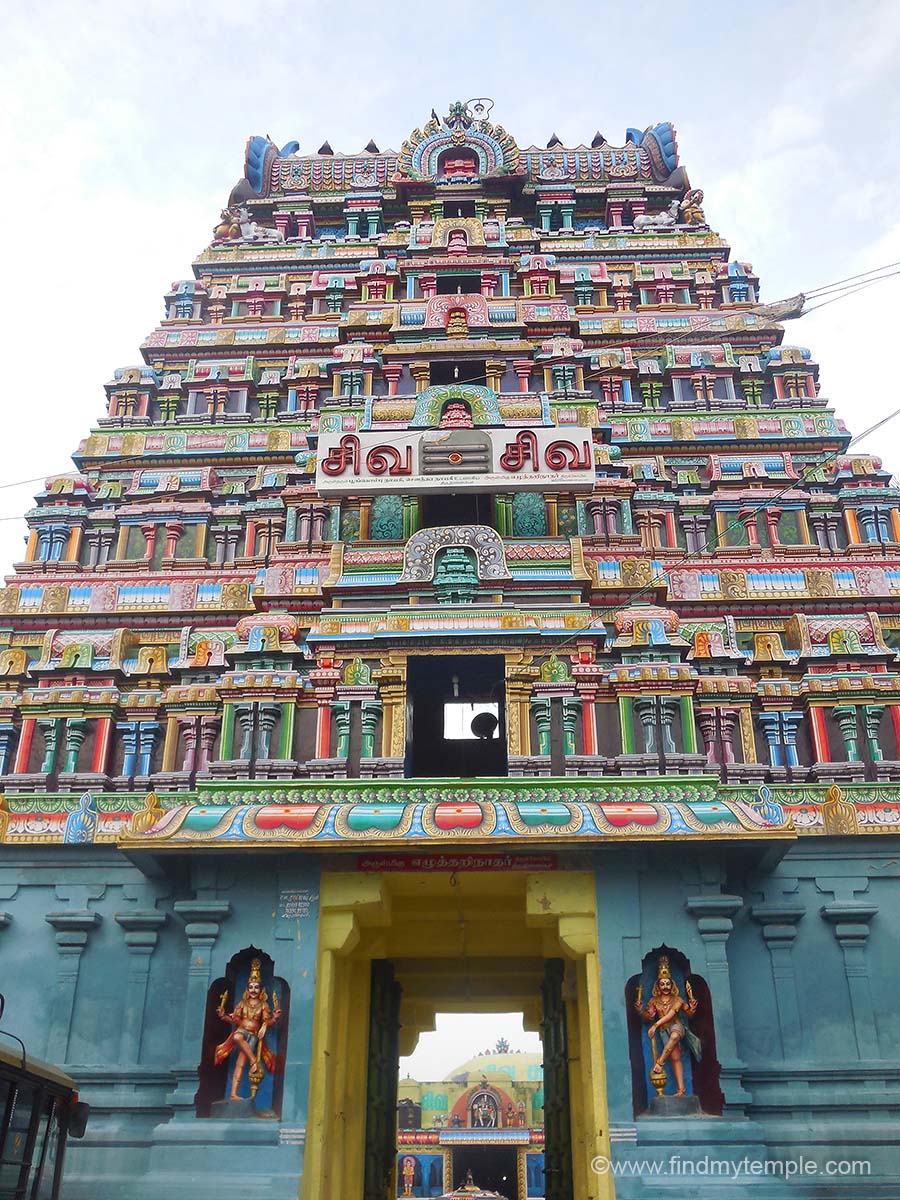 Main Deity: Sri Ezhutharinadar

Ambal : Sri Sugantha kundhalambigai, Nithya Kalyani.

Other Deities: Lord Ganesha, Murugan, Sun god, Moon god, Bairavar, Natarajar, Dakshinamoorthy,

Holy Water : Iravatha Theertham.

Temple Tree : Jack fruit tree, Shenbagam.

Prominenece of the shrine : Iravatham offered worship here. Agathiar offered worship and obtained intellectual instructions on grammar. The Lord himself wrote the accounts here. Before joining any educational institution, an offer of worship here will facilitate smooth learning process without any hindrances. The Sivalinga here is big.

Temple History : Once upon a time the sun god lost his grace and power due to a curse. So the sun god checked with Yogis where he will get relief from his curse. They have advised him to visit this temple which is worshipped by Iravatham ( Indra's vehicle – the white elephant). Sun good (sooriyan) visited this temple and tried worshipping the Suyambu (self-made form) Lord Shiva at this temple but he couldn't as the Nandi, and the Ganesha in front of the god was blocking him. He pleaded them to help him to worship lord Shiva. The Nandi and the Ganesha moved a bit so that the Sun god was able to worship Shiva and got rid of his curse.
Who worshiped here : Agathiar, Iravathar, Sooriyan.

Poets who sang its praise : Thirugnanasambandar, Appar.

Temple Timings : 7.00 am to 12.00 noon ---- 4.30 pm to 8.00 pm

Details of Poojas : Four times a day.

Temple Festivals : Celestial marriage in Aani, Karthigai Somavaaram, Navarathri, Thiruvadhirai.

Nearest Town : Kumbakonam.
Address : Sri Ezhuthari Nadheswarar Temple,
Innambur(Po), Thiruppurambiam (Via),
Kumbakonam (Tk),
Tanjore (Dt). Pin : 612 003.
(This temple is an associate of the Swamimalai Temple).
Hotel Near Ezhuthari Nadheswarar Temple, Innambur :
1.HOTEL ALAGU,(4.8km form Temple)
24,Sannathi Street,
Swamimalai.-612 302.
Ph:0435 - 2454031
cell -+91-99449-09579
Fax - 0435 - 2454190
2.INDeco Swamimalai Villa,(2.6km form Temple)
6/30 B Agraharam,Baburajapuram (post),
Kumbakonam 612302,
3.Hotel Saravana Bhavan,(4.8km form Temple)
25B & 25C, Jeevarathnam Maligai,
Near Crown Theatre, Near Daily Thanthi,
Arcot Road, Vellore, Tamil Nadu 632004
Ph: 0416 221 7433
4.O V M Resorts,(5.5km form Temple)
Kumbakonam,
Kumbakonam, Tamil Nadu, India
5.Venkataramana Hotel,(6.3km form Temple)
Karna Kollai Agraharam,
Valayapettai Agraharam,
Kumbakonam, Tamil Nadu, India
Resturant Near Ezhuthari Nadheswarar Temple, Innambur :
1.Sri Adthi Ganesh Bhavan Pure Vegetarian Hotel,
No 32, Sannadhi Street, Swamimalai,
Kumbakonam - 612302, Near Swamimalai Temple
Ph:+(91)-9443161929, 7598578257
1 1 1 1 1 1 1 1 1 1 Rating 3.38 (238 Votes)
Driving Direction & Temple Location
Lord Shiva got angry and kicked Yemma