Azhagar Temple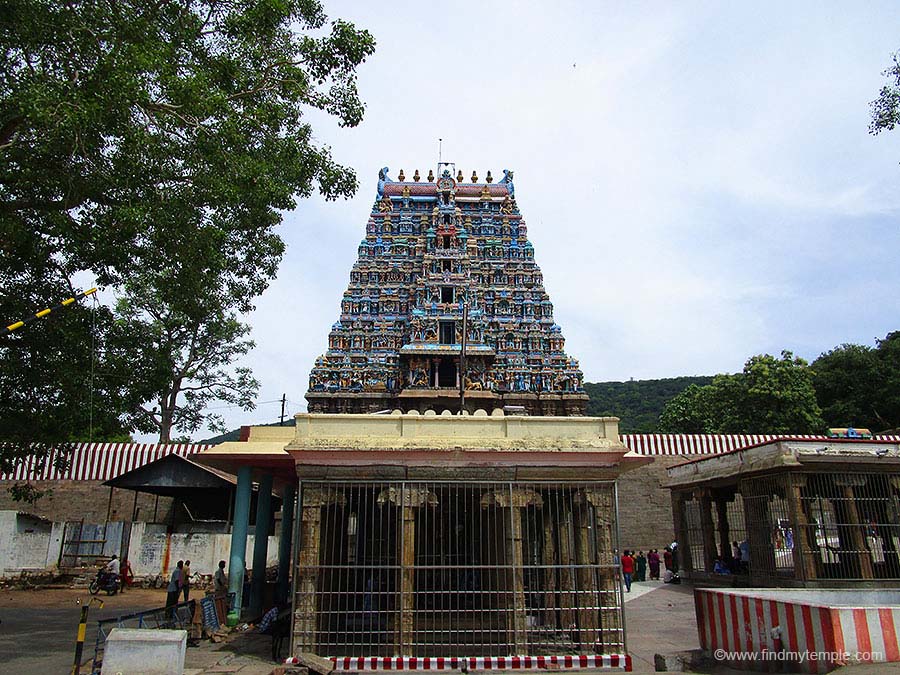 Main Deity : Kallazhagar, Paramaswamy, Sundararajar(Shiva)

Ambal : Kalyana Sundaravalli Thayar

Holy Water : Noobura Gangai, Chandrapushkarani, Garuda Theertham, Hanumar Theertham.

Temple Tree : Sandalwood Tree

Prominence of the Shrine : Sanctified eternal lamp is ever burning in this shrine. The Azhagar Malai is none other than Dharma Devatha in the mountain form. This temple was built by the father of Madurai Meenakshi Amman Malaiyadhvaja Pandian and renovated by Pandya and Vijayanagara naickar Kings.

Temple history : Once upon a time Yama Dharma Rajan (the Lord of death) came under a curse. To get relief, he offered penance at Virusuba Giri. The mountain consists of seven hills.Appreciating the penance of Dharma Raja, Perumal made his appearance. To honor the mercy shown to him by Perumal, Yama asked for a boon to offer pooja to Perumal once a day at least. Perumal granted it and even today the 'Arthajama Pooja'(mid night pooja) is deemed to be performed by yama himself every day. In consonance with the wish of Dharma Raja for the welfare of all people the temple with the 'Somachanda Vimana' (circular in shape) was constructed. There are several festivals are conducted on this temple and the important one is 'Chithirai Thiruvizha'. The mythological story behind the temple is once Lord Vishnu wanted to attend her sister's (Goddess Meenakshi) marriage. When he was entering the Madurai city he was stopped by the flood in the Vaigai river. Before he could cross the floods and reach the marriage spot the marriage was completed. So he got angry and he didn't enter further inside the Madurai and returned from Vaigai river itself. To represent this incident the Chithirai Thiruvizha of Kallazhagar entering the Vaigai river.
Temple Timings : 6.30 am to 12.30 am - 3.30 pm to 7.30 pm
Temple Festivals : Chithirai Thiruvizha when more than ten lakh devotees throng at the ceremony of Lord Kallazhagar entering Vaigai on Full moon day of Tamil month Chithirai(during April-May).'Aadi Brahmotsava Thiruvizha' is also another special festival in this temple.
Nearest Town : Madurai.

Address : Sri Kallazhagar Temple, Azhagar Kovil (Po.),
Madurai (Dt). PIN – 625 301.
Telephone Number 0452 - 2470228.
Telephone No : 0452-2470228
Hotels Near Azhagar Temple, Madhurai :

1.Fortune Pandiyan Hotel

Race Course, Madurai-625 002,
Tel : 91-452-4356789

Fax : 91-452-2533424

2.THE SPK HOTEL

Luxury Hotel

Address: Lake View Road, Managiri, KK Nagar,
Madurai, Tamil Nadu 625020

Phone:0452 255 5777.

3.Heritage Madurai,

11, Melakkal Main Road,

Kochadai, Madurai 625 016, India.

Tel : + (91) 452 2385455 ,+(91) 452 3244185

Fax : + (91) 452 2383001

4.sangam Hotel, Madurai

Alagarkoil Road, Madurai – 625002

Tel : 91-452-4244555 / 2537531

Fax: 91-452-2537530"

5.Star Residency

No 43 & 44, Collector Office Road,

Near Anna Bus Stand,

Near Aravind Eye Hospital,

Madurai - 625020.
Tel : +91 - 452-4343999,+91 - 452-4343970
Restaurant Near Azhagar Temple, Madhurai :
1.Hotel Supreme
No. 110, West Perumal Maistry Street,
Madurai, Tamil Nadu 625001
Ph: 0452 234 3151
2.Surya Roof Top Veg. Restaurant
110, West Perumal Maistry Street
Madurai - 625001
Phone No :- +91 452 2343151 (3 lines), 3012222
Fax No :- +91 452 2342637
3.Adyar Anandha Bhavan
285, Kamarajar Road, Mahal Area,
Madurai Main, Madurai,Tamil Nadu 625009
Ph : 044 2345 3045
4.Sree Mohan Bhojanalay
No 33, Dhanappa Mudali Street, Madurai Ho,
Madurai - 625001, Opposite To Hotel
Ph : + (91)-9943323221, 9442751870
Tel : +(91)-452-2346093
1 1 1 1 1 1 1 1 1 1 Rating 3.36 (233 Votes)
Driving Direction & Temple Location