Athmanathar Temple
Avudaiyarkoil, Pudukkottai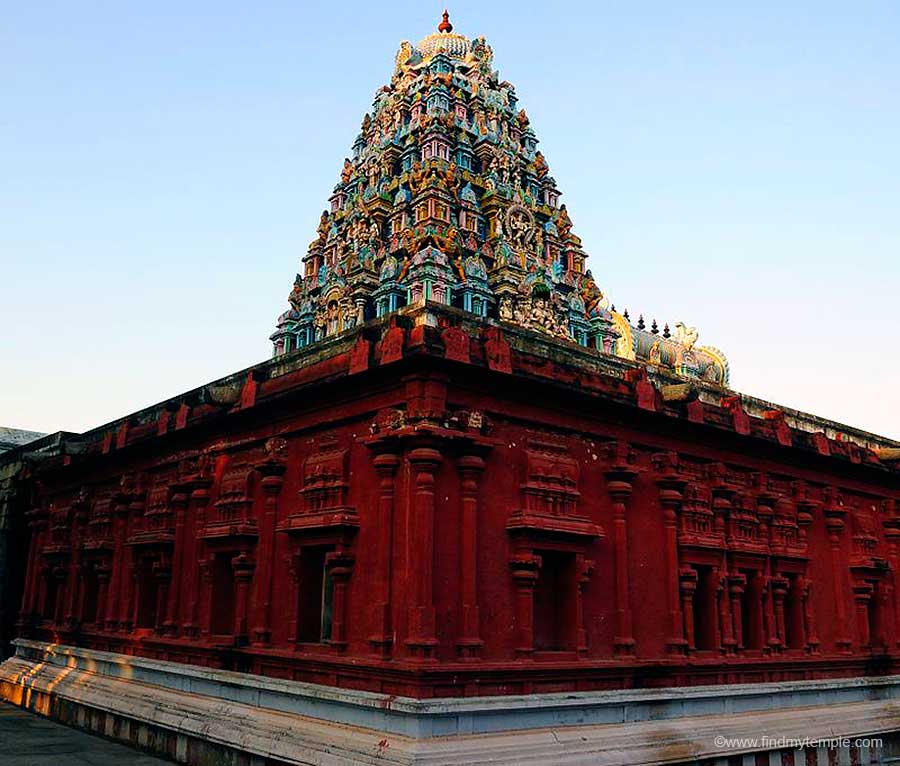 Main Deity : Athmanathaswamy.
Ambal : Yogambal.
Other Deities : Murugan, Virapattirar.
Theertham : Agni Theertham, Shiva Theertham, Deva Theertham, Munivar Theertham, Asura Theertham, Vayu Theertham, Sivagangai Theertham, Narayana Theertham, Brahma Theertham, 64 crores Theertham, Vellaru, Thiruthotti Theertham.
Temple Tree : Bullet wood(Magizham Tree).
Prominence of the shrine : Nandhi, Altar, Flag tree which are normally seen in all Shiva's temple are not seen in this temple. The normal sound of the instruments which is heard in all temples is not heard here. The sounds of the instrument called in Tamil as Thiruchinnam, bell and conch are only heard here. Lord Shiva graces in three postures in the sanctum sanctorum as formless, form-formless as the Kuruntha tree and in form as Manickavasagar. As the Kurundha tree is praised as Lord, 108 conchs Abishek (Sangabishekam) is offered on Mondays of Karthikai month – November - December. Only a square shape Avudayar-the mount on which the Linga is placed – is in the sanctum sanctorum. A bowl – Kuvalai in Tamil – is placed on the Avudaiyar personified as the body and the inner empty space as Athma-soul. As Lord dwells in all beings being their Athma, He is praised as Lord Athmanathar. An kind of oil prepared with 108 herbal is used for abishek during all the six time puja – Aarukala puja in Tamil.
Mother Ambika performed penance here to make amends for disobeying the advice of Lord not to attend the Daksha Yagna. She was formless then. Pujas are offered only to the feet of Ambika as the shrine is always kept closed. To facilitate darshan of the feet, it is arranged through a mirror. Devotees can have only Pada-feet darshan. The abishek theertha and kumkum is offered as Prasad. Devotees use to tie cradles and bangles here seeking child boon. Contrary to traditional absence of pujas in temples during eclipse time, it is otherwise in Avudaiyarkoil temple conducting the six time pooja as usual even during such occurrence. Manickavasagar wrote Thiruvasagam in Avudaiyarkoil. The Chariot in this temple is one of the biggest in Tamil Nadu. The diameter of the wheel is 90 inches and width is 36 inches. Usually 50 to 500 devotees can pull any Chariot but this temple's Chariot should be pulled by 5000 people. This is the strongest among other chariots. This temple was built in 10th century. A devotee visiting the temple cannot afford to miss the rare sculptures of the temple.
1. Dundi Vinayaka idol,
2. Stone chain with a snake spinning around,
3. Udumbu-a lizard-like creature and the monkey,
4. One thousand legs carved in just two pillars,
5. Sculptures Lords and Mothers in 1008 temple,
6. Horses of various countries,
7. 27 sculptures representing 27 stars,
8. Various signs of dance art – Nattiya Kalai Mudras,
9. Pillars expressing seven musical sounds,
10. The shade of Koodalvai appearing as the neck of a cow.
Temple History : Saint Manickavasagar, then heading the cabinet of Pandya king, came to this place Tiruperundurai, now Avudayarkoil to buy horses. He heard sounds of Shivagama Mantras there and saw a Guru sitting there. He fell at the feet of the Guru and begged Him to teach him wisdom. While learning, Manickavasagar plunged into deep meditation. When he opened his eyes, he found his teacher absent in the place and understood that his Guru was none other than Lord Shiva Himself. He spent all the money he carried for buying horses in building a temple for his Guru-Shiva and dedicated himself in the service of Lord.
As the saint failed to carry out the order of the king, he ordered the saint to be arrested and jailed. Lord Shiva converted the foxes in the forests into horses, brought them to the king as instructed by Manickavasagar. After delivering the horses, Lord went away. However, at midnight, the horses became foxes and started howling. Angry king, made Manickavasagar stand on the sands of Vaigai river in Madurai under scorching Sun. To teach a lesson to the Pandya who acted against His devotee, Lord made Vaigai flow in spate. King ordered to strengthen the banks to avoid a breach. Lord also came to Madurai as a coolie for the repair work. The king struck him with a cane for not doing the work properly. The blow only fell on the king and every one in Madurai leaving its scar on them. The King came to know that all that happened was Lord Shiva's design, fell at the feet of Manickavasagar and begged his pardon. Avudayarkoil was the ground for this Tiruvilayadal Purana story.
People who worshipped here : Manickavasagar, Pandya king.
Temple Timings Morning : 06:00 am to 12:00 noon, Evening 04:00 pm to 09:00 pm.
Nearest Town : Avudayarkoil, Pudhukottai.
Temple Address : Athmanathar Temple,
Avudaiyarkoil - 614 618, Pudukkottai District.
Hotels Near Athmanathar Temple, Avudaiyarkoil :
1. Chidambara Vilas Chettinad,
Ramachandrapuram, Kadiapatti | Off Thirumayam Fort,
Pudukkottai 622505,
ph :095855 56431.
2. Saratha Vilas Heritage Home in Chettinad,
832 main road, Kothamangalam,
Kariakudi taluk, Tamil Nadu 630105.
3. Chettinadu Narayana Vilas,
Near Raja Palace,Raja Front Street,
Kanadukathan, Tamil Nadu 630103,
ph no:04565 283 199.
4. Hotel Sathyam,
1 Sathyamoorthy Road,Pudukkottai,
Pudukkottai 620008.
5. Visalam,
7/1 - 143, Local Fund Road,LF Road,
Kanadukathan, Tamil Nadu 630103.
Restaurants Near Arangulanathar Temple, Thiruvarangulam :
1. Appus Curis Family Restaurant,
No : 5/p, Poonga Nagar, Rajagopalapuram,
Railway Station Road, Near State Bank Poonga Nagar,
Pudukkottai, Tamil Nadu 622003,
ph no:04322 261 541.
2. Shri Aiswarya Restaurant,
Marthandapuram,
Pudukkottai, Tamil Nadu 622001.
1 1 1 1 1 1 1 1 1 1 Rating 3.38 (238 Votes)
Driving Direction & Temple Location