Sabdarishiswarar Temple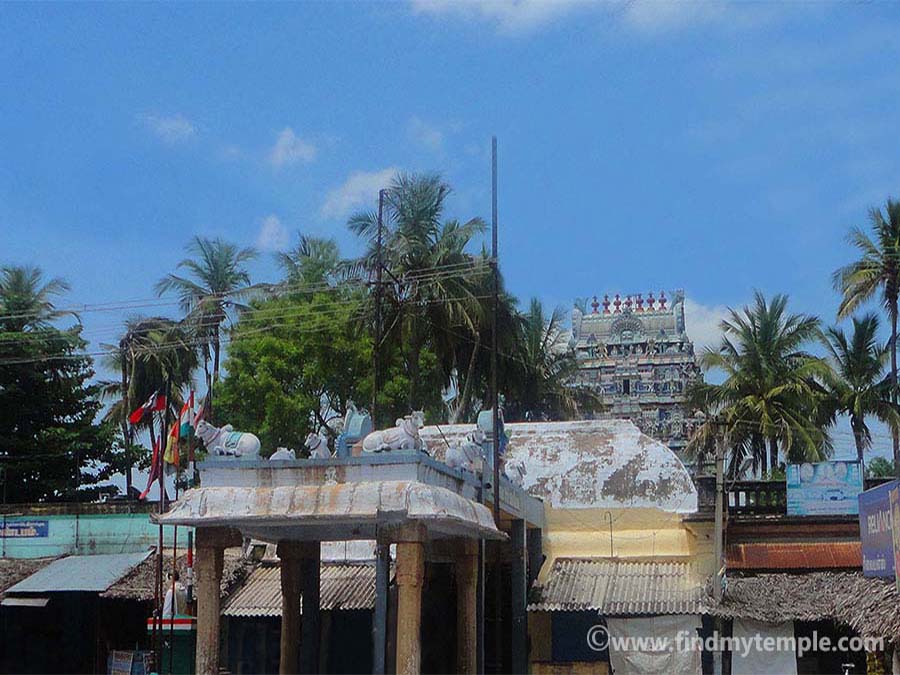 Main Deity : Sabda Rishishwarar.
Ambal : Periya Nayagi.
Other Deities : Dakshinamoorthy, Maha Lakshmi, Artha Nareeswarar, Navagrahas.
Prominence of the Shrine : Sabdarishiswarar Temple is located in center of Lalgudi town. Shiva Linga here is in a self-made form. The main Sannidhi is facing the west direction. The lord Shiva here is also called as Thiruthavathurai Nathar and Thejovidangar. Earlier Lalgudi used to be called as Thiruthavathurai. When Malik Kapoor of "Aladdin Kilji's" army ruled this place during 13th century he checked his people about this temple. This temple's tower was in red color. In his mother tongue Urdu he enquired about the Red Tower temple (Red – Lal, Tower – Gudi). Hence this place became Lalgudi. Goddess at this temple is named as Periya Nayagi or "Perunthiru Pratiyar" or "Maha Sampath Gowri". Periya Nayagi's Sannidhi is facing the east direction. There are separate Sannidhis for Maha Lakshmi, Pitchadanar and Artha Nareeswarar. At this temple Dakshinamoorthy is in unique form as he is carrying a Veena (Veena – Indian musical instrument) in his hand.
During the "Guru peyarchi", Special poojas will be conducted for the Dakshinamoorthy at this temple. There is also dedicated Navagraha Sannidhi at this temple. Navagraha Sannidhi is facing the direction of Sun. Lighting the ghee lamp is the method of worship at this temple.
Temple History : Once upon a time, to kill the Asura named 'Tharagan' Lord Muruga was born. Muruga was created by Lord Shiva mainly to kill this Asura. Sabda Rishis (7 Rishis - Athiri, Birugu, Pulasthiyar, Vashistar, Gowthama,Angirasar and Marisi) were living near the holy tank called "Thamarai Poygai". They heard the sound of baby. When they reached the tank they saw a beautiful young baby who was crying due to hunger. One of the 7 Rishis Vashistar asked his wife Arundhati to feed milk to the baby and went. At that time Arundhati was going to plug the flowers for pooja she forgot the instruction of her husband. When Vashistar came to know this he wanted to punish his wife. Arundhati believed she didn't do any mistake. All the wives of 7 Rishis supported Arundhati and all the 7 Rishis supported Vashistar. Finally the six Karthiga maidens fed the baby. When the Rishis heard the news they cursed their wives for not feeding the baby. The baby is none other than Lord Muruga who cursed the Rishis for behaving hard on their wives. To get rid of the curse all the seven Rishis arrived to this temple and worshipped the Lord Shiva. Lord Shiva accepted all the seven rishis within himself so you can see seven dots in the Shiva Linga. As he cured the curse of seven Rishis (Sabda rishis) he is called as Sabdarishiswarar.
Who worshipped here : Sabtha Rishis (Seven Rishis - Athiri, Birugu, Pulasthiyar, Vashistar, Gowthama,Angirasar and Marisi).
Temple Timings : Morning 7.00 A.M. to 12:00 Noon, Evening 4:00 A.M. to 9:00 P.M.
Pooja Details : Six poojas every day.
Temple Festivals : Chithirai Powrnami, Aadi Pooram, Navarathri, Kandha Shashti, Thai Poosam, Shivarathiri, Panguni Uthiram.
Address : Sri Sabdarishiswarar Temple,
Lalgudi, Trichy Dt.
Telephone No : 0431-2541329
Hotels Near Sabdarishiswarar Temple, Lalgudi :
1.Mathura Hotel,
No 1, Rockins Road, Tiruchirappalli Townhall, Trichy - 620002,
Opposite Central Bus Stand Contonment
+(91)-431-2414737, +(91)-9894558654
2.Mayavaram Lodge,
No 87, Vanapattarai Street, Tiruchirappalli Townhall,
Trichy - 620002, Teppakulam Pos
+(91)-431-2711400, 2704089
3.Femina Hotel,
109, Williams Road, Tiruchirappalli 620001,
Hotel Area: Trichy Central Bus Stand / Railway Junction Area
Tel : 0431 - 2414501.
4.Hotel Rockfort View,
5, Odathurai Road | Chinthamani, Tiruchirappalli 620 002.
Mobile: +91 740 2713466.
Tel : +91 431-2713466.
5.Grand Gardenia,
22-25 Mannarpuram Junction,
Trichy-620020,Tamilnadu.
Mobile : +91 95856 44000.
Tel : +91 431 4045000.
Restaurants Near Sabdarishiswarar Temple, Lalgudi :
1.Ragunath Restaurant,
College Road,
Tiruchirappalli, India
2.Parthasarathy vilas,
Vegetarian / Vegan Restaurant
Kondayam Pettai Agraharam,
Thiruvanaikoil, Trichy 620005, Tamilnad
1 1 1 1 1 1 1 1 1 1 Rating 3.36 (233 Votes)
Driving Direction & Temple Location