Parvatheeswarar Temple
Injikudi,
Thiruvarur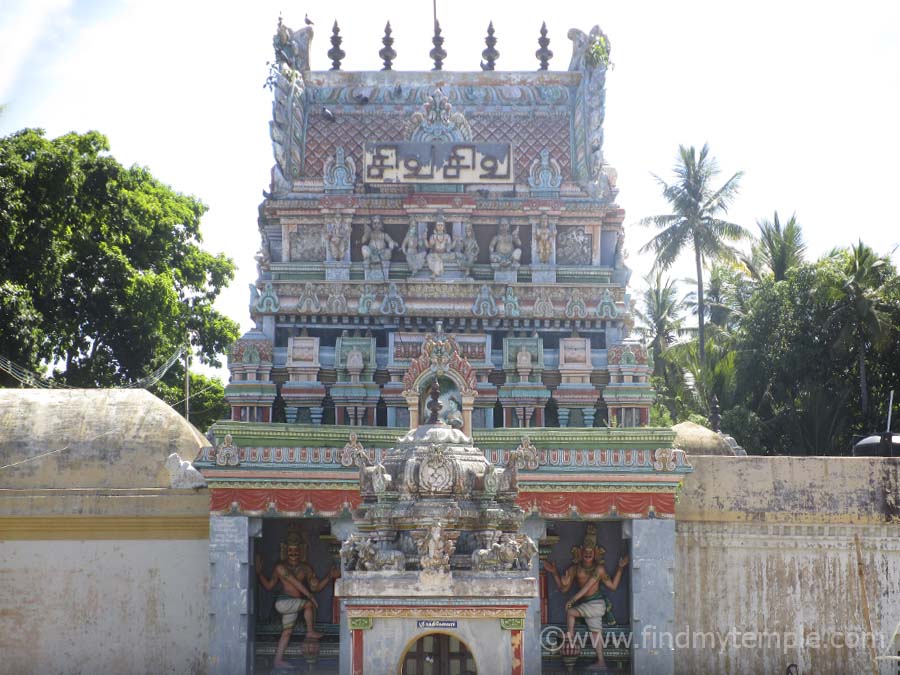 Main Deity : Parvatheeswarar.
Ambal : Shanthanayaki.
Other Deities : Murugan, Perumal.
Theertham : Agni, Ganga.
Prominence of the shrine : The temple was built by VikramaChola. Chola King Kulothunga had no child. He prayed to Mother Ambica of the temple seeking child boon. By the grace of the Goddess he was blessed with a child. He offered anklets to the Goddess. Even now, Ambica appears with anklets in Her lotus feet. As Sun and Moon grace the devotees standing side by side, worshipping them together changes the results of planetary movements to advantage though they are in adverse positions. Devotees are rewarded with wedding boon with their prayers submitted to Lord Chandikeswara and Chandikeswari in their wedding posture. Every day Nagalinga flower is used for anointing the Lord is the significance of this temple.
The temple came into existence with the grace of Mother Parvathi to whom Lord offered half of His body in this holy place. Hence, Lord is praised as Parvathi Easwarar-Parvatheeswarar. Mother is praised as Thava Kola Nayaki – Mother Goodess in penance – and also as ShanthaNayaki. She was furious earlier but became Shantha – soft and merciful then. She is also praised as Mother Lalithambika. It is noteworthy that Lord Vishnu graces the devotees from His own shrine west of this place praised as Lord Sri Adikesava Perumal.
Temple History : A demon woman Madhalolai by name was subjected to the curse of Sage Durvasa as she caused hindrance to his penance. She gave birth to two demon sons, Ambaran and Amban and died after the delivery. The demon sons grew cruel and arrogant and began harassing the noble souls. They sought asylum in the feet of Lord Shiva. Lord just saw Mother with a smile. Knowing His motive, Mother took the form an enticing virgin and appeared before the demons. Both wanted to have Her hands. Meantime, Lord Vishnu in the guise of an old man told them that both cannot marry one woman and only the mightier can have the choice. Brothers began to fight against each other. Ambaran won. He came in search of Ambica who stood before him as a furious Kali with Her trident. Shocked and afraid, he began to run. But Devi chased him, pierced him with Her trident. Perumal-Lord Vishnu requested Lord Shiva to return His left to Mother. Devi, shedding Her fury entered into a sandalwood forest, made a Linga of sand and began her penance. At the ripe time, Lord appeared and took Mother Parvathi with Him.
People who worshipped here : Parvathy Devi.
Temple Timings : Morning 06:00 am to 10:00 am, Evening 05:00 pm to 08:00 pm.
Temple Festivals : Vaikasi Brahmmotsavam.
Nearest Town : Mayiladuthurai.
Address : Parvatheeswarar Temple,
Injikudi, Thiruvarur.
Hotels Near Parvatheeswarar Temple, Injikudi :
1.Swathi lodge and Hotel,
state Highway 23,swathi Lodge,Peralam,
Tamil Nadu 609 405,
ph:095004 27752

2.Mangala Heritage Home,
Meda Mada Villagam Street,Thirupugalur Village,
Nagapattinam-609 001,
ph:099406 23628

3.Hotel Selvies (P) LTD,
2, Kattukara Street Santhamangalam,
Madapuram,Thiruvarur-610 002,
Tel:04366 222 082.

4.Arun Hotel,
Santhamangalam, KTR Nagar,
Thiruvarur, Tamil Nadu 610 001

5.Hotel MMA,
3/364A, Hotel MMA,
Dr. kalaingar nagar,
Mannarkudi Road,T.Nagar,
Vilamal,Thiruvarur-610 001,
1 1 1 1 1 1 1 1 1 1 Rating 3.38 (238 Votes)

Driving Direction & Temple Location