Kailasa Nathar(Chandra) Temple
Thingalur, Tanjore District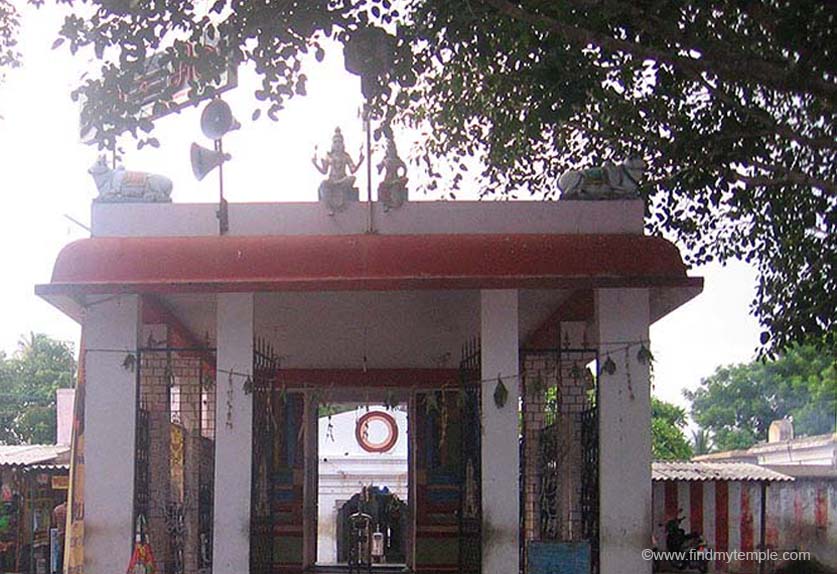 Main Deity : Kailasa Nathar
Ambal : Periya Nayagi
Other Deities : Chandran (Planet moon)

Holy Water : River Cauvery, Chandra Theertham
Temple Tree : Banana , Vilvam
Prominence of the Shrine : There are separate Sannidhi for Sun God and Moon God. All the nine navagrahas are also here which are looking towards the Sun God. On tamil month Panguni Uthiram day, morning 6 o clock Sun's rays will directly fall on main deity's face and next day evening Moon's rays will fall. The architecture is such way designed after computing the paths of Sun & Moon. Water related diseases like Cholera will be cured if we worship the moon god on this temple. It is famous here to worship the god with White flowers and devotees come in the white dress along with pearl chains to represent the pure white of Moon. Though Kailasa Nathar is the main Deity at this temple, this is one of the famous "Navagraha sthala" for Planet Moon.
Temple History : This temple is constructed by Rajasimma Pallavan around 7th century. This is built similar to the Dravidian architecture. "Appothiyadigal" one of the Nayanmar out of 63 Nayanmars is from this town Thingalur. Due to the affection towards the Lord Shiva he kept his sons name as "Mootha Thirunavukarasu" and Ilaya Thirunavukarasu " (Thirunavukarasu is a well know devotee of Lord Shiva). He was doing lot of charity work for Shiva devotees in the name of Thirunavukarasu. One day by hearing that Thirunavukarasar has arrived to Thingalur, Appothiyadigal went to meet him. Latest he has asked to Thirunavukarasar to visit his home and have food. Appothiyadigal send his son to cut and bring banana leaves to serve the food for Thirunavukarasar.

There was a snake in the back yard of his home and that byte his son. If he tells that his son is died, Thirunavukarasar won't eat the food at his home so he wanted to hide that sad news. When Thirunavukarasar came to know the news he carried the body of Appothiyadigal's son and worshipped to the god. The son also came back alive is the story of this temple.
Temple Timings : Morning 8: 00 AM – 12:30 PM, Evening 4:30 PM – 8:30 PM.

Nearest Town : Thiruvaiyaru

Address : Sri Kailasa nathar Temple. Thingalur 204 613, Tanjore Distrct.
Hotel Near Kailasa Nathar(Chandra) Temple, Thingalur :
1.Ala resort,
Perambur Agraharam Kumbakonam Main Road,
State Highway 22,Thiruvaiyaru-613204,
Ph: 04362 260 430.
Restaurant Near Kailasa Nathar(Chandra) Temple, Thingalur :
1.Alagappan hotel,
Thyagaraja Colony,
Thiruvaiyaru-613204.
2.Noor Hotel,
State Highway 27,Nadukkadai,
Kalyanapuram-613201.
1 1 1 1 1 1 1 1 1 1 Rating 3.38 (238 Votes)
Driving Direction & Temple Location