Virudhagireeswarar
Temple(
Pazhamalai Nathar
)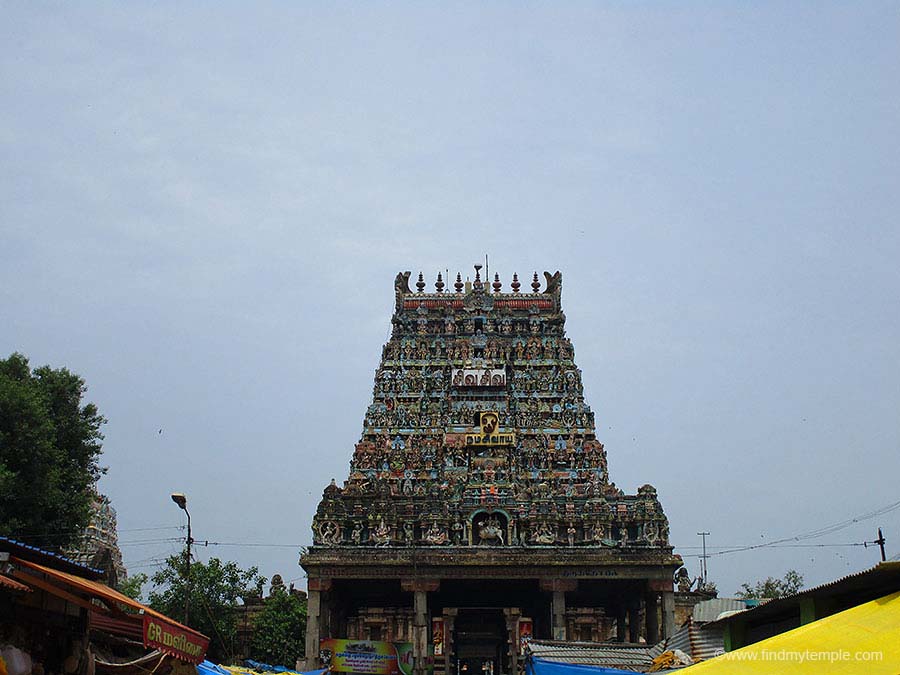 Main Deity : Virudhagireeswarar(or) Pazhamalai Nathar(or)Mudhugundhar.
Ambal : Virudhambigai (or)Balambigai(or) Ilaya nayagi.
Holy Water : Manimutha river, Nithyananda Koobam, Agni, Chakra Theertham, Kubera Theertham.
Temple Tree : Vanni Tree.
Temple History : In the remotest past when Brahma thought of creating the earth , he created water. Lord Vishnu happened to cut down the evil Madhukaidavas. The cut pieces of the bodies floated on water created by brahma. On seeing that Brahma prayed to Lord Shiva to create the earth out of the hardened compound from the water and the flesh of the bodies. Lord Shiva appeared as a mountain. Lord Brahma who did not know this created many different mountains. As they did not have space to exist, he was sorrowful. The pranava God appeared and conveyed Brahma the truth through gestures. Brahma worshipped Lord Shiva who was the form of mountain. Shiva created the earth combining the flesh and the water compounded in a hardened form. He called it medhini. He gave space for the mountains of Brahma. He told Brahma that he was not different from the mountain. The mountains of Brahma came after that mountain. Hence the mountain of Shiva was named Pazha malai(old mountain). According to him, that Pazhamalai would be hard pressed on the earth appearing as Shiva linga above. Those who worshipped it would get all they wished for. The stone inscriptions have the names of kings. Paraanthaga chola, Kandarathitha chola,his wife Chembianmaadevi, uthama chola, Raja Raja chola, Rajendira chola, Rajaji Raja chola, Vikrama Chola, Raja Raja chola the second, Kulothunga chola the third, Ezhisai Mohanana Kulothunga chola Kadavarathithan, Veerasekara Kadavarathithan, Arasa Narayanan Kachirayan, Koperum singam, Kachirayan alias, Arasa Narayanan,Ezhisai Mohan, Vikrama pandian, Veera pandiyan, Sundara pandiyan, Mavarma Pandiyan, Konerinmai pandiyan, Ariyanna udayar, pokkana udayar, kambana udayar, veeravijayarayar, Muppidi Krishnapathi.
Some Notes: Raja Raja speaks of his victories in the stone inscriptions as is generally eulogized in other stone inscriptions in other places.
Temple Timings : 6.00 am to 12 noon, 3.30 pm to 9.00 pm.
Temple Festivals : Brahmotsavam-Maasi-10 days-9th day. Temple car-thousands of devotees take part Aadi pooram-10 days-Ambal Vishesham-Thirukkalyanam-kodi Eatram-Ambal veedhi ula-many devotees take part-Vasantha uthsavam-vaikasi-10 days. Aani Thirumanjanam-Arudhra Dharisanam, kandar shashti, soorasamharam are celebrated in grand manner. Every pournami special Abhishegam for periyanayakar(urchavar). Many devotees throng here on pournami, Amavasai and pradhosham.
Nearest Town : Virudhachalam.
Address : Sri Virudhagireeswarar Temple, Virudhachalam, babool,coddalore Dt.
Hotels Near Virudhagireeswarar Temple(Pazhamalai Nathar), Virudhachalam :
1.Anandha lodge ,
(near bus stand)
Virudhachalam.
2.shanmuga lodge ,
(near bus stand)
Virudhachalam.
3.Vasantha lodge,
kadai veethi,
virudhachalam
Restaurants Near Virudhagireeswarar Temple(Pazhamalai Nathar), Virudhachalam :
1.Hotel Archana

Bus Stand ,

Virudhachalam.
2.Kirshna Bhavan,
kadai veethi, virudhachalam.
1 1 1 1 1 1 1 1 1 1 Rating 3.38 (238 Votes)

Driving Direction & Temple Location