Nagaraja Temple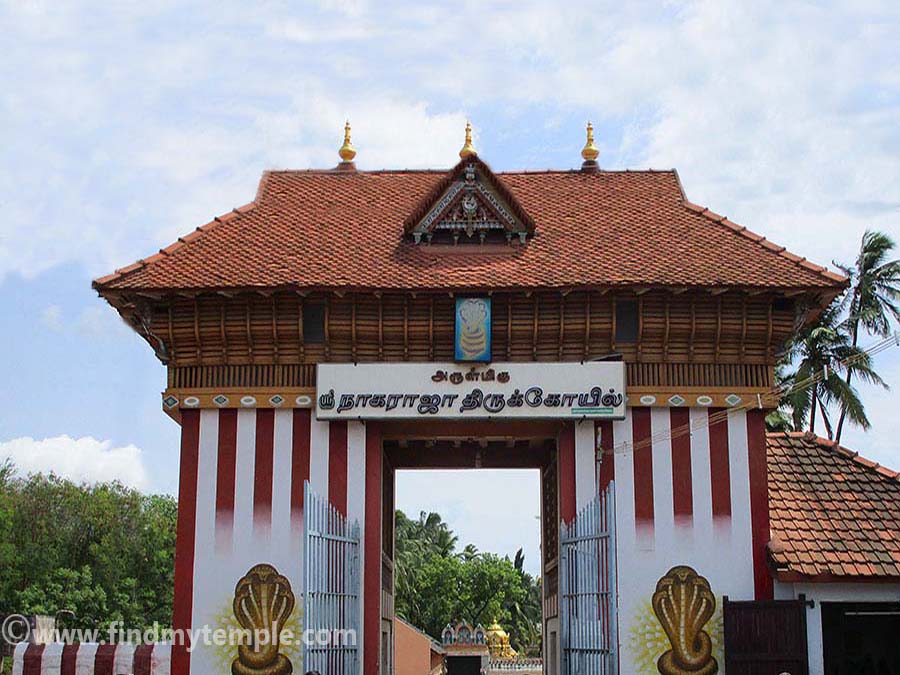 Main Deity : Nagarajar.
Other Deities : Anandha Krishnan, Subrahmanya Swamy, Durga Devi, Sri Dharma Sastha.
Holy Water : Naga Theertham.
Temple Tree : Oda Valli.
Prominence of the Shrine : This temple is a Parihara Sthalam for people who has a Naga Dosha. Every month Karthigai star days are celebrated with special poojas. Outside of this temple complex there is a temple tree and Statues of snakes (Naga - Cobra) are kept. Turmeric and Milk Abhishekam for these snakes by devotees will bring them good. Main Deity at this temple is Nagarajar. Opposite of Nagarajar there is a stone pillar and sculpture of "Naga Kanni" (female form of Cobra) is carved in it. In the Karpagraha where the main deity Nagarajar is residing is surrounded by sand pit. As this was place originally paddy fields always water was coming out of the ground. So poojari gives sand mixed with the water as a "Prasad" at this temple as oppose to sandal paste or kumkum in other temples. Durga statue at this temple was found at the Naga Theertham. So the Devi is called as "Theertha Durga". As per beliefs, if devotees take bath in Naga Theertham on Tuesday during the "Raghu kalam" and worship the god with milk abhishekam, ghee lamp and lemon lamp their Naga Dosha will go away.
Temple History : There are many stories are told about the history of Nagaraja Temple. One of them is – Long Ago, This place used to be filled with grasses and bushes. A lady who used to cut the leaves and grasses for her cattle, one day saw a blood in her knife. When she saw the place where she was cutting there was a five headed Cobra lying there. She got scared and ran away from that spot. She went to the nearby village and told the people about the incident. When lot of crowd came to witness the snake the snake turned as a statue. Then the villagers concluded that the snake she cut was nothing but Nagarajar (king of cobras) and they started worshipping. Initially they laid a cover for the statue using coconut tree leaves. Later many people heard the story and lot of people who had Naga Dosha started visiting this temple. Many devotees are visiting this temple from South Tamil Nadu and Kerala. Thiruvananthapuram King Udaya Marthanda Varma constructed a proper temple for Nagarajar. During the construction days, once Nagarajar appeared in King's dreams and told him that he would like to continue the roof with Coconut tree leaves as that is where this temple was started. So the king also constructed a huge temple but left the karpagraha without any concrete cover.
Temple Timings : Morning 5:00 A.M. to 11:30 Noon. Evening 5:00 P.M. to 8:00 P.M.
Temple Festivals : Aavani – Urchav on all the four Sundays Thai – Urchav and car festival for 10 days.
Address : Sri Nagaraja Swamy Temple,
Nagercoil - 629 001, Kanyakumari District.
Telepnone No : 04652-232420
Hotels Near Nagaraja Temple, Nagercoil :
1. The Gopinivas Grand,
Near Seashore,
Kanyakumari,
Tamilnadu,
Pincode : 629 702.
Voice : +91(0) 4652 24 61 61 / 24 62 62.
2. Hotel Maadhini,
East Car Street,
Kanyakumari - 629 702.

3. Hotel Singaar International,
5/22 Main Road,
Kanyakumari - 629 702.
4. Tri Sea Hotel
(P) Ltd Near Seashore,
Kovalam Road,
Tamilnadu,
Kanyakumari - 629 702.
Restaurants Near Nagaraja Temple, Nagercoil :
1. The Ocean Restaurant ,
The Seashore Hotel,
East Car Street,
Kanyakumari,
Ph : 9994121088.
2. Auroma Restaurant,
6/112 B, Beach Road,
Near Sunset point,
Sparsa Resort,
Kanyakumari,

Ph : +91 04652 - 247041 / 42 / 44.
1 1 1 1 1 1 1 1 1 1 Rating 3.37 (235 Votes)
Driving Direction & Temple Location