Pushpavaneswarar Temple
Melai Tirupoonduruthi
, Tiruvaiyaru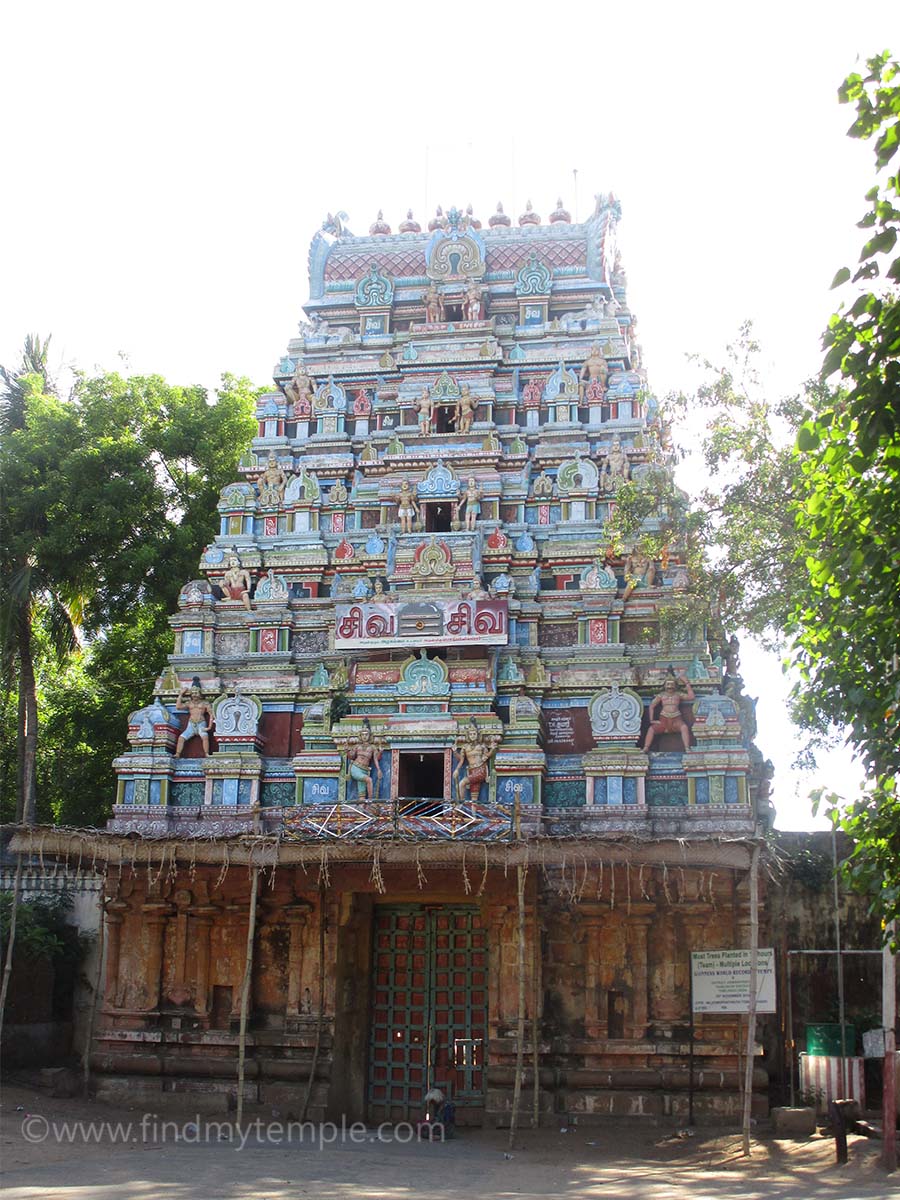 Main Deity : Pushpavaneswarar, Adipuranar, Poyyiliar.
Ambal : Soundaryanayaki, Azhagalamarndha Nayaki.
Other Deities : Vinayaka, Veena Dakshinamurthy, Arthanareeswarar, Sapthamadhas.
Theertham : Agni Theertham, Surya Theertham, Kashyapa theertham, Ganga, Cauveri.
Temple Tree : Bael Tree.
Prominence of the shrine : This is the 11th temple of southern cauvery praised in Thevaram hymns. The main tower of this temple has 5 stages facing East. As we enter the temple, Panchamurthy mantap is present. Flag tree is not present. Altar and Nandhi are present. The large Nandhi which is present in the Nandhi mantap is located slightly down instead of directly facing the God. Ambal is present in the outer courtyard in the shrine facing south. After passing the second enterance, Vasantha Mantap, Flagtree, Altar are present. Even here Nandhi is slightly deviated from the main God. When Saint Gnanasambandar was hesitant to step on the soil serviced by Tirunavukkarasar, Lord Shiva asked His Nandhi to move away to give darshan to him, according to the Sthalapuranas. There are also the Somaskanda Mandap and Nataraja Sabha.
Veena Dakshinamurthy, Arthanareeswarar, Bikshadanar, Sapthamadhas and Vinayaka grace in the shrines in the prakaras. The history of Nalvar – Gnanasambandar, Tirunavukkarasar, Sundarar and Manickavasagar are painted on the wall. Lord Shiva graces in the temple as a swayambumurthy. Of the Sapthasthana (seven sacred places) this is the sixth. It is here Tirunavukkarasar carried the palanquin of Ganasambandar. This place is named Sambandar Medu near Tiruvalmpozhil and Vellamparambur. There is also a mutt established by Tirunavukkarasar a little far away opposite the temple.
Temple History : According to scriptures, Cauvery was born from the Kamandala water (pot carried by rishis) of Sage Agasthya when a crow put it upside down. It flowed eastward through Senthalai, Andili, Vellambiyur, Arcot, Kandiyur, Tiruchotruthurai, Tirupazhanam, Tiruvaiyaru, Tiruneithanam and up to Sathanur and became stagnant as a sea. Places in between as Konerirajapuram, Karuppur, Nadukaveri, Tiruvalampozhil, Tirupoonturuthi were submerged. Indira, king of Devas in the celestial world, worshipped Lord Iyarappar, took the Cauvery further east and made places fertile. On this run, Kandiyur was the first on the way. Then came poonthuruthi with river sand. There was banyan tree on the western side at a higher level. This place was soft as flower (poo in Tamil), the place came to be known as Poonthuruthi. This is mentioned in Thevaram hymns. Places between rivers are called Thuruthi. There is also such a thuruthi called Kuthalam in the eastern side.
It is a popular story that Indira was cursed by Rishi Gautama to have 1000 ugly signs on his body for his immoral desires. While he was passing through many Shiva shrines for remedy from the curse, he came here, worshipped Lord Shiva with flowers and got the total relief. As Indira worshipped the Lord with fragrant flowers, the place was so named, according to another story. That Lord Vishnu and Sri Mahalakshmi worshipped here is evidenced by the sculptures in the Tower built during the rule of Naickers. Other stories relating to the name of Poonthuruthi is that Poomagal worshipped here, Nandideva supplied Flowers (Poo) for Lord's wedding and that many places in the Chola region were covered with dense flower gardens. This was later translated as Pushpavanam (Pushpa – poo, vanam – dense gardens).
People who worshipped here : Indira.
Poets who sang its praise : Tirunavukkarasar, Arunagirinathar and Sri Ramalinga Adigal.
Temple Timings : Morning 06:30 am to 11:10 noon, Evening 04:30 pm to 08:30 pm.
Temple Festivals : Sapthasthana festival, Skanda Sashti in October-November, Mahashivarathri in February-March and Paarivettai are the festivals celebrated in the temple.
Nearest Town : Thanjavur.
Temple Address : Pushpavaneswarar Temple,
Melai Tirupoonduruthi, Kandiyur - 613 103, Tiruvaiyaru taluk, Thanjavur district.
Hotels Near Pushpavaneswarar Temple, Melai Tirupoonduruthi :
1. Sangam Hotel, Thanjavur,
Trichy Road, Thanjavur – 613007,

Tel : 91-4362-239451,

Fax: 91-4362-236695.
2. Hotel Parisutham,
55 G.A. Canal Road,
Thanjavur 613 001, India,
Tel : 04362 231 801.
3. Hotel Gnanam,
Anna Salai ( Market Road),
Thanjavur 613 001,
Phone : 04362- 278501-507,
Fax : 04362 235536.
4. Hotel Balaji Inn,
Baskara puram,

New Bus Stand,

Thanjavur-613 005,

Phone Number : 04362-226949/227949.
5. Star Residency
Hotel Temple Tower) 20/1 A S.M Road,
Next to Ramanathan hospital Bus Stop,
Tanjore - 613 007.

Tel : +91 - 4362- 276333 / 34 / 37.

Fax: +91 - 4362-276336.
Restaurant Near Pushpavaneswarar Temple, Melai Tirupoonduruthi :
1. Hotel Ramnath,
No 1335, Thanjavur Ho,
Thanjavur - 613 001, South Rampart Old Bus Stand,
Ph: +(91)-4362-272567, +(91)-9362610901.
2. Sri Lakshmi Narayana Bhavan,
No 133, Big Street, Thanjavur HO,
Thanjavur - 613 001, Pattukottai,
Ph : +(91)-4362-252358.
3. Karthik Restaurant,
No 1334, Thanjavur HO, Thanjavur - 613 001,
South Rampart Inside Karthick Hotel,
Ph:+(91)-4362-278662, 278663, 278322.
4. Hotel Coffee Palace AC,
No 1465, Tanjore, Thanjavur - 613 001,
South Rampart,
Ph: +(91)-4362-231358.
1 1 1 1 1 1 1 1 1 1 Rating 3.36 (233 Votes)

Driving Direction & Temple Location