Sangameswarar and Aadhi Keshava Perumal Temple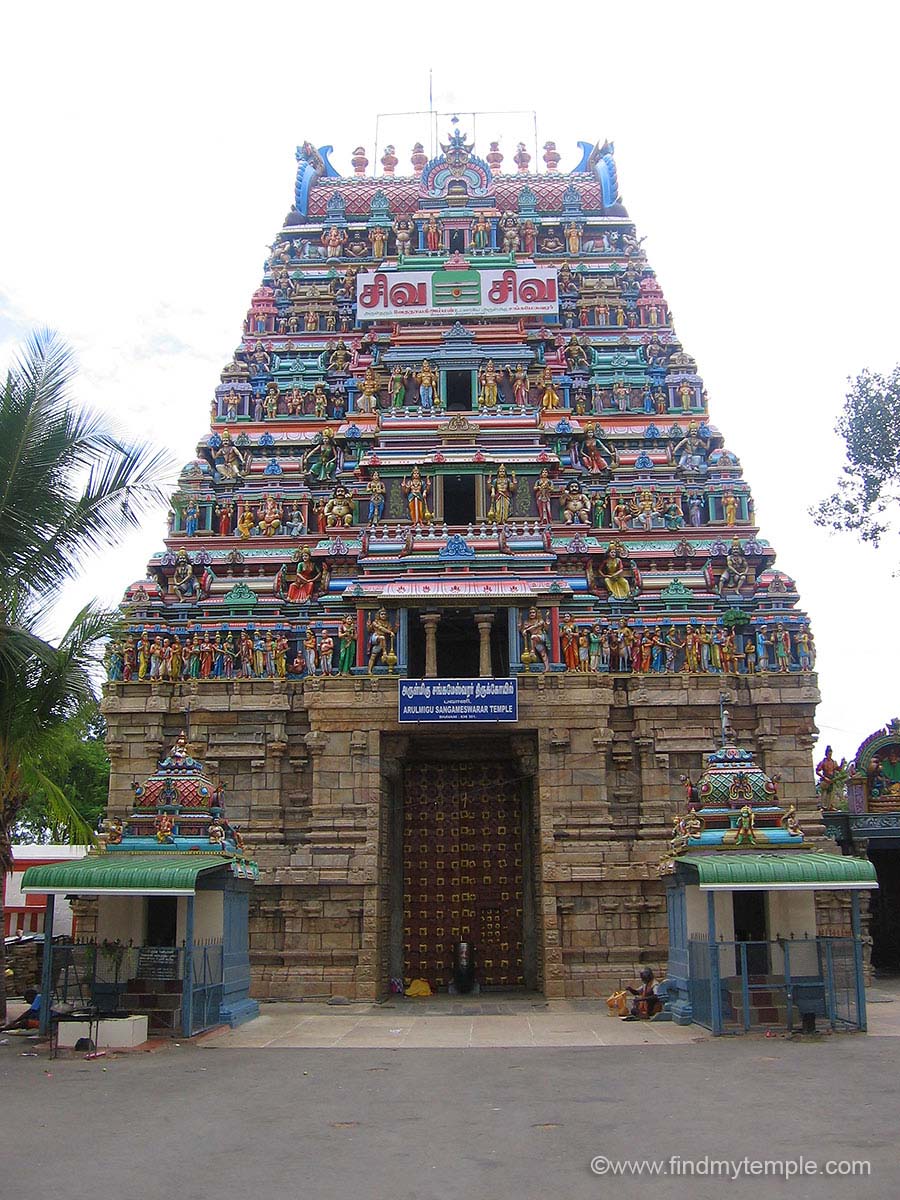 Main Deity : Sangameswarar.

Ambal : Vedha Nayagi.

Holy Water : Mukoodal Theertham, Gayathri Theertham.
Temple Tree : Ilanthai Tree.
Prominence of the Shrine : Bhavani is one of the most powerful and famous Parihara sthalam at Tamil Nadu. In human life, from birth to death, various "Doshas" occur. Pariharas are performed for all kinds of "Doshas" at this temple. Gayathri Lingeswarar temple is located at a point where Riven Cauvery, River Amudha and River Bhavani converge. Sage Viswamithra established this god by praying Gayathri Mantra. Hence this temple is called Gayathri Lingeswarar. Everyday many devotees visit this sacred templee and perform several pariharas near this temple. It is believed that the skeleton of a dead body does not crack during the burning of the body here. It was told it is a mystery and it happens due to many Shiva Lingas under the earth at this region.
The temple is located in the Sangam (meeting point) of three rivers. It is considered to be very holy. The linga here is in self-made form. As it is in Sangam the god here is called as Sangameswarar. There is also a Murugan temple(Somas Kandar) in between the Lord Shiva and Devi temple. There are dedicated Sannidhis for "Aadhi Kesava Perumal" and "Soundra Valli Thayar".
Temple History : Goddess Ambigai Vedha Nayagi is very special and powerful at this temple. The story of William Garrow might help you understand the holiness of the Goddess. During the British rule William Garrow worked as a collector for the region of Bhavani. He heard the public talking about the power of the Goddess and he wanted to worship Her. As he was not a Hindu the priests at the temple did not allow him to enter the temple. However to worship the Goddess he made three holes or eyelets in the temple wall so he could worship the Goddess through them every day, standing outside of the temple. We can see those three eyelets even today.
One day William Garrow was sleeping at his bungalow. He had a dream in which a lady dressed like the Goddess woke him up and urged him to leave the house immediately. He woke up with a start and ran towards the temple, thinking it was the Goddess herself talking to him. Next moment the entire building where he was living collapsed. William believed it was only because of the holy Goddess that he escaped from death. He donated a cot made up of ivory to the temple. He also marked his signature at the cot. This incident happened on January 11th, 1804 and is talked of even today.
Temple Timings : Morning 5:30 A.M – 1:00 P.M., Evening 4:00 PM to 8:00 P.M.
Pooja Details : Six times poojas everyday.
Temple Festivals : During Tamil month Chithirai, on Chithirai star day special poojas are conducted for Lord Shiva. On Hasta star day Poojas are conducted for Aadhi Kesava Perumal. New moon day, Pradosham, Shiva Rathri and Vaikunda Egadesi are the other special days at this temple.
Nearest Town Erode.
Temple Address : Bhavani Sri Sangameswarar and Aadhi Keshava Perumal temple,
Bhavani – 638 301, Erode.
Telephone No : 04256-230 192.
Hotels Near Sangameswarar and Aadhi Keshava Perumal Temple, Bhavani :
1.Cliffton Lodge
107, Mettur Road | oppo. Abirami Theater, Erode 638001.
2.Hotel Siva Ranjini
177 Main Road | Brough Rd, Erode 638001.
3.Hotel Atrium
382, EVN Road | near Railway Station, Erode 638001, India
4.Hotel Radha Prasad
Brough Road | Near Telephone Bhavan, Erode 638001.
5.Kohinoor Hotels
330, Brough Road,,Erode, Erode 638001
6.Hotel Grand International
No 61 Gandhiji Road, Erode 638001
Restaurants Near Sangameswarar and Aadhi Keshava Perumal Temple, Bhavani:
1.Junior kuppanna,
Veeraptra Street, Erode, India
2.Trichy Cafe
Nethaji Road, Erode, India
94422 33326
3.Kops Food
Edaiyan kaatu valasu, | Nasiyanoor road, Erode.
1 1 1 1 1 1 1 1 1 1 Rating 3.36 (233 Votes)

Driving Direction & Temple Location