Amirdha Narayana Perumal Temple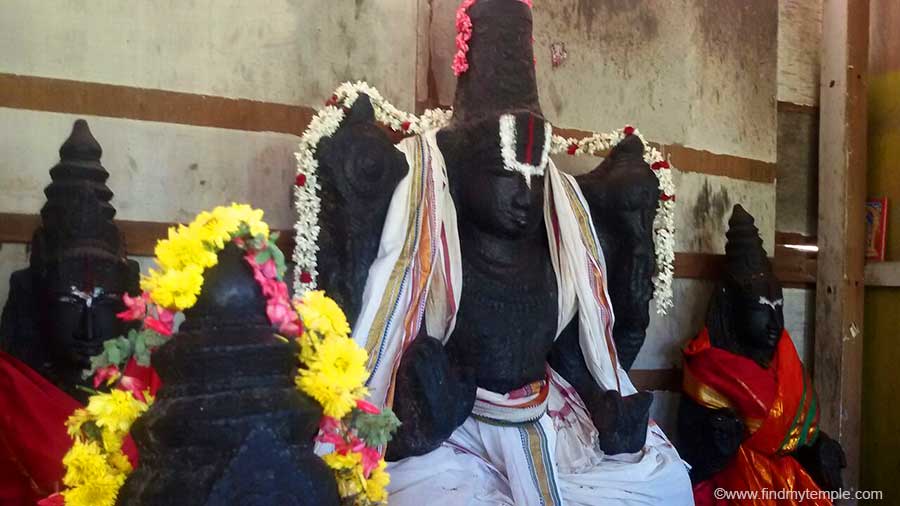 Swamy : Amirdha Narayana Perumal.

Ambal : Amirdha Valli Thayar.

Special Feature : Ramanujar offered worship here. The popular belief is that the full benefit of worshipping Abirami Samedha Amirdagadeswar reaces a person only offer he has offered worship to Amirdha Narayana Perumal. This shrine is also considered a place for offering atonement for Ragu-Kedhu doshas.

Temple History : Devas and Asuras churned Thirupparkadal and obtained the Nector. Vishnu deceived asuras and placed it in a Kalasa. When the Kalasa was opened again, the Nectar (Amirdham) was in the form of Sivalingam. Vishnu understood that this was due to the absence of the grace of Parvathy. He removed the ornaments on his bosom and worhsipped them considering them Parvathy. Ambal appeared then with the name of Abirami and offered Her grace for obtaining Amirdham. Vishnu shared the Amirdha among the Devas. An asura joined the Devas in the disguise of a Deva and drank the amirdham. He attained immortality and the strength of Devas. Vishnu cut him into two. He did not lose his life as he was immortal. The cut pieces of his body became Ragu and Kedhu and joined the Navagraha Mandala. Vishnu, who is responsible for the appearance of Abirami Ammai and also for getting Amirdham for Devas, is gracing as Amirdha Narayana Perumal at Thirukkadaiyur along with Sri Devi and Bhoo Devi. That the expectant women are blessed with good husbands if they offer worship to Amirdhavalli Thayar is a popular belief.

Temple Timings : 6.00 am to 8.30 am - 4.30 pm to 7.00 pm

Nearest Town : Mayiladuthurai.

Address : Sri Amirdha Narayana Perumal Temple,
Thirukkadaiyur (Po.),
Nagappattinam(Dt).
Hotels Near Amirdha Narayana Perumal Temple, Thirukkadaiyur :

1.HOTEL KANAKABHISHEGAM

No 6, Sannathi Street,

Thirukadaiyur - 609311.

Phone : +91 4364 287191 / 92 / 93

2.HOTEL SADHABISHEGAM

# 6/18A, Sannathi Street, Thirukkadaiyur

Nagapattinam District, Tamil Nadu - 609 311

Telephone : +91 - 4364 - 287413, 287513,

Mobile : +91 - 97894 97762"

3.Hotel Mookambigai Residency Thirukadaiyur Main Road

Thirukadaiyur

Tharangabady T.K

Nagapattinam Dist, Pin - 609311

Phone; 04364-287515; 287748;287749;287750

Mobile:+91- 9364387750
4.ABIRAMI RESIDENCY

Mela Veedhi,Thirukadaiyur - 609 311.

Phone : 04364 287065, 287066

Mobile : 98840 87065, 94449 27650,98840 87085, 98840 87067
5.Hotel Manivizha,
Sannathi Street,
Thirukadaiyur,
Tamil Nadu 609311

Phone:04364 287 840.
Restaurants Near Amirdha Narayana Perumal Temple, Thirukkadaiyur :

1. Abirami Restaurant
Thirukadaiyur Main Road, Thirukadaiyur
Tharangabady T.K,

Nagapattinam Dist, Pin - 609311

Phone: 04364-287515; 287748;287749;287750

Mobile:+91- 9364387750
1 1 1 1 1 1 1 1 1 1 Rating 3.37 (235 Votes)
Driving Direction & Temple Location