Arangulanathar Temple
Thiruvarangulam, Pudukkottai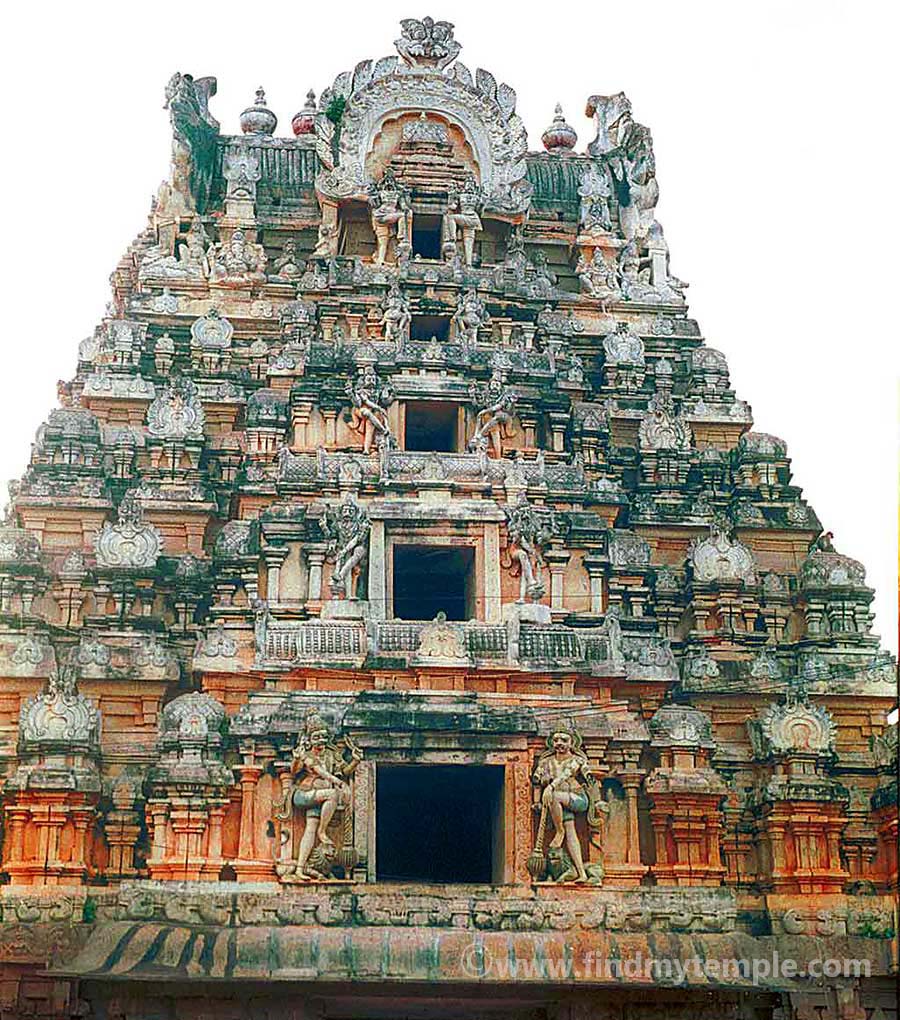 Main Deity : Arungulanathar (or) Haraeswarar.
Ambal : Periya Nayagi.
Prominence of the Shrine : This temple has been constructed closed to 2000 years back by Karikala Chola. Karikala Chola is one of the popular Chola kings as part of the early Cholas. There is a temple tank and the linga here is in the same level of the tank. As the God here is Arangulanathar, the village name became Thiruvarangulam. In this Region lot of Palm trees were there and the fruit used to look like in golden color fruit. The kings who came for hunting in this area started calling this fruit as "Porpanai" (por+panai : por is gold panai is palm). Hence Ganesha in this temple is called as Porpanai Ganesha and the Muneeswaran temple 3 KM from here is called as Porpanai Muneeswaran.
Muneeswaran is considered to be family/village god for many villages in Pudukkottai district. A group of Chettiar family found out the grains that were kept in the temple and they handed over to King. Also one of the Chettiar families worshipped to Goddess here and Ambal herself born as their daughter.
Temple History :
Goddess Periya Nayagi considered being very powerful at this temple. If the devotees worship her all kinds of Doshas will be cured. Marriage obstacles are removed and people don't have children used to worship to Goddess here. If the devotees who are born in Pooram star facing problems in Marriage alliance will get resolved immediately as the Goddess was also born in same star. People also used to Adopt children at this temple.
Temple Timings : Morning 6:00 A.M. – 12:00 P.M., Evening 4:00 P.M. – 8:00 P.M.
Pooja Details :
Vaigasi – 10 days Urchav for Lord Shiva.

Aadi – 10 days Urchav for Devi, 10th day car festival & holy marriage.
Nearest Town : Thiruvarangulam.
Temple Address : Sri Arangulanathar temple,
Thiruvarangulam, Pudukkottai.
Hotels Near Arangulanathar Temple, Thiruvarangulam :
1.Chidambara Vilas Chettinad,
Ramachandrapuram, Kadiapatti | Off Thirumayam Fort,
Pudukkottai 622505,
ph :095855 56431.
2.Saratha Vilas Heritage Home in Chettinad,
832 main road, Kothamangalam,
Kariakudi taluk, Tamil Nadu 630105.
3.Chettinadu Narayana Vilas,
Near Raja Palace,Raja Front Street,
Kanadukathan, Tamil Nadu 630103,
ph no:04565 283 199.
4.Hotel Sathyam,
1 Sathyamoorthy Road,Pudukkottai,
Pudukkottai 620008
5.Visalam,
7/1 - 143, Local Fund Road,LF Road,
Kanadukathan, Tamil Nadu 630103
Restaurants Near Arangulanathar Temple, Thiruvarangulam :
1.Appus Curis Family Restaurant,
No : 5/p, Poonga Nagar, Rajagopalapuram,
Railway Station Road, Near State Bank Poonga Nagar,
Pudukkottai, Tamil Nadu 622003,
ph no:04322 261 541
2.Shri Aiswarya Restaurant,
Marthandapuram,
Pudukkottai, Tamil Nadu 622001.
1 1 1 1 1 1 1 1 1 1 Rating 3.36 (233 Votes)
Driving Direction & Temple Location