Azhagiya Singar Temple
Thiruvali Thirunagari, Nagapattinam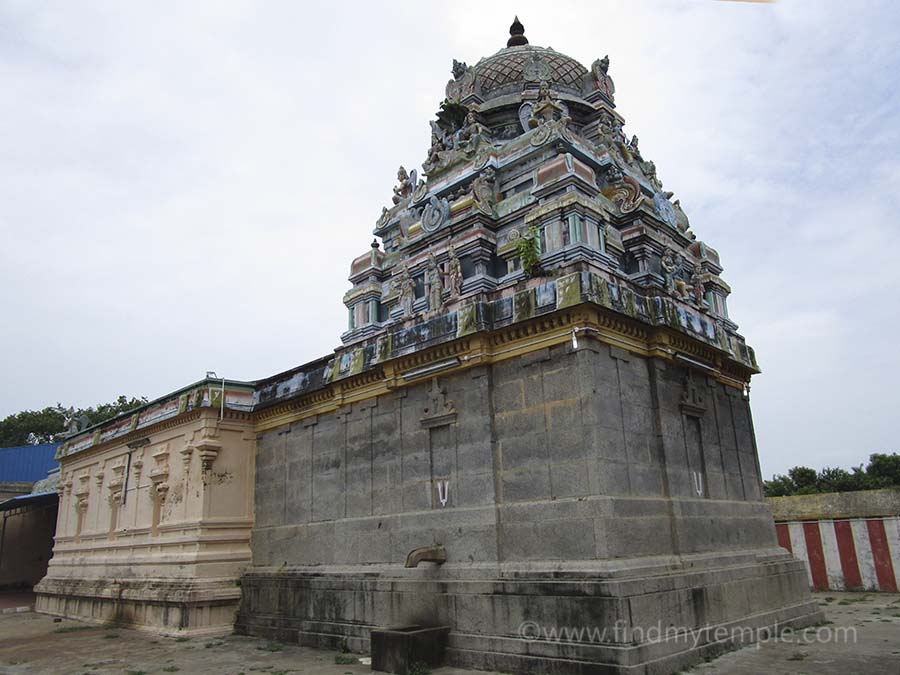 Main Deity : Azhagiya Singar (Lakshmi Narasimhar), Vayalali Manavalan.
Ambal : Purnavalli, Amruthakadavalli.
Theertham : Ilatchani, Pushkarni.
Temple Tree : Bael Tree.
Prominence of the shrine : There are other Perumal temples around Tiruvali – Kurayalur Ukkira Narasimhan, Mangaimadam Veera Narasimhan, Tirunagari Yoga Narasimhan and one more Lord Narasimha called Hiranya Narasimhan. The Vimana-tower above the Sanctum Sanctorum is known as Ashtakshara Vimana. Saint Tirumangai Azhwar had the Darshan of Lord Perumal in this place. This sacred land is revered next to Badarikashrama as Lord Perumal taught the Tirumantra to Azhwar. The place is also revered as Lakshmi Narasimha Kshetra as Lord Perumal graces here along with Mother Mahalakshmi. The devotee has the advantage of worshipping five Narasimha Kshetras in Thiruvali. The Mandap where Tirumangai Azhwar intercepted the divine couple still exists here. This 'way laying' event is celebrated in the temple each year.
Temple History : Perumal took the Narasimha Avtar to destroy demon Hiranya. His fury could not be softened by anyone. Devas and Rishis were afraid that Lord's fury would destroy the whole universe and appealed to Mother Mahalakshmi. She came and sat on Lord's lap. Lord embraced her (Aalinganam in Sanskrit) hence the place was named Aalingana Puram – Tiruvali. Tiru in Tamil means Mother Mahalakshmi. Tirumangai Azhwar was a chieftain of this place. So this place is called as Alinadan. Goddess Lakshmi requested Lord Perumal to show appearance to Thirumangai Azhwar. On her request, Lakshmi Devi was born as the daughter of sage, Poorna Maharishi in Tiruvali who was performing penance. Goddess Lakshmi was married to Lord Perumal at the age of marriage. When they were coming to Devarajapuram near Tiruvali, Tirumangai Azhwar began to rob people on the way to fund his services to Lord and so Lord Perumal advised the Atshatchara Mantra to Tirumangai Azhwar. The hall can be found today in the place where Tirumangai robbed.
People who worshipped here : Tirumangai.
Poets who sang its praise : Tirumangai Azhwar, Kulasekhara Azhwar.
Temple Timings : Morning 010:00 am to 12:00 noon, Evening 04:30 pm to 07:30 pm.
Temple Festivals : Garuda Sevai in January month.
Nearest Town : Sirkazhi.
Temple Address : Azhagiya Singar Temple,
Thiruvali Thirunagari - 609 106, Nagapattinam District.
Telephone Number : 0435-2430564.
Hotel Near Azhagiya Singar Temple, Thiruvali Thirunagari :
1.Chola Inn,
105, Pidari South Street,
Thenpathi,Sirkazhi,
Tamil Nadu 609111,
Ph: 094444 93388
2.Ayarpadi Hotel,

Old NH,Thenpathi,Sirkazhi,
Tamil Nadu 609110
3.Hotel Aryabhavan,

Old NH,Thiruvalluvar Nagar,
Thenpathi,Sirkazhi,
Tamil Nadu 609111
4.Mangala Vilas Hotel,

Thenpathi,Sirkazhi,
Tamil Nadu
5.Ganesan Hotel,

Sirkazhi, Tamil Nadu
Resturant Near Azhagiya Singar Temple, Thiruvali Thirunagari :
1.Samboorna Restaurtant,
Old NH,Thenpathi,Sirkazhi,
Tamil Nadu 609110
2.Garden Restaurant,
Thenpathi,Sirkazhi,
Tamil Nadu 609110
1 1 1 1 1 1 1 1 1 1 Rating 3.37 (235 Votes)
Driving Direction & Temple Location