Immayilum Nanmai Tharuvar Temple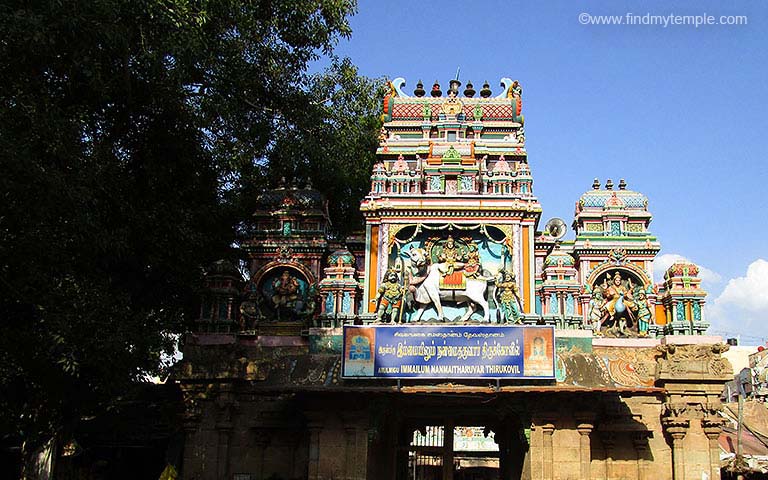 Main Deity : Immayilum Nanmai Tharuvar (Lord Shiva).
Ambal : Madhyapuri Nayagi(Goddess Parvathi).
Other Deities : Somaskandar.
Holy Water : Sri Pushkarani.
Temple Tree : Dasathala Vilvam (Vilva Tree - Aegle marmelos, commonly known as bael)
Prominence of the Shrine The shrine faces the west direction at this temple. Behind the lingam (Lord Shiva) and Goddess Parvathy are in the sitting posture. This shrine is called 'boologa Kailash'.
Temple History : Goddess Parvathi born as a daughter to a Pandya king 'Malayadhvajan'. Parvathi was called at Madurai as Meenakshi. Lord Shiva married Parvathi, and become king of Madurai. . It has been an ancient custom to perform pooja to Shiva lingam, before assuming any important positions or initiating major tasks. Accordingly, the Lord appears here in a posture, performing pooja to the Shiva lingam. By Hindu belief, generally one gets absolved to the sins committed during the current birth in the next birth; however, worshipping the Lord here is believed to absolve the sins in the current birth itself. Hence the name 'Immayilum Nanmai Tharuvar' for the deity.
Temple Timings : 6.15 am to 11.30 am and 4.30 pm to 9.30pm.
Temple Festivals :
Masi: Brahmothsavam;
Vaigasi: Visakam;
Aavani: Shiva pooja;
Sivarathiri: Thrukkarthikai.
Nearest Town : This temple is in Madurai city.
Address : Sri Immayilum Nanmai Tharuvar temple, Mela Masi street, Madurai 625 001.
Hotels Near Immayilum Nanmai Tharuvar Temple, Madurai :

1.Fortune Pandiyan Hotel

Race Course, Madurai-625 002,
Tel : 91-452-4356789

Fax : 91-452-2533424

2.THE SPK HOTEL

Luxury Hotel

Address: Lake View Road, Managiri, KK Nagar,
Madurai, Tamil Nadu 625020

Phone:0452 255 5777.

3.Heritage Madurai,

11, Melakkal Main Road,

Kochadai, Madurai 625 016, India.

Tel : + (91) 452 2385455 ,+(91) 452 3244185

Fax : + (91) 452 2383001

4.sangam Hotel, Madurai

Alagarkoil Road, Madurai – 625002

Tel : 91-452-4244555 / 2537531

Fax: 91-452-2537530"

5.Star Residency

No 43 & 44, Collector Office Road,

Near Anna Bus Stand,

Near Aravind Eye Hospital,

Madurai - 625020.
Tel : +91 - 452-4343999,+91 - 452-4343970
Restaurant Near Immayilum Nanmai Tharuvar Temple, Madurai :
1.Hotel Supreme
No. 110, West Perumal Maistry Street,
Madurai, Tamil Nadu 625001
Ph: 0452 234 3151
2.Surya Roof Top Veg. Restaurant
110, West Perumal Maistry Street
Madurai - 625001
Phone No :- +91 452 2343151 (3 lines), 3012222
Fax No :- +91 452 2342637
3.Adyar Anandha Bhavan
285, Kamarajar Road, Mahal Area,
Madurai Main, Madurai,Tamil Nadu 625009
Ph : 044 2345 3045
4.Sree Mohan Bhojanalay
No 33, Dhanappa Mudali Street, Madurai Ho,
Madurai - 625001, Opposite To Hotel
Ph : + (91)-9943323221, 9442751870
Tel : +(91)-452-2346093
1 1 1 1 1 1 1 1 1 1 Rating 3.37 (235 Votes)

Driving Direction & Temple Location