Vaikundanatham Temple
Sri Vaikundam,Thoothukudi district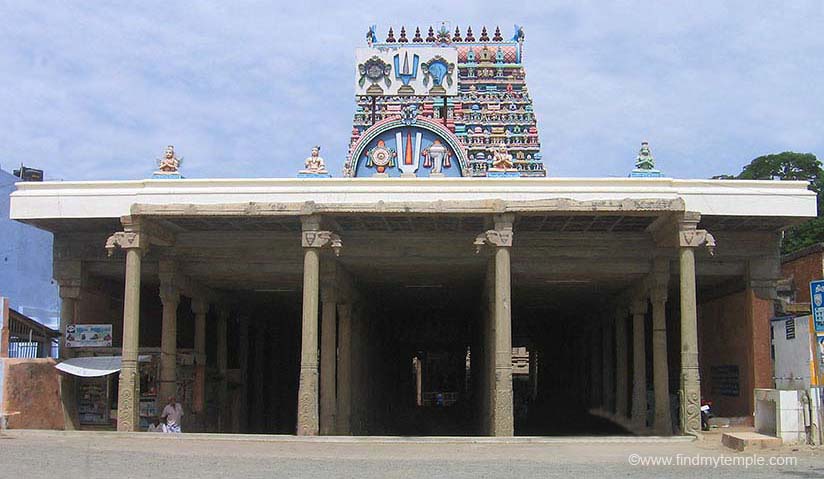 Main Deity : Vaikundanathan ( Kallapiran)

Ambal : Vaikundavalli,Bhoodevi

Holy Water : Pirugu theertham,Thamarabharani river

vimanam : Chandra vimanam,Pancharathram

Prominence of the Shrine : Sathya Loga where Lord Brahma reigns was once surrounded by water as a result of Pralaya, (As per Hindu cosmology, this is an another term for Great Dissolution). A demon called Somukasuran made away with the secret "records of creation" of brahma and hid them. Brahma who felt sore over his predicament want to observe penance towards Vishnu in order to retrieve the lost records. He sought a place for observing the penance. It was revealed to him that a grove on the banks of the river Thamirabarani was suitable for him. Lord Brahma went there and observed rigorous penance. Lord Vishnu appeared and compliment Brahma and got him back the lost records. Brahma appealed to Vishnu to appear as vaikundanatha in that location. Brahma himself consecrated the main idol(moolavar) with the water gathered in his kamandala and consecrated the kalasa on the bank of the river. The water came to be known as kalasa Theertham.
Temple History : As per another story in this area, A thief called Kaala dhoogan used to go for thieving after offering worship to Vishnu at this temple. He would give half the quantity of the amount he had stolen. When a gang of this thief was caught while stealing in the king's palace, Kalla Dhoogan surrendered to Vaikundanatha and begged him to save him. Vishnu appeared before the king as kaala thoogan and revealed himself as Vishnu. The king wanted to know why the lord engaged himself in stealing at the place, the lord told him that he (the king) had not practiced charity and justice at his country so the Lord wanted to make him aware. The king took it as a blessing and named the urchara moorthy as the temple as 'kallapiran' and continued with his worship throughout.
Long ago this temple was engulfed in the earth. Cows of the pandya king of Manappadai Veedu used to raze here. One of the cows would squirt milk at a place where lord Vishnu was hidden. The cowherd conveyed this to the king who came there with his entourage and found the Lord Vaikunda (Vishnu's) shrine on excavation. He built the temple which is existing now. Every year on the 6th of chithra and Aippasi the rays of the sun fall at the foot of the Lord. For this the flag pole (kodi maram) is placed a little away from its place. The temple tower was by Chandra Kula Pandiyan. The flag pole was made by Veerappan Naicker and the mandapam was built by Santhana Sabapathi. This temple has wonderful architectural features. The sculptor who made the "Urchavar"(main idol) was carried away by the beauty of the lord and pinched him. The Lord accepted it and even today the scar is seen on the cheek of the Urchavar.

Temple Timings : 6.00 A.M-12.00 Noon and 4.00-8.00 P.M
Nearest Town : Tirunelveli

Address : Sri Vaikundanatha Temple, Sri Vaikundam, Thoothukudi district.
Hotel Near Vaikundanatham Temple, Sri Vaikundam :
1.Sakunthala International, (26km from Temple)
Trivandrum Road | Vannarpettai,
Tirunelveli 627003, India
2.Hotel Aryaas Ressidence(29km from Temple)
Bypass Junction | Vannarapetai,
Tirunelveli 627001, India
3.Hotel Aryaas (28km from Temple)
67, Madurai Road | Tirunelveli Junction,
Tirunelveli 627001, India
4.Sri Bharani Hotel (28km from Temple)
29-A, Madurai Road, Tirunelveli Junction |
Tamilnadu, Tirunelveli 627001, India
5.Sri Janakiram Hotels (28km from Temple)
30,Madurai Road,
Tirunelveli 627001, India
1 1 1 1 1 1 1 1 1 1 Rating 3.38 (238 Votes)

Driving Direction & Temple Location