Matruraivaradeeswarar Temple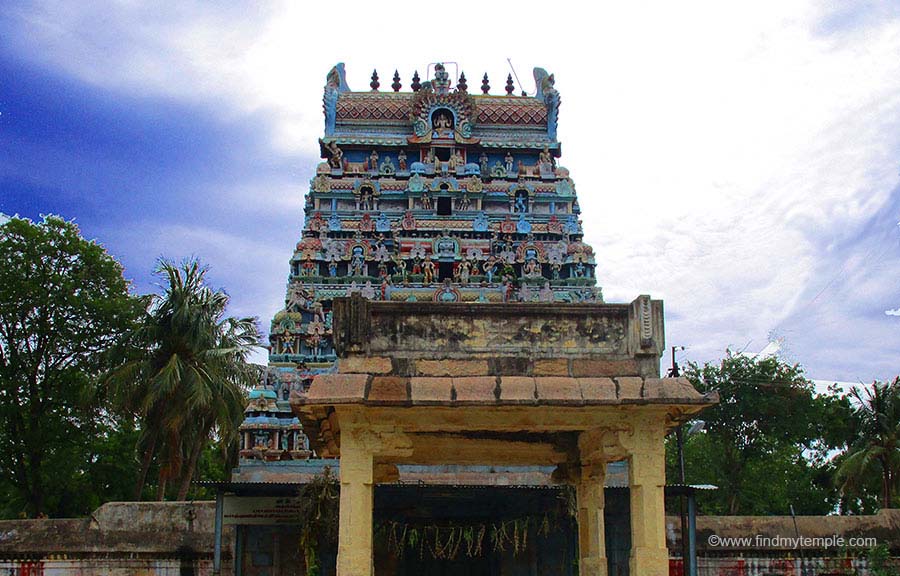 Main Deity : Matrurau Varadeeswarar (aka) Samevaneswarar (aka) matrari Varadhar.
Ambal : Balambigai.
Prominence of the Shrine : This temple is one of 278 Shiva temples that was sung in Tamil spiritual literature Devaaram. The parrot dug with its beak and made a tank which is in front of Balambigai Sannidhi is called as 'Annama poigai'. In this shrine Ambal Sannidhi faces west, looking towards lord Shiva. Those who are single get better prospects for married life by offering worship here. Incurable diseases are cured if the Nataraja here is offered pooja for 48 days continuously. If the Lord Matrurauvaradeeswarar is worshipped with lighting with "illuppai oil", financial prospects will improve. The temple has been constructed /expanded by different kings like Raja Raja Cholan I, Sundara Pandian, Kulonthunga Cholan I and Krishna Deva Rayar. As per the stone inscriptions, during AD 1253 the Hoysala King 'Veera Someswaran' who ruled this area from Samayapuram as capital has generously offered ten thousand kalam (type of measurement) of paddy every year. Earlier this village was called as Thiruppachilasramam and later shortened as Thiruvasi. As this temple was surrounded by Vanni trees the god is also called as Samevaneswarar. The sacred hall in between the first and Second prahara is called as 'Aavudaya Pillai Mandapam' .. In the pillars of this hall there are sculptures of Sampathar, King Kolli Mazhavan and his daughter is carved beautifully. There is an another hall where the Lord Shiva has given golden coins to Sampanthar.
Temple History : Kolli hills was ruled over by 'Kolli Mazhavan'. His daughter was affected with severe stomach ache called "muyalagan". No medicines and treatments proved effective. The king brought her to this shrine and placed her in front of the god here. Poet and saint Thirugnanasambandar who came that way enquired about the matter and started singing with "Thunivar Thingal" as the first line. As he completed each stanza, he sang "mangai vaada mayal seivado ivar maanbu"( "மங்கையை வாட மயல் செய்வதோ இவர் மாண்பு") which means is it right to make this lady suffer?). Thanks to the grace of God, the King's daughter was rid of the ache and she rose cured. Even today devotees worship Lord Nataraja here for an ailment free life.
Temple Timings : 7am to 12pm 5pm to 7.45pm
Pooja Details : 8.30am Kala Santhi
12 noon Uchi kala pooja
5.30pm Sayaratchai
7.30pm Artha Jama Pooja
Temple Festivals : Vinayagar Chathurthi,
Vijayadashami,
Kanda Shashti,
Karthigai Deepa,
Arudhra Dharshan,
Thai Poosam,
Brahmothsavam- At the end Vaigasi full moon day , (On Punarpoosam day) flag hoisting is held. Ten days later temple car festival is held.
Nearest Town : Trichy
Location : 6km from No.1 tolgate on the way to Musuri.
Address : Sri Balambigai Samedha Matrurau Varadeeswarar Temple, Manacha Nallur Tk, Trichy Dt, Thiruvasi-621216.
Hotels Near Matruraivaradeeswarar Temple, Thiruvasi :
1. Mathura Hotel, (20 km from Temple)
No 1, Rockins Road, Tiruchirappalli Townhall,
Trichy - 620002, Opposite Central Bus Stand Contonment
Tel : +(91)-431-2414737, +(91)-9894558654.
2. Mayavaram Lodge, (17.3 km from Temple)
No 87, Vanapattarai Street, Tiruchirappalli Townhall,
Trichy - 620002, Teppakulam Post,
Tel : +(91)-431-2711400, 2704089
3. Femina Hotel, (19.3 km from Temple)
109, Williams Road, Tiruchirappalli 620001,
Hotel Area: Trichy Central Bus Stand / Railway Junction Area,
Tel : 0431 - 2414501.
4. Hotel Rockfort View, (10.2 km from Temple)
05, Odathurai Road | Chinthamani, Tiruchirappalli 620 002.
Mobile: +91 740 2713466.
Tel : +91 431-2713466.
5. Grand Gardenia, (18 km from Temple)
22-25 Mannarpuram Junction,Trichy-620020,
Mobile : +91 95856 44000.
Tel : +91 431 4045000.
Restaurants Near Matruraivaradeeswarar Temple, Thiruvasi :
1. Ragunath Restaurant, (19.7 km from Temple)
College Road, Tiruchirappalli.
2. Parthasarathy vilas, (10.7 km from Temple)
Vegetarian / Vegan Restaurant
Kondayam Pettai Agraharam, Thiruvanaikoil, Trichy 620005.
1 1 1 1 1 1 1 1 1 1 Rating 3.36 (233 Votes)

Driving Direction & Temple Location