Sundareswarar Temple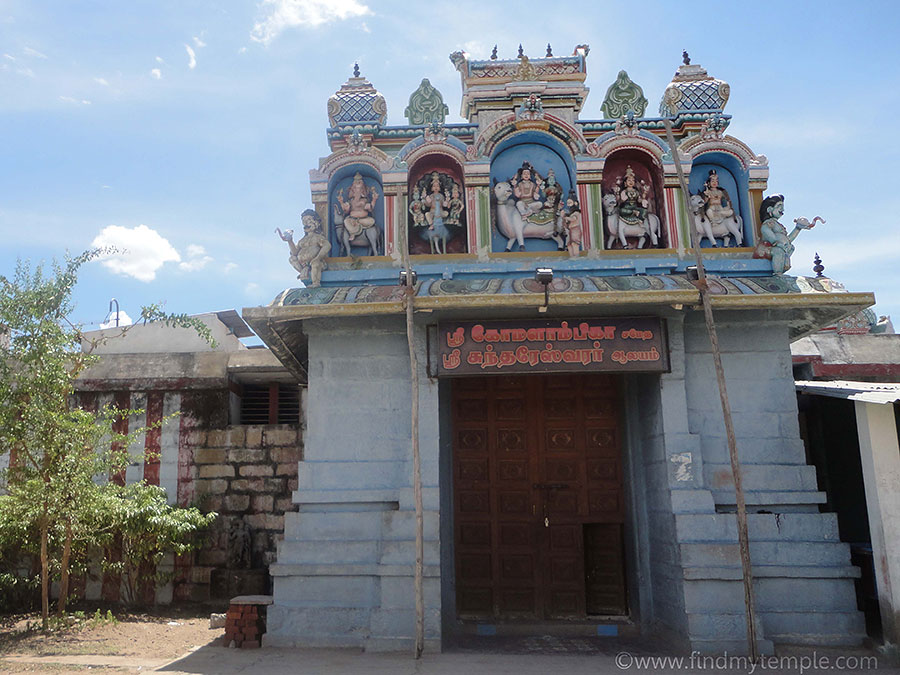 Main Deity : Sundareswarar.
Ambal : Komalambigai.
Temple History : Once a Chola king was worried about her daughter's face which looked like a fox's face. He worshipped many temples to cure her face and finally reached to Nangavaram. That day night Goddess appeared in his dreams and told him to get the Shiva linga from Kasi. She said the Linga is with a sage named Agandeeswarar and bring that here. Agandeeswarar was worshipping a linga once in 30 days. Chola king took the linga when the sage was in a deep meditation and brought it to Nangavaram. When the sage woke up from his meditation he realized that the linga was missing and figured out it had gone to Nangavaram. He also arrived to Nangavaram with the aim to take back the linga. Lord Shiva appeared in the sage Agandeeswarar's dream and told him to stay at Nangavaram itself and continue to worship him here instead of carrying back the linga. The sage also stayed at Nangavaram. The princess's face got changed like a normal girl. As the Lord Shiva cured girl's face the place was called as Nangai varam initially and later it became Nangavaram.
Temple Timings : Morning 6:00 A.M. – 12:00 Noon. Evening 4:00 P.M. to 8:00 P.M.
Nearest Town : Trichy.
Address : Sri Komalambigai Samedha Sri Sundareswarar Temple,
Nangavaram, Karur District.
Hotels Near Sundareswarar Temple, Nangavaram :
1. Mathura Hotel,
No 1, Rockins Road, Tiruchirappalli Townhall, Trichy - 620 002,
Opposite Central Bus Stand Contonment
+(91)-431-2414737, +(91)-9894558654
2. Mayavaram Lodge,
No 87, Vanapattarai Street, Tiruchirappalli Townhall,
Trichy - 620 002, Teppakulam Pos
+(91)-431-2711400, 2704089
3. Femina Hotel,
109, Williams Road, Tiruchirappalli 620001,
Hotel Area: Trichy Central Bus Stand / Railway Junction Area
Tel : 0431 - 2414501.
4. Hotel Rockfort View,
5, Odathurai Road | Chinthamani, Tiruchirappalli - 620 002.
Mobile: +91 740 2713466.
Tel : +91 431-2713466.
5. Grand Gardenia,
22-25 Mannarpuram Junction,
Trichy - 620 020, Tamilnadu.
Mobile : +91 95856 44000.
Tel : +91 431 4045000.
Restaurants Near Sundareswarar Temple, Nangavaram :
1. Ragunath Restaurant,
College Road,
Tiruchirappalli, India
2. Parthasarathy vilas,
Vegetarian / Vegan Restaurant
Kondayam Pettai Agraharam,
Thiruvanaikoil, Trichy - 620 005, Tamilnadu.
1 1 1 1 1 1 1 1 1 1 Rating 3.38 (238 Votes)
Driving Direction & Temple Location