Rakkayi Amman Temple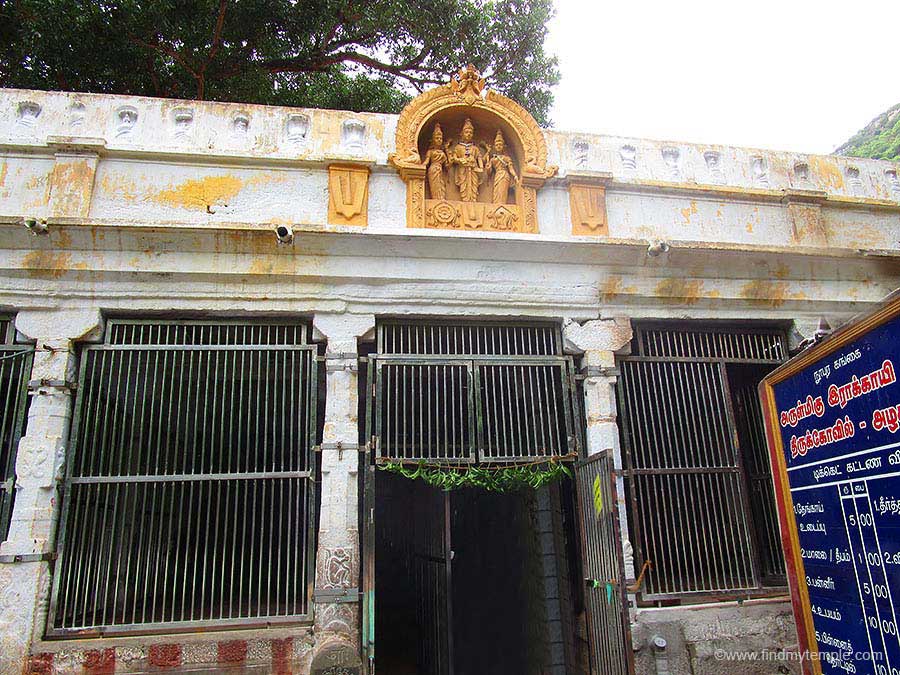 Main Deity : Rakkayi Amman.
Holy Water : Noopura ganga.
Temple Tree : Jothi Viruksham, sandalwood tree.
Prominence of the Shrine : Sri Narayanan (Vishnu) incarnated as Thri vikrama and scaled the universe in his three steps. During this, his feet covered the 'Brahma loga' also. Brahma who has been observing a long penance to worship the feet of Vishnu (36,000 years of penance), performed abhishekam to the feet with the ganga water he had in a golden pot (kalasa). The ganga water fell on the anklet and from there it spilled over to the Earth. From then on the ganga water has been gushing forth eternally from the feet of the Lord and thus, it is called 'Silambaru' (meaning river from anklet) in Tamil and 'Noopura Gangai' in Sanskrit. It is considered holier than all the other rivers on the earth.

Every year, on the Dwadashi day (12th day after the new moon) of Aipasi month the Lord (deity) is bathed in this holy water after massaging with oil. It is believed to be highly auspicious to see witness this festival and seek the blessings of the Perumal on this occasion.
Temple History : Sage Sudhapa, while bathing in Noopura ganga, failed to notice, sage Durvasa who is coming on that way. He failed to welcome Durvasa with honour. Angered by this neglect, the hot-tempered Durvasa, cursed Sudhapa to be a 'mandoopam' (frog). Sage Sudhapa, then observed penance in the frog stature in river Vaigai for long and attained salvation when the sage sighted the Lord and worshipped him. The form of the Lord that the sage saw is called 'Sundarabahoo' in Sanskrit and 'Azhagar' in Tamil.
Temple Timings : 7.00 am to 7.30 pm.
Nearest Town : Madurai.
Address : Sri Rakkayi Amman temple, Azhagar temple-625 301, Madurai Dt.
Telephone No : 0452-247 0228.
Hotels Near Rakkayi Amman Temple, Madurai :

1.Fortune Pandiyan Hotel

Race Course, Madurai-625 002,
Tel : 91-452-4356789

Fax : 91-452-2533424

2.THE SPK HOTEL

Luxury Hotel

Address: Lake View Road, Managiri, KK Nagar,
Madurai, Tamil Nadu 625020

Phone:0452 255 5777.

3.Heritage Madurai,

11, Melakkal Main Road,

Kochadai, Madurai 625 016, India.

Tel : + (91) 452 2385455 ,+(91) 452 3244185

Fax : + (91) 452 2383001

4.sangam Hotel, Madurai

Alagarkoil Road, Madurai – 625002

Tel : 91-452-4244555 / 2537531

Fax: 91-452-2537530"

5.Star Residency

No 43 & 44, Collector Office Road,

Near Anna Bus Stand,

Near Aravind Eye Hospital,

Madurai - 625020.
Tel : +91 - 452-4343999,+91 - 452-4343970
Restaurant Near Rakkayi Amman Temple, Madurai :
1.Hotel Supreme
No. 110, West Perumal Maistry Street,
Madurai, Tamil Nadu 625001
Ph: 0452 234 3151
2.Surya Roof Top Veg. Restaurant
110, West Perumal Maistry Street
Madurai - 625001
Phone No :- +91 452 2343151 (3 lines), 3012222
Fax No :- +91 452 2342637
3.Adyar Anandha Bhavan
285, Kamarajar Road, Mahal Area,
Madurai Main, Madurai,Tamil Nadu 625009
Ph : 044 2345 3045
4.Sree Mohan Bhojanalay
No 33, Dhanappa Mudali Street, Madurai Ho,
Madurai - 625001, Opposite To Hotel
Ph : + (91)-9943323221, 9442751870
Tel : +(91)-452-2346093
1 1 1 1 1 1 1 1 1 1 Rating 3.37 (235 Votes)
Driving Direction & Temple Location