Satchinadha Swamy Temple
Thiruppurambiam, Kumbakonam (Tk)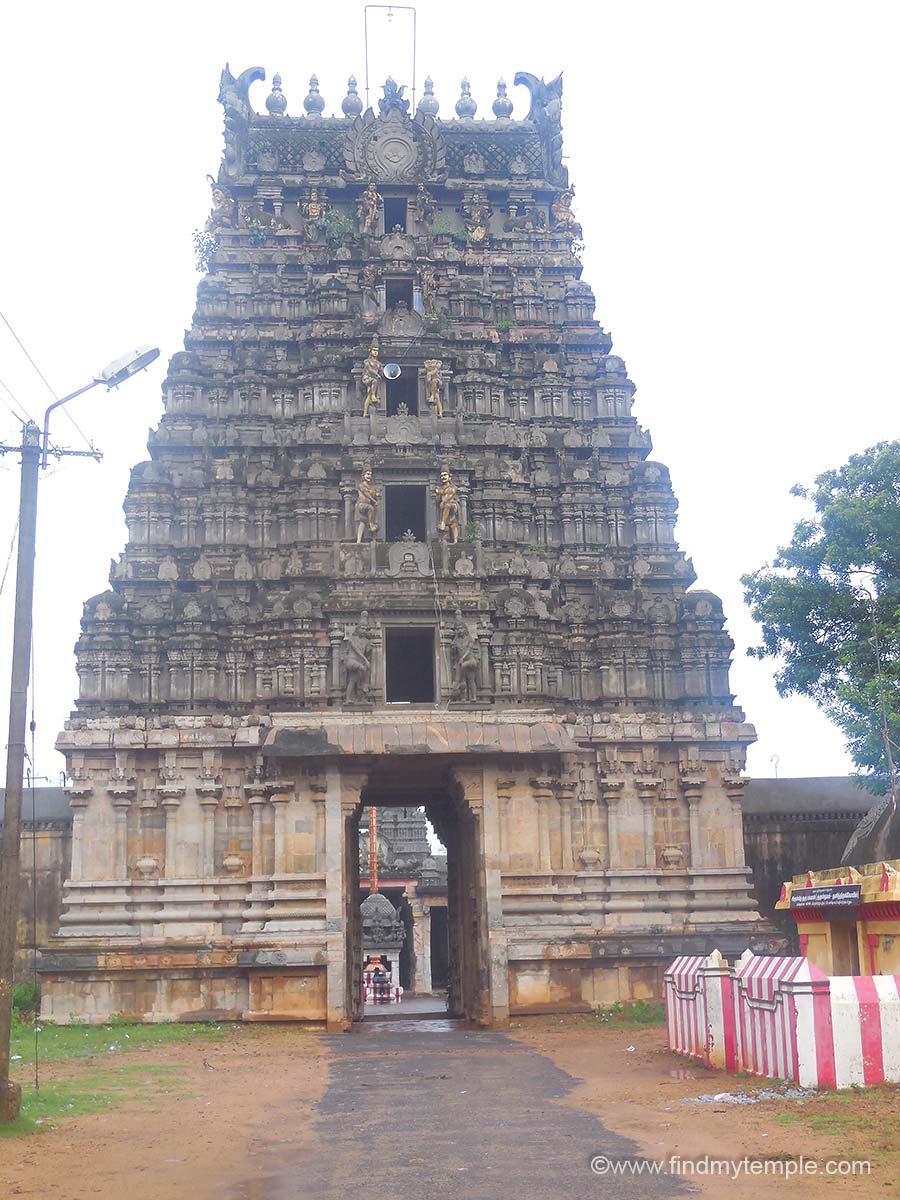 Swami : Sri Satchinadar.
Ambal : Sri KarumbannaSolli.
Moorthy : Agathiar, Naalvar, Pulathiar, Sanagar, Sanandhanar, Viswamitrar, Gugambigai.
Holy Water : Brahma Theertham.
Temple Tree : Punnai.
Specialty of the shrine : The Lord here bore witness to a Chetty Woman. Hence he is called Satchinadhar. The Vinayagar here is 'Pralayam Kaatha Vinayar' who is made of sea-shell. Throughout the night of VinayagaChathurthi, honey abhishegam is performed for Vinayagar who absorbs all the honey in His body and not a drop is spilt outside.Pralaya, in Hindu cosmology, is an aeonic term for Dissolution.During one of the dissolution Lord Ganesha saved this temple from the destruction hence The "lord of Sea" created lord Ganesha using seashell, Sea foam, and Snail shell and worhshipped here.
In this temple Lord shiva is appearing as satchi nathar & satta nathar. Please note that there is a dedicated temple for Satta Nathar at Sirkazhi.
Temple History : Once upon a time, apocalypse took place and the flood was surrounded all over the world. But the water didn't enter this place. Lord Ganesha came down here he redirected the entire flood to get inside of the temple well. Thus he saved this temple and the village. So he is called as "Pralayam Kaththa Vinayagar" (Pralayam is a tamil word for apocalypse). Based on the story, a business person came down from Madurai to meet his uncle in this area. His uncle was nearing his end, he asked to take care of his daughter and died. That business man along with his uncle's daughter was going to Madurai and on his way he stayed a night at the Shiva temple here. On that night a snake came there and killed him. The girl prayed to Lord and requested to help her out. Lord gave the life back to the business man and got both of them worried. They both went to Madurai and the business man's first wife didn't believe all the things that has happened at the shiva temple. She said the marriage between the business man and the uncle's daughter didn't take place and he is cheating her. The uncle's daughter worshipped to Lord Shiva and he came as a witness to all the things happened. Witness is called as 'Satchi' in Tamil language hence the god here is called as Satchinadhar. This story has been written in Thiruvilayadal purana and Thala purana. Devotees can witness a Vanni Tree in one corner of Madurai Sundareswarar temple. Vanni tree was a witness of the marriage took place at Thiruppurambiam and Shiva came down to explain all the incidents to the business man's first wife here. Vanni tree was not the temple tree for Madurai temple however it is there as an evidence there today also.
Who worshiped here : Sambandar, Appar, Sundarar.
Poets who stand in praise : Thirugnanasambandar, Thirunavukkarasar, Sundarar.
Temple Timings : 6.00 am to 12.00 noon ---- 4.00 pm to 9.00 pm
Details of Poojas : Four times a day.
Temple Festivals : Aavani – VinayagarChathurthi – Special worship for 5 days,
Brahmotsavam on MaasiMagam,
Karthigai.
Nearest Town : Kumbakonam.
Address : Sri SatchinadhaSwamy Temple,
Thiruppurambiam,
Kumbakonam (Tk),
Tanjore (Dt). Pin : 612 303.
Hotel Near Satchinadha Swamy Temple, Thiruppurambiam :
1.HOTEL ALAGU,(8km form Temple)
24,Sannathi Street,
Swamimalai.-612 302.
Ph:0435 - 2454031
cell -+91-99449-09579
Fax - 0435 - 2454190
2.INDeco Swamimalai Villa,(5.8km form Temple)
6/30 B Agraharam,Baburajapuram (post),
Kumbakonam 612302,
3.Hotel Saravana Bhavan,(8km form Temple)
25B & 25C, Jeevarathnam Maligai,
Near Crown Theatre, Near Daily Thanthi,
Arcot Road, Vellore, Tamil Nadu 632004
Ph: 0416 221 7433
4.O V M Resorts,(8.7km form Temple)
Kumbakonam,
Kumbakonam, Tamil Nadu, India
5.Venkataramana Hotel,(9.5m form Temple)
Karna Kollai Agraharam,
Valayapettai Agraharam,
Kumbakonam, Tamil Nadu, India
Resturant Near Satchinadha Swamy Temple, Thiruppurambiam :
1.Sri Adthi Ganesh Bhavan Pure Vegetarian Hotel,
No 32, Sannadhi Street, Swamimalai,
Kumbakonam - 612302, Near Swamimalai Temple
Ph:+(91)-9443161929, 7598578257
1 1 1 1 1 1 1 1 1 1 Rating 3.38 (238 Votes)
Driving Direction & Temple Location