Madhura Kali Amman Temple
Siruvachur, Perambalur district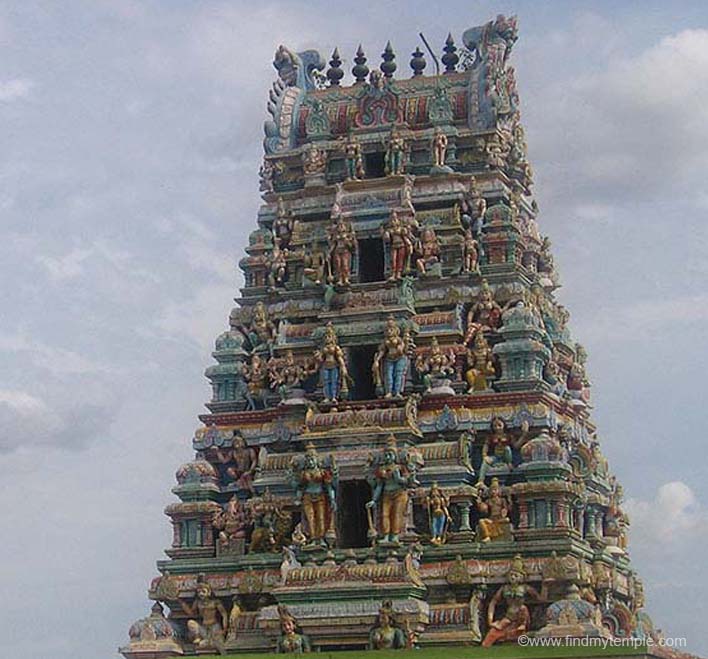 Main Deity : Sri Madhura Kali Amman
Holy Water : Thirukkula
Temple Tree : Marudha maram
Prominence of the Shrine : Aadhi Sankara offered worship here. This Kali has the power to cure the deaf and dumb. She can relieve people under the evil influence of ghost, evil spirit, witchcraft. Except Mondays and Fridays, Ambal is said to dwell in the nearby Periyasamy hill.
Temple History : As per the tamil literature 'Silapathikaram', Kannagi burnt down Madurai for the injustice meted out to her innocent husband and she was wandering without mental peace reached this shrine and found tranquility. The Kali of Madurai who burnt down Madurai through Kannagi settled down here on her own accord it is said. The presiding deity of Siruvachur is Selli Amman. A magician bought her under his control with his magical powers and used her for his evil acts. Annai Madhura KaliAmman came here on a Friday night. As she wanted to stay with Selli Amman, she sought her consent. Selli Amman told her about the magician who was troubling her. Madhura kali told her that she would find a way for it. That night she encountered the magician and destroyed him. Seeing the might of Madhura kali, Selli Amman requested her to stay at Siruvachur temple and grace the devotees and she herself would go to the nearby periyasamy hill. However Selli Amman wanted that she should be honoured first at Siruvachur Temple. Madhura kali accepted it and stayed at the temple. Selli Amman went to Periyasamy hill and stayed at the Temple there. Madhura kali who came here on a Friday graces devotees on Mondays and that is why the temple at Siruvachur is open on Mondays and Fridays according to accounts going round here. The temple is also open on other important days. The other days Madurai kali Amman stays with Selli Amman at Periyasamy hill. The name Madurai kali Amman became Madhura kali Amman. Madhura kali who came here in an infuriated mood, on reaching here became tranquil and she also graces pleasant to the devotees and thus she got the name Madhura kali Amman. As Selli Amman wanted first honour to her, the Deeparathana is done towards the hill first and then only it is done to Madhura kali Amman.
Temple Timings : Open on Mondays and Fridays only from 6.30 am to 9.00 pm .On full moon days and new moon days also worship is offered.
Pooja Details : Three times a day.
Abhishegam 11.00 am to 1.00 pm.
Maha deeparthanai 1.00 pm.
Sandana kappu. Alankaram-5.00 pm.

Temple Festivals : Poochoridhal is celebrated on the first Tuesday after the Amavasai in Chithrai. The following Tuesday 'kappu' is tied and the big festival goes on for 13 days.

Nearest Town : Perambalur
Address : Sri Madhura kali Amman Temple
Siruvachur , Perambalur dt.

Telephone Number : 04328-225333, 04328-291375
Hotels Near Madhura Kali Amman Temple, Siruvachur :

1.Dhanalakshmi Srinivasan Hotel,
Collector Office Road, New Bus-stand,
Sungu Pettai,
Perambalur-621212.

2.Hotel Temple Inn,
139, Chennai Trunk Road,
Siruvachur-621113.
ph:095009 98962

3.Hotel Amirtha,
Trichy - Chennai Highway,
Siruvachur-621113.
1 1 1 1 1 1 1 1 1 1 Rating 3.36 (233 Votes)

Driving Direction & Temple Location