Kumarar Temple
Ilanji,
Tirunelveli District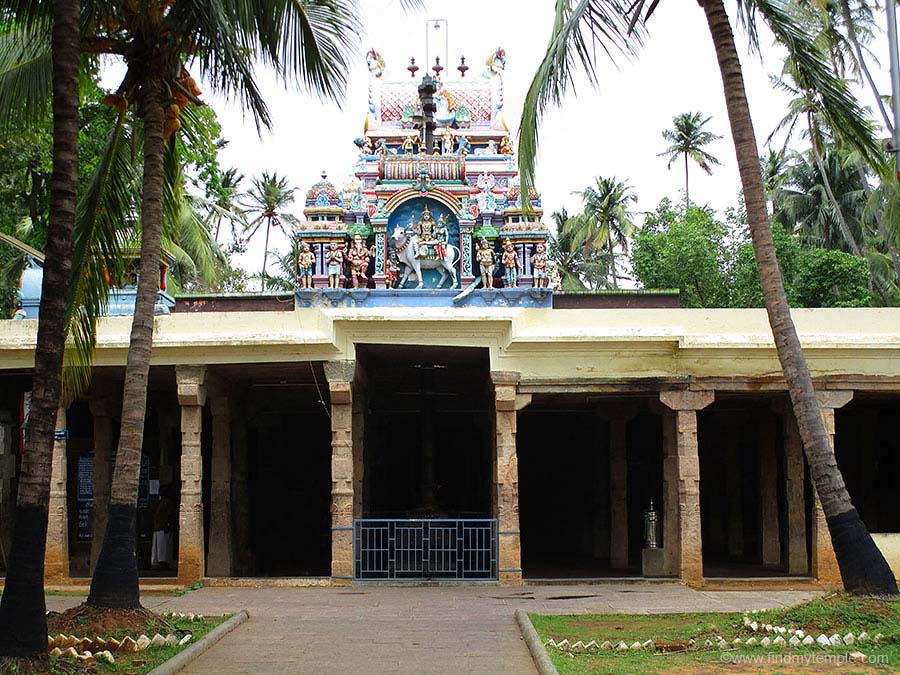 Main Deity : Kumarar swamy .
Holy Water : Chitra river.
Temple Tree : Magizha Tree.
Prominence of the Shrine : Lord Shiva graces everyone here. He was made up of white sand by Sage Agathiar. He is named as 'Iruvalluka Nayakar'.
Temple History : Since all people gathered at the north direction to witness the celestial wedding of the lord and Ambal, it sank low and the south got elevated. To make the earth even lord Shiva asked sage Agathiar to go to the south. Agathiar came to the south near to Kutralam. On that time the temple in the Kutralam was for Vaishnavites they didn't allow Agathiar to enter inside the temple. Agathiar came to chitra river, made lord Shiva out of white sand and performed poojas. White sand is known as 'iruvanukam' in Sanskrit. Hence the lord came to be known as 'Iruvaluka Easar'. As his work was not over, Agathiar worshipped to lord Muruga to show graces on him. Muruga appeared before Agathiar and told him to go to Kutralam in the attire of a Vaishnavites and make the lord there shrink to be 'Kutrala Nathar'. Agathiar did so and fulfilled his work. The lord in this temple Lord Muruga who appeared in front of Agathiar.
Who worshipped here : Agathiar.
Temple Timings : 6.30 am to 12.30 pm and 4.30 pm to 8.00 pm.
Pooja Details : Six times a day – Thiruvanandal ,
vila poojas,
kala Sandhi,
Uchi kala,
Sayaratchai,
Artha Jama pooja are the six times.
Temple Festivals : Chithirai Brahmothsavam,
Vaigasi Visakam,
Navarathri;
Kanda Shashti,
Dhanur pooja,
Thai Poosam,
Masi magam, are celebrated in a grand manner.
Nearest Town : Kutralam.
Address : Sri ilanji Kumarar Temple , Ilanji 627 805, Tirunelveli Dt.
Telephone No : 04633-283201,226400,223029.
Hotels Near Kumarar Temple, Ilanji :

1.Srishty Garden Resorts,

145, Old Courtallam | Thenkasi,

Courtallam 627 814, India.

2.Courtallam Esakki Resorts,

Five Falls Main Road,

Courtallam 627 802, India.
1 1 1 1 1 1 1 1 1 1 Rating 3.37 (235 Votes)

Driving Direction & Temple Location