Vaikunda Perumal

Temple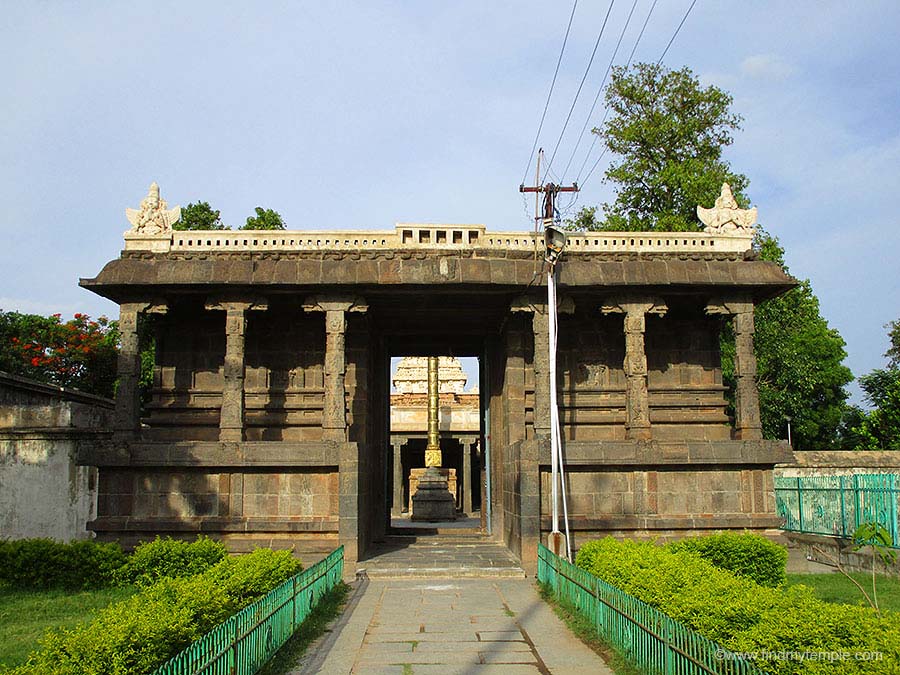 Main Deity : Vaikunda Perumal, Ranganadha Perumal, Paramapadhanadha Perumal

Ambal : Sri Vaikundavalli Thayar.

Holy Water : Ramma Theertham

Vimanam : Mukunda Vimanam.

Mangalasasanam : Thirumangai Azhwar.
Structure : This temple belongs to the class of "Maadakkovil". It consists of three tiers. On the first tier, Moolavar Vaikunda Perumal graces in His sitting posture facing west. On the second tier, Aranganadha Perumal places his head towards north and showers His grace in His reclining posture. On the third tier, Paramapadanadhar graces in His standing posture. Thus Perumal graces His devotees in His three postures of sitting, reclining and standing in this temple of three tiers.

Temple History : This temple is controlled by the Archaelogical Survey of India. A placard here reads as follows: This three tier temple of Mahavishnu in His sitting, reclining and standing posture was built by King Parameswaran who was also known as second Nandhivarama Pallavan and was named 'Parameswara Vinnakaram'. The Katrali belongs to the period of Rajasimman.
Temple Timings : 7.00 am to 12.00 noon - 5.00 pm to 7.30 pm.
Nearest Town : Kanchipuram.
Address : Vaikunda Perumal Temple, Kanchipuram, Kanchipuram District.
Hotel Near Vaikunda Perumal Temple, Kanchipuram :
1. GRT Regency-Kanchipuram,
487, Gandhi Road, Kanchipuram 631502, India
Ph: +(91)-44-27225250, +(91)-9940184251
2. MM Hotels,
No. 65 - 66, Nellukara Street, Kanchipuram 631502, India
Ph: +(91)-44-27227250, +(91)-8098827250
3. Hotel Baboo Soorya,
No 85, East Raja Street, Kanchipuram Ho,
Near Kamakshi Amman Temple,
Kanchipuram - 631501, India
Ph: +(91)-44-27222556, +(91)-9597121214
Restaurant Near Vaikunda Perumal Temple, Kanchipuram :
1.Saravanaa Bhavan,
66, Annai Indhira Gandhi Street,
Kanchipuram 631502,India
Ph: 4427226877
2.Hotel Saravana Bhavan,
504, Gandhi Road | Near Indian Overseas Bank
Kanchipuram 523230
Ph: 044 27222505
3.Haritam,
NH-45 Thenpakkam Village,
Kanchipuram 603301, India
Ph:44 27522336
1 1 1 1 1 1 1 1 1 1 Rating 3.37 (235 Votes)
Driving Direction & Temple Location