Kanaka Durga Temple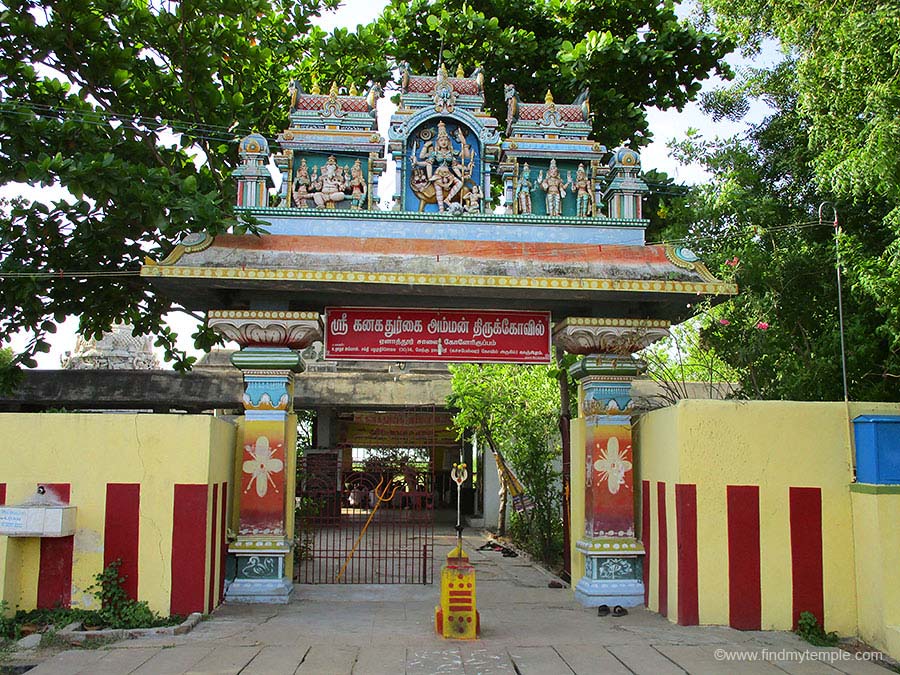 Main Deity : Arulmigu Kanaka Durga.
Prominence of the shrine : Anointing Kanaka Durga with fruits will give good result. If anointed with banana, yield good result in crop harvesting. If anointed with Jack fruit, all our prayers will be fulfilled. If anointed with mangoes, our desire for child will be accomplished. If anointed with pomegranate, our anger will be suppressed. If anointed with lemon, our enemies will be cleansed.
As per the saying of our Scholars, when we consider flame of the lamp (Deepa chuddar) as the God who is spread everywhere, all our darkness will be removed and pleasure will be lit in our life. Lighting ghee lamps (nei deepam) will avoid all negative things and give pleasure in your life.
Temple Timings : Morning 6:00 am to noon 12:00 pm, Evening 4:00 pm to 8:00 pm.
Nearest Town : Kanchipuram.
Temple Address : Kanaka Durga Temple,
Enathur road, Koneri Kuppam, Kanchipuram, Kanchipuram District.
Hotel Near Kanaka Durga Temple, Kanchipuram :
1. GRT Regency-Kanchipuram,
487, Gandhi Road, Kanchipuram 631502, India
Ph: +(91)-44-27225250, +(91)-9940184251.
2. MM Hotels,
No. 65 - 66, Nellukara Street, Kanchipuram 631502, India
Ph: +(91)-44-27227250, +(91)-8098827250
3. Hotel Baboo Soorya,
No 85, East Raja Street, Kanchipuram Ho,
Near Kamakshi Amman Temple,
Kanchipuram - 631501, India
Ph: +(91)-44-27222556, +(91)-9597121214
Restaurant Near Kanaka Durga Temple, Kanchipuram :
1.Saravanaa Bhavan,
66, Annai Indhira Gandhi Street,
Kanchipuram 631502,India
Ph: 4427226877
2.Hotel Saravana Bhavan,
504, Gandhi Road | Near Indian Overseas Bank
Kanchipuram 523230
Ph: 044 27222505
3.Haritam,
NH-45 Thenpakkam Village,
Kanchipuram 603301, India
Ph:44 27522336
1 1 1 1 1 1 1 1 1 1 Rating 3.36 (233 Votes)
Driving Direction & Temple Location