Maha Mariamman Temple
Valangaiman, Thiruvarur District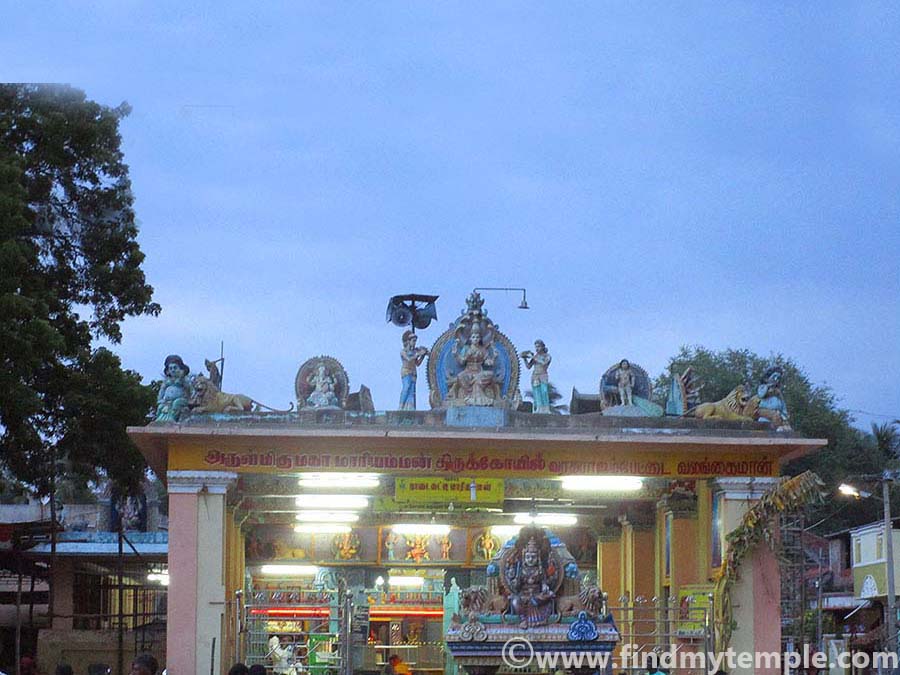 Main Deity : Mariamman.

Prominence of the Shrine :
Devotees who have incurable diseases worship to the Goddess Amman here. Once the disease is cured they will offer the "Paadai Kaavadi" to the Goddess. What is Paadai Kaavadi? Paadai is nothing but a small temporarily made stretcher, and the main purpose is to carry the dead bodies from home to grave yard. If the devotees get cured they will lay down on one of these Paadai (stretcher) and their relatives will carry the stretcher and circumambulate the temple. Once they finish the circumambulation they will remove the disease affected people from the stretcher and yellow colored holy water will be sprinkled on them. It is believed that all their diseases are gone once they were sprinkled by the holy water. Devotees will go home happily after offering the Paadai Kaavadi.
Temple History :
Around 200 years back at Valangaiman varadharajan Street, there was a man named "Kadha Gounder" lived. His wife name was Govindammal. Both were very spiritual and highly dedicated towards the Hindu Gods. Kadha Gounder worked as a former. His wife went to next town and sold some eateries for children. One day Govindammal went to nearby village called Pungancheri to sell her stuff. It was a Friday and the business was very good. She earned lot of grains and money. She thought it is all due to the grace of God on her and went to take bath in nearby tank.
That time she had noticed a Brahmin couple are carrying a baby in their hand and walking towards a temple in that area called "Adaikalan katha Ayyanar". When Govindammal took bath and came out of the pond she heard the crying sound of a baby. She rushed to that spot and realized that the Brahmin couple has left that baby girl in front of the temple. All the people in that street came and saw the baby girl who was very beautiful and graceful. They looked around to search of her parents but they couldn't find. Govindammal lifted the girl then the baby stopped crying and started laughing beautifully. Everyone wanted to take her to their homes and bring her up. Finally it was decided that the baby girl will be given to the head of the village and he is the right man to take care of her. Govindammal was very sad that she didn't get the baby but she came back to her house.
After few days, suddenly all the cattle in the pungancheri village started dying and many of the human beings started getting unknown diseases. Many got the Chicken pox which was not easily curable in those days. The baby girl who was found in the Ayyanar temple also got the disease. One of the villager thought it is all due to the time the baby entered the village so they wanted to give the girl to Govindammal. He said if the baby was removed from pungancheri then these kind of diseases may not come. In those years, these kind of misbeliefs were there across the country.
Anyhow Govindammal wanted to have the baby with her so she brought her to home and named her as Seethala. But due to severe chicken pox Seethala passed away. Govindammal was sad about the entire sequence of events but she knew she couldn't do much. She buried the body of the Seethala in the backyard of her house and moved on with her life. Some says Seethala lived with Govindammal couple for seven and half years and then died and some says she lived only for 3 days.

After few days some people who took bath in river Kudamurutti (which is at the back side of Govindammal's house) came to Govindammal's home and they felt that they saw Seethala and they thought her soul with them now. Some people said that Seethala was none other than Goddess Mariamman and if people worship her she will take care of them from their diseases. Based on these incidents initially a small tent has been laid at the place where Seethala was buried. Later that tent was replaced with a proper temple. The Mariamman at this temple is called as Seethala Mariamman and she graces her devotees to overcome from diseases.
Temple Timings : Morning 5:30 A.M. – 1:00 P.M., Evening 4:00 P.M. – 9:00 P.M. On Sunday the temple is not closed during noon and also it is open until 11:00 P.M. night.
Pooja Details : Six times a day.
Temple Festivals :
Aavani – Every Sunday festival, Last Sunday – Temple tank pooja,
Panguni – 2nd Sunday – Paadai Kavadi festival,
3rd Sunday – Flower palanquin.
Nearest Town : Kumbakonam.
Temple Address : Sri Mariamman Temple,
Valangaiman - 612 804, Thiruvarur district.
Telephone No : 04374-264575
Hotel Near Maha Mariamman Temple, Valangaiman :
1.Sivamurugan Hotels
60 Feet Main Road, | Near New Bus Stand,
Kumbakonam 612 001, India
Ph: 096000 00384
2.Sara Regency
45/1 Chennai Road, Kumbakonam 612002, India
Ph:082200 05555
3.Quality Inn VIHA
New Railway Road, Kumbakonam,
Tanjore, Tamil Nadu 612001
Trichy Road, Namakkal
Ph:0435 255 5555
4.Hotel Green Park
No. 10, Lakshmi Vilas Street,
Kumbakonam, South India - 612001.
Ph :(0435) - 2402853 / 2403914
5.Hotel Vinayaga - Kumbakonam
132C, Kamaraj Road,
Kumbakonam- 612 001
Tamilnadu, India
Tele : +91 435 240 03 56
Telefax : +91 435 240 03 57
Mobile: +91 822 001 9 122
Reservation No: +91 4296 272 110
Restaurant Near Maha Mariamman Temple, Valangaiman :
1.Venkatramanaa Hotel
No 40, TSR Big Street, Kumbakonam HO,
Kumbakonam - 612001, Near Gandhi Park
Ph : +(91)-9442130736
2.Sri Balaji Bhavan
1, Sasthra College Road,
Kumbakonam HO, KUMBAKONAM - 612001
Ph : +(91)-435-2424578
3.Hotel Shanmuga Bhavan
16, Kumbeswarar South Street,
Kumbakonam HO, KUMBAKONAM - 612001
Ph:+(91)-435-2433962
4.Gowri Shankar Hotel
No 47, John Selvaraj Nagar,
Kumbakonam HO, Kumbakonam - 612001
Ph : +(91)-9443131276 ,+(91)-435-2431177
tel : (91)-435-2430736
5.Rayas Garden Restaurant
No 18 Rayas Hotel, Head Post Office Road,
Kumbakonam HO, Kumbakonam - 612001
Ph :+(91)-435-2423170, 2423171, 2423172, 2423173"
1 1 1 1 1 1 1 1 1 1 Rating 3.36 (233 Votes)

Driving Direction & Temple Location