Jayavilangi Amman Temple
Arimazham, Pudukkottai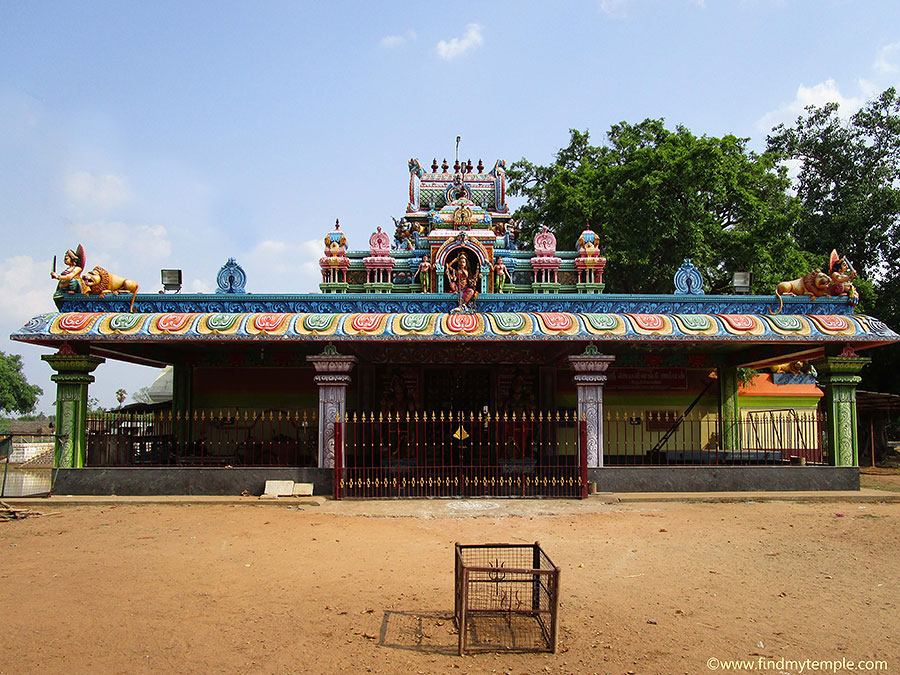 Main Deity : Jayavilangi Amman.
Prominence of the shrine : This temple was renovated and the Goddess Jayavilangi Amman and other deities were consecrated (Kumbabeshek). On the same evening, procession of Goddess on silver Rishab Vagan took place. There was a rare fruit "Erizhanjipazham" (called in Tamil) found in this temple. So this place was called as Arumpazham and then it was called as "Arimazham". Ten days festival will be conducted in this temple every year during the Tamil month of Masi (feb-15 to mar-15).

Festival will start by tying "kappu"means yellow thread in hand. From that day onwards special poojas, anointing and procession of Goddess will take place. On the ninth day, Chariot festival will be conducted. On the tenth day, devotees will take Palkudam and Kavadi and worship the Goddess. On the same day evening, women will carry Madhukudam and Mulaipari in a pot decorated by flowers and palm spathe and take procession to worship the Goddess.

Temple Timings : Morning 08:00 am to 12:00 noon, Evening 04:00 pm to 08:00 pm.

Nearest Town : Arimazham, Pudukkottai.

Address : Jayavilangi Amman Temple,
Arimazham, Pudukkottai.

Hotels Near Jayavilangi Amman Temple, Arimazham :
1.Chidambara Vilas Chettinad,
Ramachandrapuram, Kadiapatti | Off Thirumayam Fort,
Pudukkottai 622505,
ph :095855 56431.
2.Saratha Vilas Heritage Home in Chettinad,
832 main road, Kothamangalam,
Kariakudi taluk, Tamil Nadu 630105.
3.Chettinadu Narayana Vilas,
Near Raja Palace,Raja Front Street,
Kanadukathan, Tamil Nadu 630103,
ph no:04565 283 199.
4.Hotel Sathyam,
1 Sathyamoorthy Road,Pudukkottai,
Pudukkottai 620008
5.Visalam,
7/1 - 143, Local Fund Road,LF Road,
Kanadukathan, Tamil Nadu 630103
Restaurants Near Jayavilangi Amman Temple, Arimazham :
1.Appus Curis Family Restaurant,
No : 5/p, Poonga Nagar, Rajagopalapuram,
Railway Station Road, Near State Bank Poonga Nagar,
Pudukkottai, Tamil Nadu 622003,
ph no:04322 261 541
2.Shri Aiswarya Restaurant,
Marthandapuram,
Pudukkottai, Tamil Nadu 622001.
1 1 1 1 1 1 1 1 1 1 Rating 3.36 (233 Votes)
Driving Direction & Temple Location