Pundarikatcha Perumal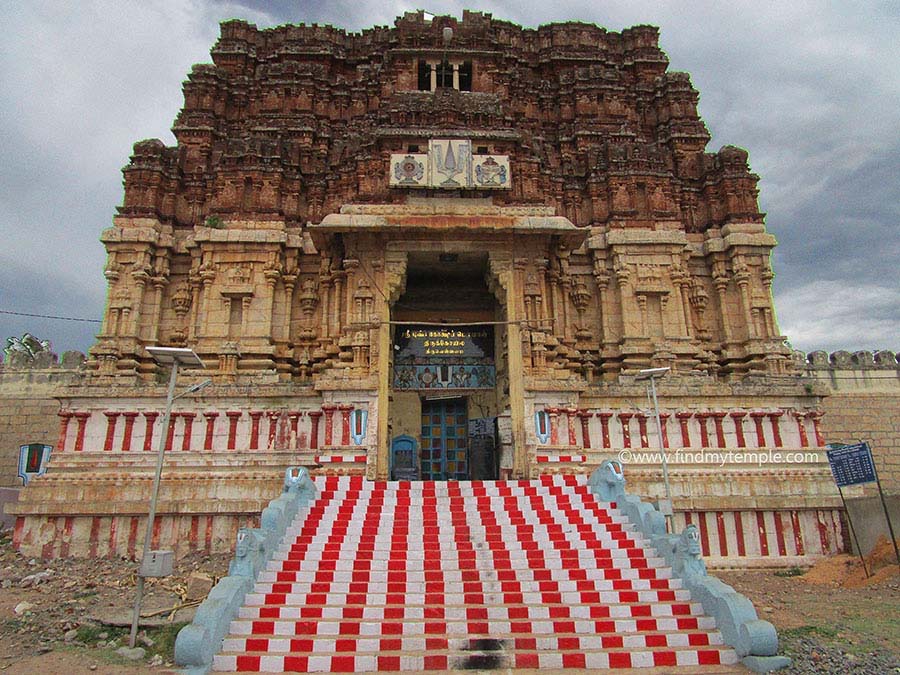 Main Deity : Sri Pundarikatcha Perumal (Lord Vishnu).
Ambal : Shenbaga valli, Pangaya Selvi.
Holy Water : Seven Theerthams are inside the temple. Those are
Dhivyakanda,
Koosirapushkaranigal,
Kucha,
Sukra,
Pushkala,
Padma,
Varaha Manikarniga.
Temple Tree : Vilva Tree (Aegle marmelos).
Vimanam : Vimalakruthi Vimanam.
Prominence of the Shrine : To worship Perumal (Vishnu) one has to cross 18 steps which represent 18 chapters of the 'Bhagavat Gita'(the great Indian epic). The entrance of the next Gopuram (tower) is considered as four Vedas. Next comes the altar. Worshipping the lord here one has to cross five steps. These five steps are considered as five big powers (Pancha Poothas). Crossing it is the Nazhikettan vassal. To go to the sanctum sanctorum there are two ways. The first way is open during "Dakshinayanam" It is open during Aadi month to Margazhi month. The second way is "Utharayanayam". It is open from Thai month to Aani month. To have a wish fulfilled one has to take a vow to perform 'thirumanjam' for the altar. When the wish is fulfilled, the thirumanjam at the altar should be done followed by offering of Pongal (a type of food offering) to the altar and Perumal and conclude the worship. Those without children take bath in the Theerthams here on a Sunday of Karthigai, offer Pongal to Perumal and eat the Prasad.
Temple History : The Perumal here appeared to emperor Sibi as Swetha Varahan (white pig) and he is called "Swetha Puri Nadhar" according to the temple history.
Temple Timings : 7.00 am to 1.15pm 3.30 pm to 8pm.
Temple Festivals : Chithirai- Kodai thirunal,
Chitra Pournami - Gajendra Moksham,
Aadi- Jeshtabhishegam on kettai Nakshatra,
Aavani- Sri Jayanthi Veedhiyadi purappadu.
Aippasi – Perumal Thayar dolotsavam,
Karthigai- Thirukarthigai purappadu.
Nearest Town : Trichy.
Location : This shrine is located 20km from trichy on the Trichy- Thuraiyur road.
Address : Sri Pundarikatcha Perumal Temple, Thiruvellarai(P.O), Manachanallur(TK), Trichy Dt.
Hotels Near Pundarikatcha Perumal, Thiruvellarai :
1. Mathura Hotel, (26.6 km from Temple)
No 1, Rockins Road, Tiruchirappalli Townhall,
Trichy - 620002, Opposite Central Bus Stand Contonment
Tel : +(91)-431-2414737, +(91)-9894558654.
2. Mayavaram Lodge, (20.3 km from Temple)
No 87, Vanapattarai Street, Tiruchirappalli Townhall,
Trichy - 620002, Teppakulam Post,
Tel : +(91)-431-2711400, 2704089
3. Femina Hotel, (26.5 km from Temple)
109, Williams Road, Tiruchirappalli 620001,
Hotel Area: Trichy Central Bus Stand / Railway Junction Area,
Tel : 0431 - 2414501.
4. Hotel Rockfort View, (16.9 km from Temple)
05, Odathurai Road | Chinthamani, Tiruchirappalli 620 002.
Mobile: +91 740 2713466.
Tel : +91 431-2713466.
5. Grand Gardenia, (24.6 km from Temple)
22-25 Mannarpuram Junction,Trichy-620020,
Mobile : +91 95856 44000.
Tel : +91 431 4045000.
Restaurants Near Pundarikatcha Perumal, Thiruvellarai :
1. Ragunath Restaurant, (17.7 km from Temple)
College Road, Tiruchirappalli.
2. Parthasarathy vilas, (17.3 km from Temple)
Vegetarian / Vegan Restaurant
Kondayam Pettai Agraharam, Thiruvanaikoil, Trichy 620005.
1 1 1 1 1 1 1 1 1 1 Rating 3.36 (233 Votes)

Driving Direction & Temple Location