Shri

Vittal Rukmini

Panduranga

Temple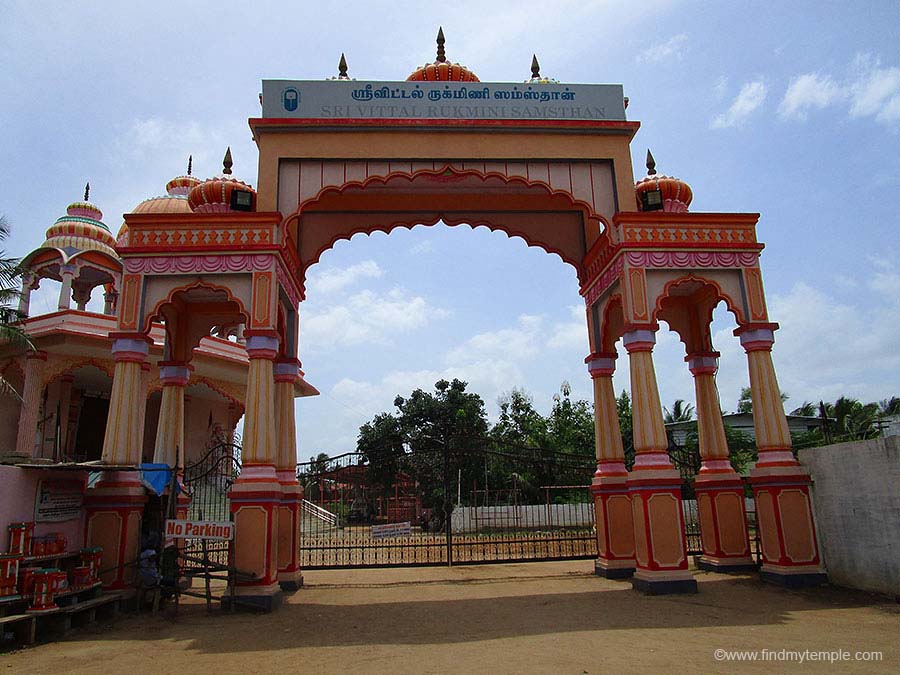 Main Deity : Shri Panduranga.
Ambal : Shri Rukmini.
Prominence of the shrine : This temple is located in Govindapuram near Kumbakonam. Rama Dheekshithar is the son of Sengaalipuram Narayana Dheekshithar. He does Pravasanam here even today. His son is Shri Shri Vittal Das Maharaj. Sri Shri Vittal Das Maharaj accepted Guruji Haridas Giri Swamigal who was the disciple of Gyananadha Swamigal who preached that Namasankeerthanam is the way to reach heavenly abode and Sri Shri Krishna Premi Maharaj as his guru and conducts Namasankeerthanam programs all around the country.
Sri Shri Vittal Das Maharaj has spent many crores to construct this temple in Govindapuram so that in this temple, the devotees could enter the temple Garbagraha like the Pandaripuram Sri Paanduranga temple in North India and worship the God without any difference of religion, caste, creed and language. The Panduranga and Rukmini who have come here from Pandaripuram bless the devotees in this new temple.

The statues depicting the Bhaktha Shironmanis' life which is in the "Maha Bhaktha Vijayam" book are in the Maha Mandapam, Artha Mandapam, Namasankeerthanai Koodam and the Annadhaana Mandapam. The Mel Vidhaanam Madappalli which glows like gold have been constructed divinely. There is a special 'Gosaalai' here for the cows. Sri Shri Vittal Das Maharaj does Namasankeerthanam all around the country and the temple's Thiruppani have been done with the devotees' Kainkaryam. [ devoted help and service ].

Temple History : The Kumbabhishekam for this temple took place on 15/07/2011. Thousands of devotees participated in the event and got dharshan. Vittal Das Maharaj who is also known as 'Jayakrishna Dheekshithar' spent many crores and constructed this temple to resemble the Pandaripuram temple in Maharashtra. Sri Vittal Das Maharaj performed the Vimana Kumbabhishekam for the temple. Following this, the Maha Kumbabhishekam was done for the Swami and the Thaayar. Special Deepa Aaradhanai was offered. Maha Abhishekam also took place to mark the beginning of Mandala Abhishekam.

The Kumbabhishekam took place along with the blessings of Sri Jayendra Saraswathi Swamigal [ of Kaanchi Matt ] , Sri Vijayendra Saraswathy Swamigal, [of Kaanchi Matt], Guruji Haridas Giri Swamigal and Anna Krishna Premi Swamigal. The Maharashtra Sthapathi [Architect] Balaji, the Chennai Sthapathi Selvanathan and Engineer Gopala Krishnan took part in the Thiruppani and construction work. They decorated the ceiling with Fibre glass ceiling mould to make it a rare and beautiful feature. The Prathishtai of the Moolavar is on top of a room containig 100 crore Vittal chants and Namas.
Temple Timings : Morning – 06:00 a.m to 12:00 noon, Evening - 04:00 p.m to 08:00 p.m.
Nearest town : Kumbakonam, Thanjavur.
Temple Address : Shri Vittal Rukmini Panduranga Temple,
Govindapuram, Aaduthurai, Thanjavur District – 621 101.
Telephone Number : 0435-2472300.
Hotel Near Vittal Rukmini Panduranga Temple Kumbakonam :
1. Sivamurugan Hotels
60 Feet Main Road, | Near New Bus Stand,
Kumbakonam - 612 001, India
Ph: 096000 00384
2. Sara Regency
45/1 Chennai Road, Kumbakonam - 612002, India
Ph:082200 05555
3. Quality Inn VIHA
New Railway Road, Kumbakonam,
Tanjore, Tamil Nadu - 612001
Trichy Road, Namakkal
Ph:0435 255 5555
4. Hotel Green Park
No. 10, Lakshmi Vilas Street,
Kumbakonam, South India - 612001.
Ph :(0435) - 2402853 / 2403914
5. Hotel Vinayaga - Kumbakonam
132C, Kamaraj Road,
Kumbakonam- 612 001
Tamilnadu, India
Tele : +91 435 240 03 56
Telefax : +91 435 240 03 57
Mobile: +91 822 001 9 122
Reservation No: +91 4296 272 110
Restaurant Near Vittal Rukmini Panduranga Temple Kumbakonam :
1. Venkatramanaa Hotel
No 40, TSR Big Street, Kumbakonam HO,
Kumbakonam - 612 001, Near Gandhi Park
Ph : +(91)-9442130736
2. Sri Balaji Bhavan
1, Sasthra College Road,
Kumbakonam HO,
KUMBAKONAM - 612 001,
Ph : +(91)-435-2424578
3. Hotel Shanmuga Bhavan
16, Kumbeswarar South Street,
Kumbakonam HO, KUMBAKONAM - 612001
Ph:+(91)-435-2433962
4. Gowri Shankar Hotel
No 47, John Selvaraj Nagar,
Kumbakonam HO,
Kumbakonam - 612 001.
Ph : +(91)-9443131276 ,+(91)-435-2431177
tel : (91)-435-2430736
5. Rayas Garden Restaurant
No 18 Rayas Hotel, Head Post Office Road,
Kumbakonam HO,
Kumbakonam - 612 001.
Ph :+(91)-435-2423170, 2423171, 2423172, 2423173"
1 1 1 1 1 1 1 1 1 1 Rating 3.36 (233 Votes)
Driving Direction & Temple Location