Kalyanasundareswarar Temple
Thiruvelvikudi, Nagapattinam District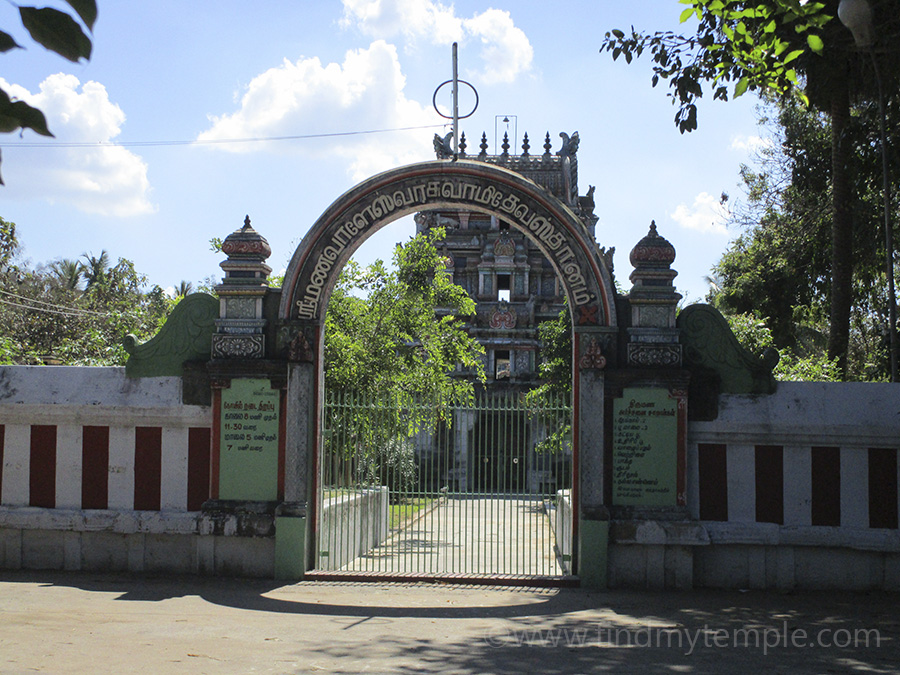 Main Deity : Kalyana sundareswarar (Manavaleswarar), Koudukeswarar.
Ambal : Parimala Sugantha Nayaki, Koudukeswari.
Other Deities : Agasthiar, Nataraja, Dakshinamurthy, Easanamurthy, Chandrasekharar and Ardhanaareeswarar.
Theertham : Mangala theertham.
Prominence of the shrine : This is the 23rd Shiva temple on the northern bank of Cauvery praised in Thevaram hymns. The Lord in this temple is facing east and is in the form of Suyambu Linga (formed of its own). As this place has the reputation of being the wedding venue of Lord, it is called as Thiruvelvikudi. The ritual Kanganatharanam was perfomed to Easwari, this place is also called as Kouthuka Bandhana Shethram. This temple was built 1500 years before.
This temple wass praised by saints Sambandar and Sundarar in their Thevaram hymns. In Kuthalam Tiruthuruthi hymn there were 17 songs sung about this temple. It was written that this God resides in Thiruvelvikudi in the morning and in Kuttalam in the evening. This temple is located in the center of the city with four discriminations like Sanctum, Artha mantap, Maha mantap, Yeduthukatti mantap and two courtyards. Three tier Tower welcomes us first.In the entrance of Artha mantap , Dwarabalgars are seen with 4 hands.
In the first courtyard, Lord Thenmuga, Valanchuzhi Vinayagar, Subramaniar with valli and Dheivanai, kothandaramar, Gajalakshmi, Vishnu, Durgai, Sangeswarar are present. Goddess Amman is facing south in the first courtyard. This place has the reputation of being the wedding venue of Lord, so there is no shrine for Navagrahas and no temple tree. Lord Himself is sitting in the Easanya – north east corner. Those facing delays in marriage due to planetary adversities, pray here lighting 48 lamps for relief. A yagna is conducted in the temple on full moon days from 10.00 a.m. to 4.00 p.m. especially for those facing delays in marriage. Men and women having this problem are advised to participate in the proceedings. Realizing their wish, they perform abishek and archanas and express their gratitude to Lord and Mother.
Temple History : Parvathi who was in the form of cow got redressed from the curse and born to Sage Bharatha and married Lord Shiva. Mother Parvathi was born to Sage Bharatha in Kuthalam near Tiruvelvikudi. She performed penance for 16 Mondays on Lord Shiva to have His hand as Her Lord. Mother made a Linga of sand for the penance. On the 17th Monday, Lord appeared before Parvathi as Manavaleswarar and promised to marry Her. Accordingly, the rituals (Velvi in Tamil) were conducted with Brahmma being the head priest for this divine marriage. Hence, the place is named Tiru Velvikudi.
The wedding of a princess was fixed to a prince here, but her parents died before the event. So the marriage was cancelled by the people from bride side. The prince begged the Lord to get him the princess. Lord sent a Bhoodha (ghost), brought the princess and solemnized their wedding. This is also the place where Saint Sundarar had a bath in the Agni theertham and got his disease cured. It also has the reputation of Lord Shiva offering half of Himself to Shakti and took the form of Ardhanaareeswarar.
People who worshipped here : Parvathi, Sundarar.
Poets who sang its praise : Tirugnana Samandar, Sundarar.
Temple Timings : Morning 06:00 am to 12:00 noon, Evening 04:00 pm to 08:00 pm.
Pooja Details : Four term pooja.
Temple Festivals : Maha Shivrathri and Panguni Uthiram.
Nearest Town : Kuthalam.
Address : Kalyana Sundareswarar Temple,
Thiruvelvikudi - 609 801, Kuthalam(po), Nagapattinam District.
Hotel Near Kalyana sundareswarar temple, Thiruvelvikudi :
1.Sivamurugan Hotels
60 Feet Main Road, | Near New Bus Stand,
Kumbakonam 612 001, India
Ph: 096000 00384
2.Sara Regency
45/1 Chennai Road, Kumbakonam 612002, India
Ph:082200 05555
3.Quality Inn VIHA
New Railway Road, Kumbakonam,
Tanjore, Tamil Nadu 612001
Trichy Road, Namakkal
Ph:0435 255 5555
4.Hotel Green Park
No. 10, Lakshmi Vilas Street,
Kumbakonam, South India - 612001.
Ph :(0435) - 2402853 / 2403914
5.Hotel Vinayaga - Kumbakonam
132C, Kamaraj Road,
Kumbakonam- 612 001
Tamilnadu, India
Tele : +91 435 240 03 56
Telefax : +91 435 240 03 57
Mobile: +91 822 001 9 122
Reservation No: +91 4296 272 110
Restaurant Near Kalyana sundareswarar temple, Thiruvelvikudi :
1.Venkatramanaa Hotel
No 40, TSR Big Street, Kumbakonam HO,
Kumbakonam - 612001, Near Gandhi Park
Ph : +(91)-9442130736
2.Sri Balaji Bhavan
1, Sasthra College Road,
Kumbakonam HO, KUMBAKONAM - 612001
Ph : +(91)-435-2424578
3.Hotel Shanmuga Bhavan
16, Kumbeswarar South Street,
Kumbakonam HO, KUMBAKONAM - 612001
Ph:+(91)-435-2433962
4.Gowri Shankar Hotel
No 47, John Selvaraj Nagar,
Kumbakonam HO, Kumbakonam - 612001
Ph : +(91)-9443131276 ,+(91)-435-2431177
tel : (91)-435-2430736
5.Rayas Garden Restaurant
No 18 Rayas Hotel, Head Post Office Road,
Kumbakonam HO, Kumbakonam - 612001
Ph :+(91)-435-2423170, 2423171, 2423172, 2423173"
1 1 1 1 1 1 1 1 1 1 Rating 3.37 (235 Votes)
Driving Direction & Temple Location