Anbil Mariamman Temple
Lalgudi, Trichy District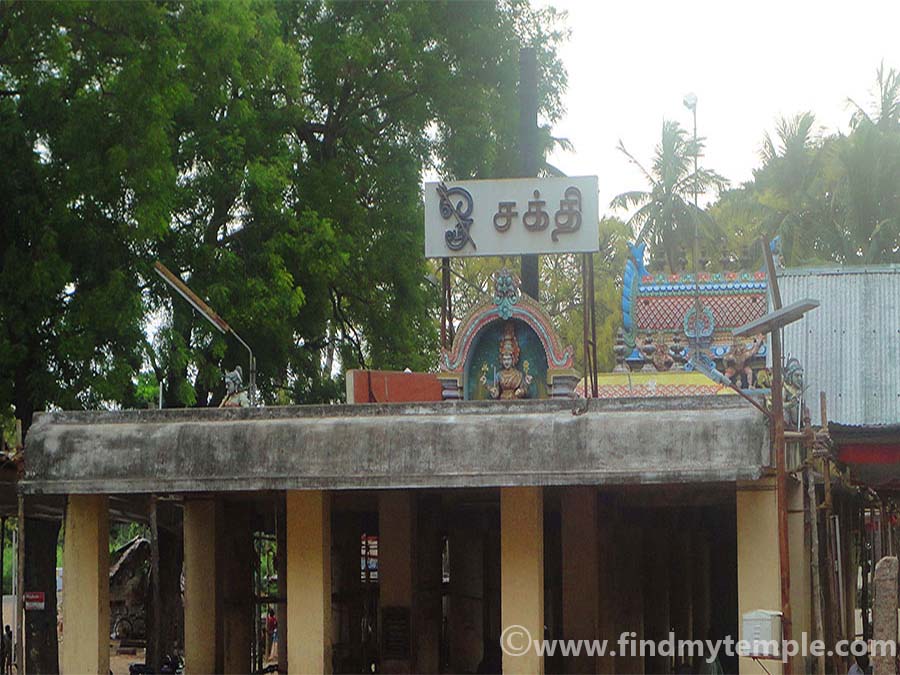 Main Deity : Mariamman.
Holy Water : River Kollidam.
Temple Tree : Neem Tree.
Prominence of the Shrine : There are seven most important Amman Temples. Those are Samayapuram, Narthan Malai, Veera Singa Pettai, Kannanur, Punnai Nallur, Thiruverkadu and Anbil. Out of the seven Amman Temples Anbil Mariamman is considered to be the eldest of other Goddesses. Anbil Mariamman also has seven Children. Amman don't have children in other temples. Mythological belief at this temple, it helps devotees who has eye related diseases. Everyday around 12:00 Noon the priest at this temple provides a liquid made up of certain special medicinal herbs which cures the eye diseases.
Temple History : Anbil Maha Mariamman temple is approximately 700 years old. As per Puranas when there was a flood in the River Kollidam, the Goddess Amman stayed under the Neem tree on the banks of the River. Later this temple was constructed by Emperor Muthalangan.
Special Poojas : Devotees worshipping at this temple to have children is a general practice. Also the goddess is so powerful that she will cure any eye related diseases and the chicken pox.
Temple Timings : Morning 7:00 A.M. – 1:00 P.M., Evening 4:00 P.M. to 8:00 P.M.
Pooja Details : Special poojas are conducted during New Year day, Fridays of Tamil month Aadi & Thai, New moon days and Full moon days.
Temple Festivals :
Vaigasi – 5th & 6th days of Vaigasi there are special poojas,

Aani – Maha Sandi Yaga,
Panguni – First Sunday of Panguni will have flower festival, Then 15 consecutive days there will be special poojas. Second Sunday
devotees will carry a fire pot and worship the Goddess. Third Sunday Goddess enters her house and next 10 days will be festival for
her.
Nearest Town : Lalgudi.
Temple Address : Anbil Mariamman Temple,Anbil, Lalgudi District.
Hotels Near Anbil Mariamman Temple, Anbil :
1.Mathura Hotel
No 1, Rockins Road,
Tiruchirappalli Townhall,
Trichy - 620002,
Opposite Central Bus Stand Contonment

+(91)-431-2414737, +(91)-9894558654

2.Mayavaram Lodge
No 87, Vanapattarai Street,
Tiruchirappalli Townhall,
Trichy - 620002,
Teppakulam Pos
+(91)-431-2711400, 2704089
3.Femina Hotel
109, Williams Road,
Tiruchirappalli 620001,
Hotel Area: Trichy Central Bus Stand / Railway Junction Area
Tel : 0431 - 2414501.
4.Hotel Rockfort View
5, Odathurai Road | Chinthamani,
Tiruchirappalli 620 002.

Mobile: +91 740 2713466.
Tel : +91 431-2713466.
5.Grand Gardenia
22-25 Mannarpuram Junction,
Trichy-620020,
Tamilnadu.
Mobile : +91 95856 44000.
Tel : +91 431 4045000.
Restaurants Near Anbil Mariamman Temple, Anbil :
1.Ragunath Restaurant,
College Road,
Tiruchirappalli, India
2.Parthasarathy vilas

Vegetarian / Vegan Restaurant

Kondayam Pettai Agraharam,
Thiruvanaikoil,
Trichy 620005.
1 1 1 1 1 1 1 1 1 1 Rating 3.37 (235 Votes)
Driving Direction & Temple Location